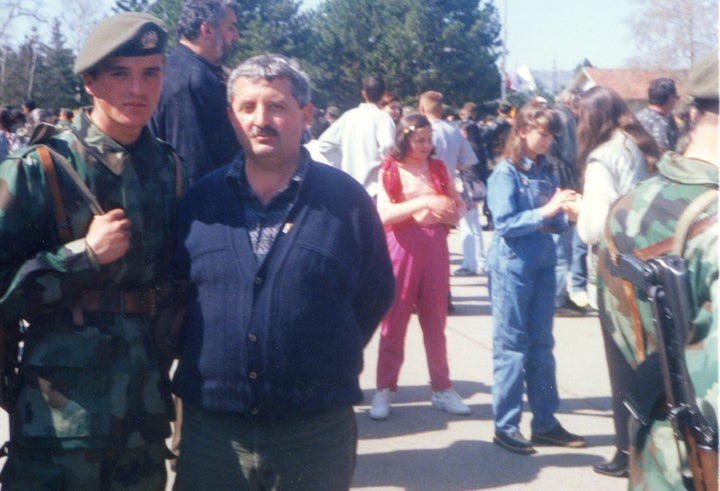 Freddy Lukovic was only 19-years-old when he was drafted into the Yugoslav army.
When he reported for his mandatory military service in March 1998, Lukovic found himself in the midst of the Kosovo War, where the Yugoslav forces he was now required to serve were carrying out violent attacks against the majority population of Muslims. As a Muslim, Lukovic knew he had to flee the army, or he would be sent to die on the frontlines by his fellow soldiers. We partnered with National Geographic's new six-part series The Story of Us With Morgan Freeman (Wednesdays 9/8c), about the common humanity in all of us, to share how Lukovic risked everything to escape his war-torn country with the help of an unexpected ally named Sabit.
Tensions in Yugoslavia had been growing for decades as the republics within the country fought for their independence. The conflicts were fueled by increasing ethnic divisions in the area and the rise of Slobodan Milošević, a dangerous Serbian politician and nationalist. After ravaging Bosnia, he turned his focus to Kosovo in 1997, where he targeted Albanian Muslims. Since Lukovic was one of the few Muslims at his base, he became a target early on.
"Everyday someone told me, 'whatever you do, I am going to send you to the frontlines of the war. Even if you behave.' Just because I was Muslim," Lukovic told Huffpost. He knew he had to leave, but he wasn't sure how. Nearly 100 miles away in Kosovo, Sabit, a fellow Muslim was facing the same danger, and also looking for a way to survive.
Lukovic's opportunity to flee came one week before he was scheduled to be shipped to Kosovo, when the Prime Minister in his home of Montenegro requested that all Montenegrin soldiers return home to vote in the upcoming election.
"It was smart because he was hoping people would use it as an opportunity to run away," explained Lukovic. "A few days before June 2, we told our Serbian friends that we were leaving. I packed my military uniform and I told my bunkmate to take anything he needed, because I wasn't coming back."
Lukovic knew this could be his only chance at survival. On the night of June 5, after three days in Montenegro, Lukovic boarded the bus and made his way to Bosnia to stay with his aunt and uncle. He began to make plans for his one-way trip to the U.S.. But while Lukovic was in Bosnia, the military in Montenegro began searching for him. Those who deserted the army could face up to 10 years in prison.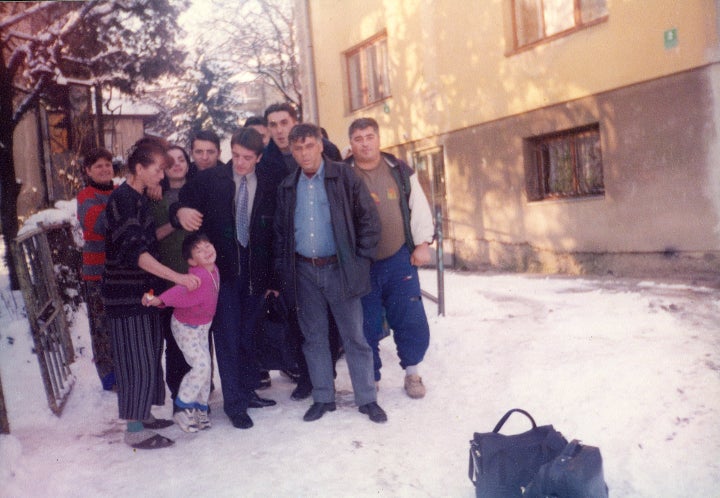 "Three or four times the military police came to my house," recalled Lukovic. "My mother was there and my brother, who was about 14-years-old. They were searching everything looking for me. My mother was crying, they were throwing everything around. They would say, 'We can find him wherever he goes. It can be Australia, It doesn't matter."
Since he had no passport, his only hope was to pay an anonymous counterfeiter to create fake traveling documents. In a twist of fate, the counterfeiter offered to put Lukovic in touch with another man who he was working with that would be traveling at the same time. He was 10 years older than Lukovic and could speak some English—that man was Sabit.
Sabit had agreed to accompany Lukovic on his unpredictable journey. They met for the first time only a week before their departure, when Sabit came to Bosnia. He shared with Lukovic that he was hoping to go to the U.S. to start a new life for his family.
The two bought their tickets and professional looking clothes to travel in preparation for the trip. It wasn't just Lucovic's first time on a plane, but his first time traveling overseas. Although he was nervous, Sabit comforted him.
"He would always tell me it was going to be okay," Lukovic said. "He just knew."
On December 22, they began their trip. First the pair would fly to Switzerland using fake passports from Yugoslavia, and from there they would fly to Brazil.
Everything was going smoothly until the pair reached São Paulo, when an agent became suspicious of Lukovic's documents. "I gave the guy my passport and he was looking at me for 20 minutes or more, something was not right," he explained, recalling how Sabit watched from afar in case he had to notify Lukovic's family. "He called his manager, who started yelling at him because people from Slovenia didn't need a visa at that time. The agent apologized and let me go."
Lukovic and Sabit spent four days in São Paulo before they could continue the final leg of their trip to the U.S., but their journey came to a sudden halt when they reached Miami.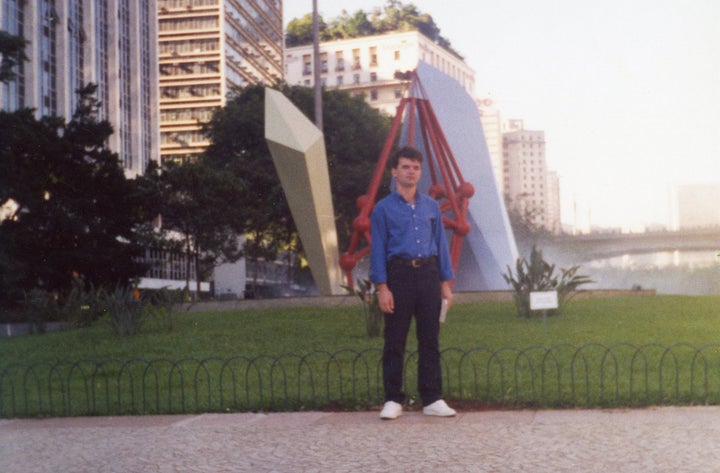 "In Europe and Brazil they didn't have a computer at the checkpoints, but the agent in Miami had a computer. He put my passport down on it and I just waited," Lukovic said. "Sabit and I could see the computer was doing something when the agent said can you come with me? It was five in the morning, and he took us to the police station [inside the airport]."
Lukovic knew he and Sabit had been caught. They moved Lukovic to a room, where he was interrogated about why he was coming to the U.S.. Since he couldn't speak English, the police found a woman who spoke Croatian, which Lukovic could understand.
"I told her I was running away from the military, from prosecution," said Lukovic. "It was two in the afternoon. I had no food and no sleep. Sabit and I were put in the same room again until seven at night. Then they loaded us onto a packed bus and drove us two hours to a jail in Miami."
Lukovic and Sabit spent the next month of their lives at the Everglades Correctional Institute in Miami. Even though Lukovic was in a cell, he was happy to be in the U.S.. A week before Lukovic was released, Sabit was let go. After only a month of knowing each other, Sabit proved to be the most important and unexpected ally in Lukovic's quest for safety.
Shortly after Lukovic and Sabit were freed, the U.S. agreed to let 20,000 Kosovars refugees enter the country to stay with their relatives. Fortunately, Lukovic and Sabit had family in the states. Lukovic would be going to New York City, where he would live with his aunt and uncle, while Sabit would be traveling to Boston to live with a cousin.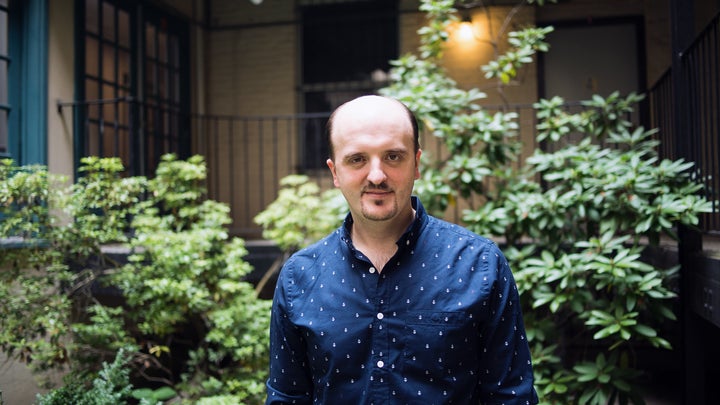 The war in Kosovo finally ended in 1999, after NATO forces launched an airstrike in support of Kosovars, but the conflict left over one million displaced and thousands more dead. If Lukovic and Sabit hadn't escaped, it's hard to say what might have happened to them.
Lukovic stayed in touch with Sabit for many years after their journey. The former stranger had become like a big brother to him. "Every time we talked he would tell me how bad he missed his wife," Lukovic said. "The last time I talked to him he said I can't take it anymore, so he went back to Kosovo. He went back to his family."
Lukovic has no plans to return to Montenegro, since he still fears what might be in store for him after deserting the army. But, after 15 years away from home, he was finally able to see his mother again, when she came to visit him in New York. Unfortunately, he doesn't know when he will see Sabit again, but he's forever grateful for the sacrifice he made to help him.
"To be honest, I left my home when I was 19 to come here and sometimes I don't even want to be here because it's tough having to learn the language and everything," he said. "But then you get used to it. Now, I love it. If it weren't for Sabit, I wouldn't be here."
As war rages on around the world, refugees like Lukovic continue to rely on the help of unexpected connections in their quest for peace. We partnered with National Geographic's new six-part series, The Story of Us With Morgan Freeman, to put the spotlight on journeys like these and the unexpected people who come together to drive humanity forward around the world.
The Story of Us With Morgan Freeman, Wednesdays 9/8c on National Geographic.