I started 2015 by writing The Syria I Miss- an article in which I described how a once peaceful country has now become torn apart by a civil war of proxy. The fighting has forced over half of Syria's 23 million residents out of their homes or country, often suffering through extreme hardship as they seek to escape a conflict that has no resolution in sight.
Now, over the past two months, I have been traveling in areas where these people reside, in order to document my firsthand account of their struggle to survive. It is my hope that by recording their stories, we can put a human face to the endless numbers and statistics of this world humanitarian crisis. This year alone, we have been horrified by images of drowned children lying on beaches, heartbroken for families torn apart during a long journey, and captivated by the stories of masses putting their lives at risk in search of a safe place to live.
When I visited Tripoli, a city north of Lebanon, I met a 10-year-old Syrian girl named Basmallah at the ADN Center for treatment and psychological support. ADN works with International Humanitarian Relief and several other humanitarian organizations under the Union of Medical Care and Relief Organizations (UOSSM) which includes Syria Relief. They also provide medical and psychological support to those in need.
Dr. Maha Attasi helps run ADN, which is designed primarily for refugee children--like Basmallah--who are dealing with trauma caused by being displaced and living in chaos at a young age. Basmallah recalls her life as an ordinary and happy one prior to the war.
"We had a nice big house with a little water well. I went to school, I played with my friends," Basmallah said. "I was a normal child."
The timid Basmallah gazed at me with watery eyes.
"Then the fighting began, and my father was killed. We lost everything. We ran from Aleppo (a city North of Syria), and I was barefoot. We walked for a long time."
Basmallah made a 177 mile (285 km) trek to Lebanon with her mother and sister's family, where they would ultimately live in a garage.
"It was a dark place with rats, and my mother was bit by one," Basmallah recalled.
"We slept on the floor until Dr. Attasi rented an apartment for us."
Basmallah's mother suffers a heart condition today, which makes the 10-year-old dream of becoming a heart surgeon. "I want to help my mother, I can't lose her too."
Basmallah said that she misses her father, just as much as she misses her country. She found healing in writing him a letter every day, and told me that she dreams of having the letters to her father published somewhere, so that she can feel that the world is on her side.
Fulfilling my promise to her, here are some of Basmallah's writings and drawings to her father: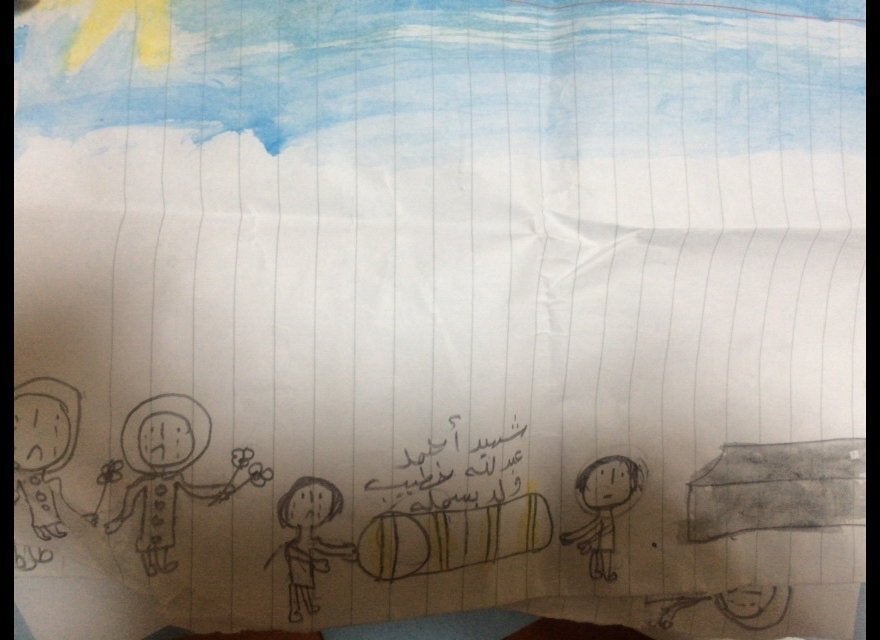 Basmallah's Letters to Her Dead Father
Basmallah isn't the only child with a story to share. Roughly 2.8 million children have been displaced because of the refugee crisis according to ChildrenofSyria.info. Many of those children are alone and searching for a way to survive. Some don't make it. Let Basmallah's story ignite a fire in your heart to help the children and families affected by this humanitarian crisis.
The holiday season is all about love, giving, and caring. But why stop after December? We should treat the entire year as a season of giving. Let us show the good nature of humanity, and project it onto the world during a time where people have 'mixed feelings' about refugees, let us all remember their human story. These people who are simply trying to flee a war they wanted no part of, struggling to survive hardships of life that are different in nature yet similar to the difficulties that we experience at any given time. Refugees deserve the most and best of our humanity.
Related
Popular in the Community