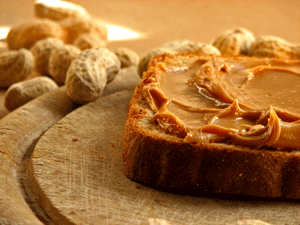 The look of surprised pleasure spread across my husband's face after he took his first bite. "Wow. Wait. That's good," was his ensuing staccato.
I had just fed him an hors d'oeuvre of melted chocolate with olive spread. In my cooking repertoire, it was the equivalent of a futuristic Ferran Adria-like moment. But I hadn't cooked it up out of some desire for culinary celebrity. I just wanted a painless equivalent of a "peanut butter and jelly" sandwich.
Currently, the peanut butter and jelly sandwich is unwelcome in many American institutions (schools, camps, and daycare centers) due to the recent proliferation of food allergies among American children. And as the mother of a very food allergic child, I really miss the undeniable ease a jarred spread can provide. Never mind the taste! The peanut butter and jelly combination is unique - the peanuts provide a salty, earthy satisfaction while sweet jelly excites and pleases. In its way, the PB&J's popularity proves that children can, and do, appreciate contrast in the taste and the texture of food as much as adults.
But my son is not just allergic to peanuts. He is also allergic to most food that lend themselves to a paste: tree-nuts, sesame seeds, soy and some legumes. None of the typical commercial peanut butter substitutes are safe for him. No almond or cashew butter. Tahini is out (it's made from sesame seeds.) No hummus, soy nut butter or pea. Most tomato or roasted pepper tapenades have fresh garlic, which irritates my son's tongue.
One company makes a brilliant alternative for the "peanut kids" called Sunbutter. Sunbutter spread is made of roasted sunflower seeds on "dedicated" equipment. I think it's delicious; kind of like a milder, softer cousin of peanut butter. But of course, my son decided that, after countless versions of it - sandwiches, bars, cookies, a not-as-bad-as-it-sounds loaf cake - he did not like it. So decidedly, that a part of me of me wondered if he had a unique telepathic taste ability, which informed him that Sunbutter, tasted too much like its murderous relative.
One morning, as I browsed the shelves of the French/Belgian bakery chain, Le Pain Quotidien (parents of allergic children are forever scanning food aisles, picking up products, reading labels, sighing...) I came across a jar labeled: "natural black olives spread" and written underneath - "Les Moulins Mahjour." The ingredients read "olives (90 percent), extra virgin olive oil (seven percent) and salt (three percent)." I pounced. I knew that unlike Pete Wells and his allergic son Dexter, my solution was going to have it's origins in a product, not in original culinary creation. I'm not New York Times food writer kind of true blue foodie.
Once home, I included my son in the process of sampling and constructing this sandwich, sitting him atop our kitchen counter, amid the jars of jams, jellies and our olive spread. I dipped a Triscuit into the spread. "Too salty!" he responded immediately.
So I switched to a thin round of seedless white baguette. It was better but "Too strong!" I spread a bit of raspberry jam atop. All I got was a dour face and the sense I might soon lose my willing participant.
"Isn't it sweeter, less 'strong' now?" I cajoled. "How about honey?"
Honey was better. I got half of a smile. Then my son sipped some water and said, "It's kind of chocolate. Mom, I want it to be more chocolate." That's when I recalled an unusual truffle I had tasted that was from the fancy Vosges chocolate boutique on Madison Avenue. It was made with white chocolate, dried kalamata olives and extra virgin olive oil.
Gambling on the memory of that truffle, I reached into my freezer, for the bag of allergen-free chocolate chips. I melted a small cup in the microwave and spread it on a fresh round of baguette and topped it with the olive spread. The lumpy, briny tang of the olives against the silken richness of the chocolate made me want to both shut my eyes to delay the sensation and take another bite immediately. For safety's sake, I dared not enter a momentary trance because my son's legs were dangling from the counter top. Instead, I gave him the next bite. After a nanosecond of hesitation he grinned. And then those magic words: "More please!"
After a few more frenzied constructions lunch was born and devoured.
However, the true test of our sandwich came the following week when I had to pack it for an after school sports program. I needed a hefty snack to survive overnight refrigeration and a few bouncy hours in his school bag. A fresh baguette might grow stale or chewy and besides, I'm not the type of person who always keeps a baguette around. So I put the olive spread and melted chocolate between two banal slices of Arnold Stone Ground 100 percent Whole Wheat Bread. I was playing for keeps. I even cut the crusts.
The next day, the sandwich passed on most counts: None remained in the bag and other kids didn't find cause to ask my son about his sandwich, which means I didn't commit the parental sin of packing "weird" looking food. And I do feel good about the much touted mono-saturated fats in the olives, olive oil and and the antioxidants the dark chocolate.
But there is a downside to my PB&J re-dux, which, if I were a true foodie, I wouldn't mind: Peanut butter provides far more protein than olives. Which means that my sandwich doesn't satisfy my son's hunger for very long. So while it might taste great, I'm still left looking for a hefty hiatus from my kitchen -- a truly delicious prospect.
Related