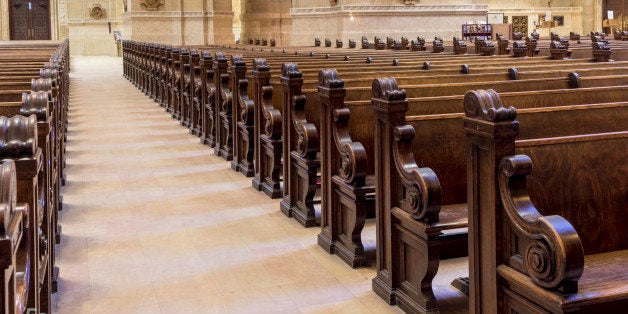 The Reverend Robert Schuller telephoned me following my "American Dream" segment on "Good Morning America" in the mid-1980's to invite me to guest on his "Hour of Power," the most popular televised Sunday service. Without telling me the topic, he assured me of a meaningful interview in the next two weeks. To prepare, I watched his sermon, "Honoring the Sabbath as a Day of Reflection and Refreshment." And I saw that he was wearing what appeared to me to be an academic robe. As a sign of respect, I wore a black suit and a blue satin blouse with wide lapels. And I tried to think of what message I might give to his congregants.
A limo took me to the Disney Hotel on Saturday evening, then in the morning, I was ushered into the green room, three times the size of ABC's, for makeup and hair. I was told to leave my handbag and move to the pulpit. Bob, as he asked me to call him, was there alone and motioned me to sit next to him as we watched the Crystal Cathedral, a spectacular glass star structure designed by Philip Johnson, fill with thousands of worshippers. "What do you think?" he asked. "You have cornered heaven!" I said. "Exactly right. No one has said it better," he laughed.
While we were waiting, he asked me for career advice. I was astonished because he had been so successful in building the biggest following all the way from starting in a drive-in movie theater, broadcasting his sermon into the box speakers in people's car windows, campaigning like a politician, door-to-door. So I thought about what he might do next and told him that I read newspapers cover to cover -- including the weekend religious pages. There was an opportunity, for the only coverage was on news: who was moving where. Why not have religious leaders' sermons included? At least, he could have his 10 commandments syndicated over 10 issues and offered him the name of King Features, which syndicated my own column, "At Work." He was delighted and asked me to remember it for him, as we did not have pen or paper.
After hymns, he introduced me to his congregation and asked me about the qualities of leadership. My response included ways to rise within any system, ways to take on responsibility and develop skills in following leaders and ways to find the necessary behavioral roles of testing and fulfilling tasks. "Followship!" he agreed, and began an invigorating exchange, one that he used as a demo tape to attract further reaches for his own television syndication.
Bob also invited me to join him in his unemployment seminars to reach the first wave of manufacturing layoffs that GMA had focused on, layoffs that would knock out past assumed guaranteed work. In Washington, DC, while he addressed his huge audience in the evening with his Positive Thinking message, I guided an educated out of work group the following morning. That evening, Bob invited me to join him for dinner at the Jockey Club. Walking in, with his arm holding mine, people turned to stare, recognizing him, perhaps assuming that I was his wife.
When the waiter presented the menus, Bob returned his and told me to order something that he had never eaten. When I protested that we had never shared a meal, he insisted. I must say I was unsettled. But, there, at the top, the special of the day was shad roe. I had never tasted it and in trying to order our two dinners, out came instead, "Shadrach. Meshach, and Abednego." And I nervously continued singing that old spiritual from the Book of Daniel, and we laughed our way through a delicious dinner.
CORRECTION: A previous version of this post incorrectly spelled Reverend Schuller's last name.
REAL LIFE. REAL NEWS. REAL VOICES.
Help us tell more of the stories that matter from voices that too often remain unheard.