In the Age of Trump, especially in the Age of Trump, we all need a change of pace to reset. I have been hiking and camping in the Catskill Mountain region of New York State for almost fifty years. But the hills are getting a little too steep for my knees, so this year I decided to spend a week mid-summer exploring both sides of the flatter terrain of the Hudson River. Felicia and I rented a cabin on Spring Lake about three miles north of the town of Red Hook in Dutchess County (see map). It turned out to be a very good location for eating, hiking, biking, kayaking, history, and entertainment.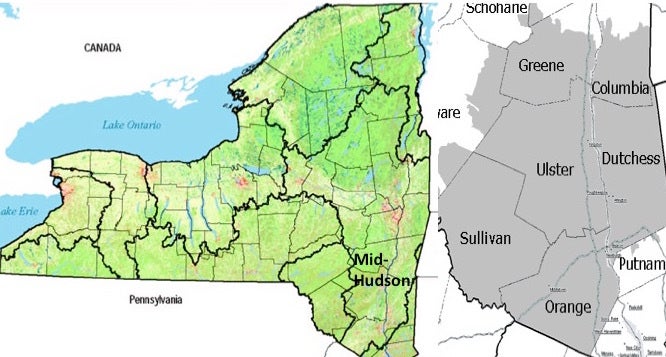 Red Hook is an old farming village on Route 9 in northwestern Dutchess County, current population about 11,000. It is also home to Bard, a small liberal arts college. Red Hook is about two and a half hours north of New York City on the Taconic State Parkway, an hour south of the state capital in Albany, and ten minutes from the more "touristy" Rhinebeck.
Spring Lake and the ride into town gave us plenty of opportunity to kayak, bike, and lounge near or in the water. But we also ventured out on both sides of the river. This is a report on some of the things we saw and did during our mid-Hudson River Valley week.
Poets' Walk Park (Red Hook off Rt. 9G, near the Kingston-Rhinebeck Bridge).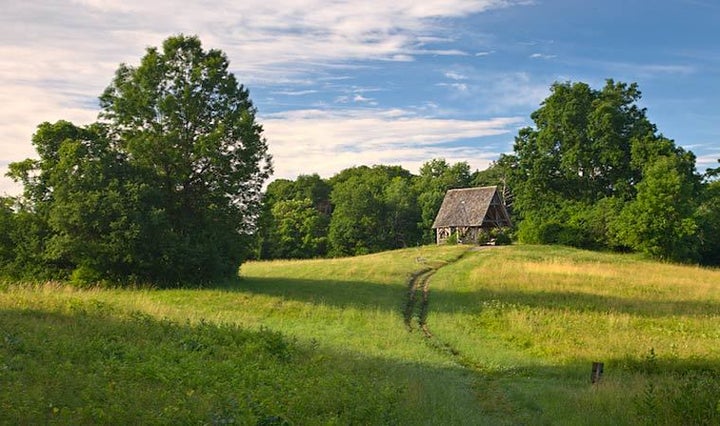 The park is a portion of the former Astor and Delano estates with two-miles of gravel and hard-pack dirt trails, rolling hills, and tremendous Hudson River vistas. It is called the Poets' Walk because Washington Irving and other literary figures are supposed to have been inspired by visits to the location. According to local legend, Irving came up with the idea for his Rip Van Winkle tale while looking across the Hudson River at the nearby Catskill Mountains. I believe the story after hearing thunder rocking the hills.
Hudson River School Artists.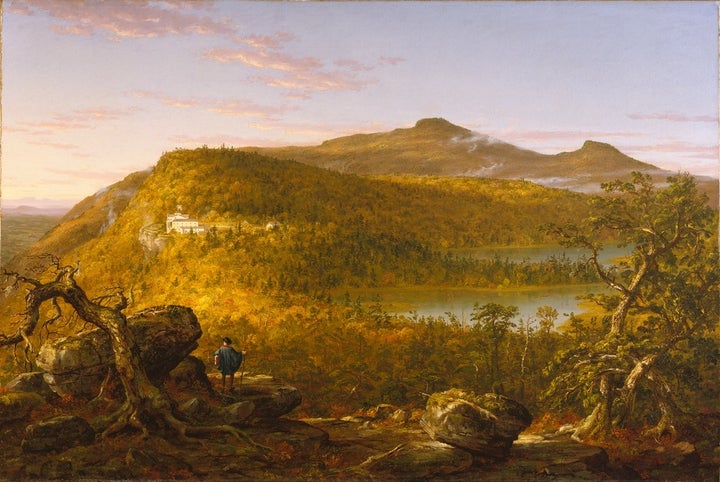 Starting in the 1820s, and for much of the rest of the 19th century, American painters celebrated American landscapes. Two of the most prominent members of the Hudson River School were Thomas Cole, who was actually an immigrant from England, and his student and protégé, Frederic Edwin Church. Cole is generally considered the "founder" of the Hudson River School. He traveled up the Hudson by steamship from New York City in 1825 and fell in love with the river valley. Cole and aligned artists celebrated the natural world and what they considered to be the spectacular wonders of the Americas, especially the expanding United States. Cole was a self-taught artist who made his own oil-base paints. Cole's house, Cedar Grove, in Catskill, New York, is a National Historic Site and Museum. My favorite Cole painting, a "View of Two Lakes and a Mountain House," painted in 1844, is at the Brooklyn Museum. The view depicted in the picture is part of the Hudson River School Art Trail and is a relatively easy hike from North Lake in the Catskill Park (see below). The Cole House currently also has an exhibition of paintings by Hudson River School artist Sanford Robinson Gifford, who has an interesting personal history. During the Civil War Gifford served in the Union Army as a corporal in the New York National Guard and he was stationed in New York City in 1863 and was involved in suppressing anti-draft riots.
Frederic Church's home is directly across the Hudson on the eastern bank, a short ride over the Rip Van Winkle Bridge. Church was from a wealthy family and made much money selling his painters. His estate, Olana, and his Persian themed castle-like home, dwarf Cole's and provide spectacular Hudson River views and pleasant walks along what were formally carriage roads. The estate and house are a New York State Historic site. Church's "Our Banner in the Sky," a sunrise including an image of the American flag, was an effort to stir patriotism after the Confederate attack on Fort Sumter and to raise funds to assist families of union soldiers.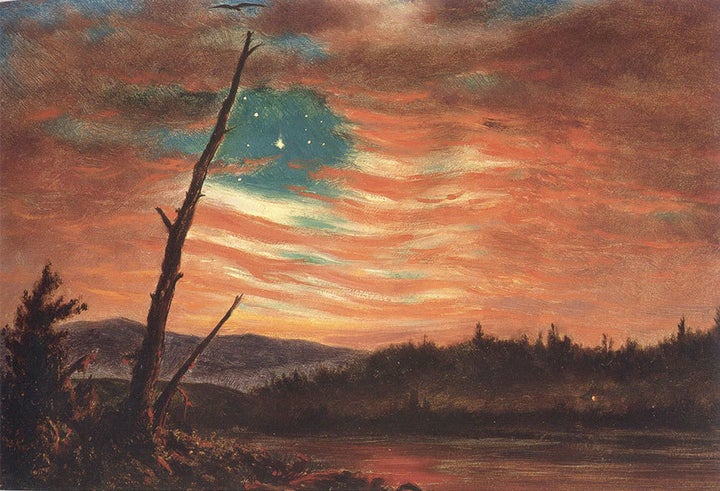 Kingston to New Paltz Rails-to-Trails bike ride.
We road a 24-mile road trip stretch of the Wallkill Valley Rail Trail in Ulster County on the west side of the Hudson and it was terrific. First, and foremost, it was flat. Most of the ride was on hard-packed dirt or gravel, although there were a few muddy patches. The Wallkill Valley Railroad operated from 1866 to 1977. The rail line was built to haul cement and lumber and the cars were originally pulled by horse teams. Much of the ride was like biking a Catskill forest trail, but you also passed through farm country and over the Rosendale Trestle Bridge high above the Rondout Creek and the old Delaware and Hudson Canal. Historical markers tell the story of the route and you can see caves excavated for limestone. We had lunch in New Paltz and turned back, but the trail actually extends south another eight miles from New Paltz to Gardiner.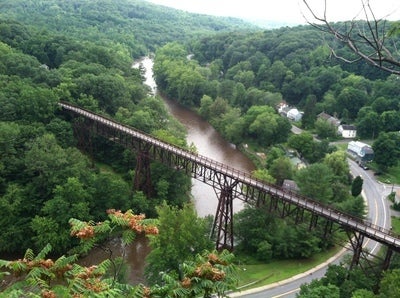 Dutchess County also has two popular Rails-to-Trails routes, the 13-mile Dutchess Rail Trail between Hopewell Junction and Poughkeepsie, and the Harlem Valley Rail Trail between Wassiac and Millerton, with plans to extend it to Chatham, making it a total of 46 miles.
Catskill's Park North Lake Hike. We had to do one Catskill Mountain hike so we picked the easiest one, the Lookout, Sunset Rock, and Newman's Ledge Trail starting at North Lake, a four-mile round trip that took us about three hours to complete, including a lunch stop at Newman's Ledge. The view from Sunset Rock which includes both North and South Lake and the historic Catskill Mountain House (now just memory) is the scene that Thomas Cole painted in 1844. The entire North Lake area of the Catskill Mountain Park, which has camping and swimming facilities, is one gigantic Hudson River panorama.
Farmer's Markets. We went to a Sunday market in Rhinebeck (10-2). For compulsive Farmer's market fans there were Saturday markets in Washingtonville, Pine Bush, Millerton, Woodstock, Barryville, Rock Hill, and Kingston and additional Sunday markets in Rosendale, Woodstock, and New Paltz.
Movies and Shows. We didn't want to spend too much time indoors, but we did catch two movies. We drove to Lennox, Massachusetts, about an hour's drive, and saw a high-end movie about neo-Nazis in Hungary that ended with a Skype session with the director. We also caught Dunkirk at the Red Hook movie house ($6 for senior citizens). If you make an hour's drive your maximum acceptable distance, Red Hook is accessible to the Tanglewood Music Festival, a multitude of productions at Bard College, the Powerhouse Theater at Vassar College in Poughkeepsie, the Mac-Haydn Theatre in Chatham, the Center for Performing Arts at Rhinebeck, the Bethel Woods Center for the Arts in Woodstock (across the river). Every bar in the region and every village seemed to have live music scheduled. We visited a few.