You want to be a writer? Glue your ass in that chair and write. Simple, sound advice that's easier said than done. Most writers I know are consumed with pitching projects, getting rejected, getting accepted, getting edited, teaching a class (or five), working at a bookstore, as a barista, as a gardener, as a cocktail waitress, etcetera; you get the point. Writers still have to pay bills! Have relationships! Show up for things! And deal with the details of everyday life that creep up on our time where we're supposed to be creating art, making sense of the world with words, politically, playfully, poetically. Which is why writers go to residencies, where for a nugget of time, we can devote ourselves to craft, indulge and work out ideas with like-minded people, and savor the joy that comes from producing work. The act of generating work is Romantic, capital R. For me, the rush followed by a sense of accomplishment in the act of writing itself-- divorced from alternating feelings of relief and anxiety I get when putting my work out there, makes all the other stuff I have to do to be a writer palpable.
It's exactly when you're feeling depressed about your writing career, or overly anxious to the point where you are doubtful about the work, that you need a residency. Every writer craves validation -- if not commercially or critically, then to at least to feel like the work counts for something. Residencies enable this. You can escape your friends! People prepare your food! Other writers want to read and discuss your work! The problem is applying to residencies is time-consuming and stressful. Kudos to the writer who has his or her applications all in order, including recommendation letters on everything from the nuances of your talented prose to what you're like to live with. That writer is not me, at least not this past fall, anyway, when I was desperate for a writer's residency to recharge my literary ambitions, collect my thoughts, and take a break from life to be crafty.
While acclaimed colonies or residencies offer prestige, I decided with a little ingenuity, I could arrange a DIY residency, where rather than waiting to be assessed and awarded -- however fulfilling (or devastating) that may be--I'd make the calls on my writing life. I also figured that without having to rely on institutional prestige, I would have to exercise my own networking muscles to set up a writing community or "board of advisors" that comes along with a place like Yaddo, MacDowell, or Hedgebrook. An essential part of residencies is community, so I'd have to seek mine out in order to reap the benefits offered by traditional residencies.
Having just returned from a short (three week) DIY residency, I feel hopeful. My writer's pot has been stirred; perspectives have shifted; I'm energized. I've made new relationships, repositioned ideas, and come up with new ones. I also wrote! But more than that, I reminded myself that I enjoy the life of being a writer; sometimes you need to get out of your intellectual/emotional/physical bubble to do that. Without disclosing my entire residency (though I provide some pictures), pertinent details are as follows: First, I stayed with memoirist, screenwriter, journalist, Ruth Fowler. She was a natural choice because we know and like each other's work, share a mutual close friend, and having met a couple times, I wanted to get to know her better. She's a yogi and surfer, doula and encapsulates placentas for new mothers, while also being the mom to a one-year-old boy and seven-year-old chihuahua in Los Angeles. I spent the rest of the time with my dad at his upstate New York country house, where he purveys over beehives, grows garlic in his cellar, and kept us warm by tending fire. He and I recently reconnected as adults, and I've written about this process, so taking up with him also felt organic though wasn't familiar. We hadn't stayed under the same roof since I was a teenager.
I realize that I'm coming from a place of privilege. But I had to allow myself the ability to tap into that-- often times I don't; that's the very idea of the residency. You have to manifest it. It sounds a little hippie, but aren't writing residencies kind of hippie? Give yourself permission to go there, and let these takeaways from my DIY residency inspire one of your own: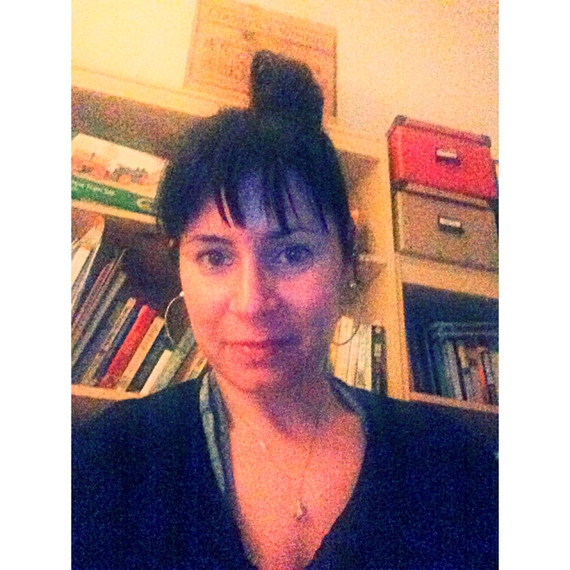 Find a mentor or role model. We do this anyway, but make an effort do it explicitly, openly, and in a non-competitive way. Observe the lit community around you and look for people who do specific publishing-related talents with verve. We're used to seeing our peers or community --whether they're more or less "successful" than we are-- as background to our lives (unless of course, they are our very dear friends, and if you're parsing apart the life of your dear friend, how good a friend is this person? But I digress). What I mean to say is professionally parse someone who is having the type of literary success you want for yourself. There's nothing wrong in doing this if you do it with grace and acuity. Examine someone whose networking skills impress you; isolate what he or she does well. Is it a skill you can learn? The same goes for prose style. Slow down and recognize the process behind the magic. This will help get you in a residency state of mind.
Contact a writer whose work you admire. Starting a conversation with a writer can be surprisingly easy. The lit community is small, and you're probably already friends on Facebook. Rather than going after a name, find someone who wrote something that spoke to you, that way when you do contact him or her, you have something specific to say. Who knows what can come of a conversation, but when you're genuinely invested in someone's work and not just "riding coattails," it's apparent. You want to connect with someone who's interested in having a conversation with you as well. Tapping into what you have to offer is part of community-building. You're not a writer to be friends with everybody, though the publishing world can feel like a tight-knit clique. Your work is elevated by choosing relationships wisely, so connect with people who you would sit and have a drink (or five) with. Enduring literary connections are made over the work: remember that and choose your community accordingly-- and the notion of the clique disappears. Because writers are often poor or traveling or both, your new writing friend might be interested in a housing swap or renting out a room. Or maybe you can exchange editing for housework. You never know unless you ask! Of course, writers are also busy, so have a couple in mind when you start reaching out. Obviously, begin with friends and acquaintances first, and broaden your circle from there. Get over your humbleness or social awkwardness and do it; you don't need to rely on institutional laurels to make connections with talented writers.
Hit up your family. All writers reach for the fruit of the family tree; so why not set up a time to get the family yarns down on paper (laptop). I think it's a lovely benchmark of adulthood when you want to spend time with your family. What's special about about residencies is the idea of potential growth, so obviously only seek home if you can view it from that perspective. Staying with the folks as a visiting writer, as opposed to a child, can be incredibly rewarding. Find parents or relatives who want to share their stories with you; they most likely will cook for you as well. Treat the interview as you would any interview, with sensitivity and skill. This can also have therapeutic benefits, depending of course on the material. The key is to go in as a writer; so that means listening as a writer, not child (no eye-rolling).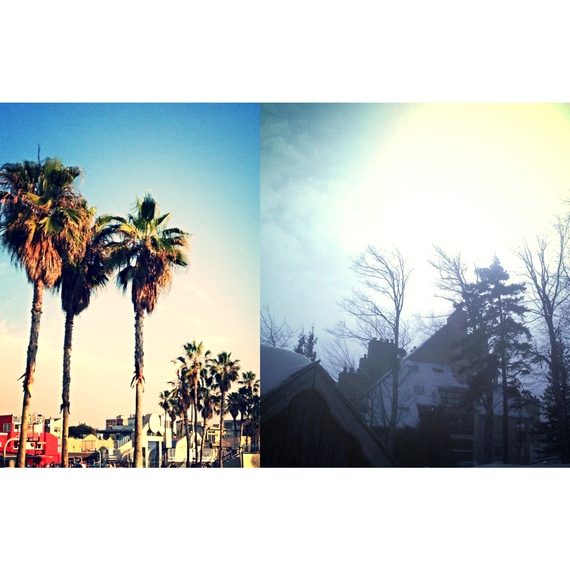 Arrange a trip with opposite climates. For the first half of my retreat I went to Venice Beach, California. For the second half, I went to a farmhouse right outside Hudson, New York, Going from balmy to frigid climates awoke my senses, like the experience of soaking in a hot tub followed by a dip in a cold bath (which I did when at a spa with Ruth in Venice). You will feel invigorated and resilient navigating two opposing environments, where the only constant is you. This will help you feel centered and open to work. You'll also be breaking the monotony of your daily grind.
Set up at least three different meetings with nearby writers. If you build it, they will come! As a journalist and editor, I'm in constant contact with loads of writers ... over email. I have tons of cyber-friends whose work, not only I admire, but champion in my own. When you're traveling, contact as many people you can think of with whom you can have a professional lunch. You needn't have an agenda, but the more meetings you set up for yourself, the more fuel you're adding to your creative fires. Informational meetings, which can often turn into dessert or drinks or a trip to the spa ... who knows ... will also help you schedule your time, which is essential for when you're on a trip to write. Lunch is ideal for meetings, giving you early morning writing time, and then the rest of the day for adventure. When you're on a writing residency, you always have your imagination, so the potential for adventure is ever-present.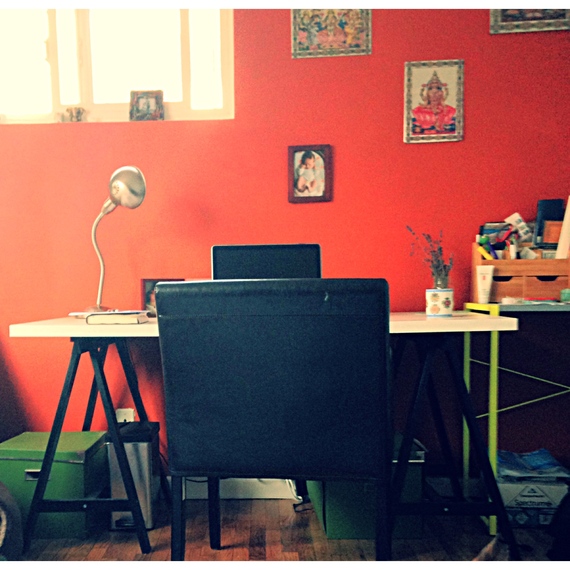 Write at a proper desk. I'm guilty of writing in bed far more frequently than I'd like to admit. When I arrived in my writer's room in Venice, Ruth had set up a desk. I was a little intimidated when I started to unpack. The room was all desk and bed, bookshelves and windows. Which is how it should be in a writer's room.
Go for a 20 minute walk every couple of hours. I do this because I have poor circulation, especially hunching over a computer. But walking is another writerly exercise to remind yourself of your role in life as an observer. You bear witness; it's what you do. Walks are essential.
Find a physical activity to do everyday that requires mindfulness. Plan at least part of your day as an escape from writer's inner dialogue. Resist the temptation to analyze your observations, for the span of the activity, anyway.
Talk to strangers. This literally forces you to get out of your head, and is a wonderful way to experience your agency (and cull material).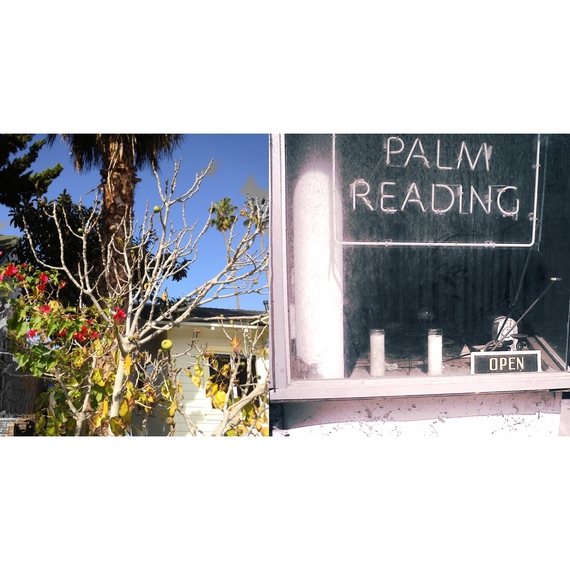 Look into windows. I find it useful to have a tangible symbol that I can reference as I walk and admire architecture. Windows are it for me!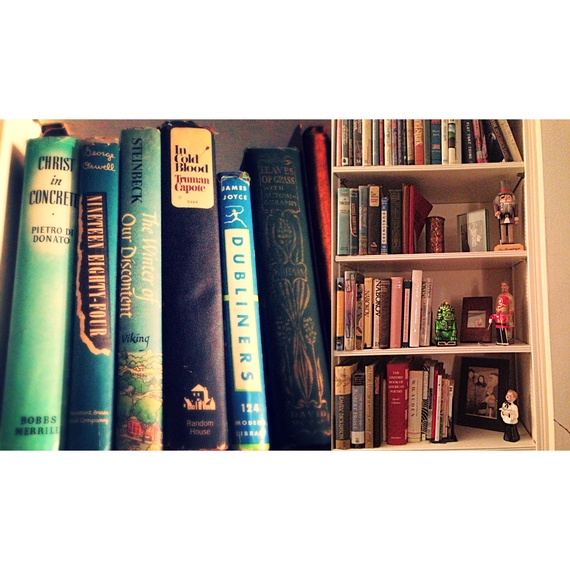 Surround yourself by books and re-read classics. An old book is like comfort food, and finding familiarity in words will engage your writerly focus without making you feel stuffed. In fact, I love how changing my physical perspective can renew the way I imagine familiar scenarios. This works especially well when writing about place.
Read in another genre than what you primarily write in. When working on a collection of essays, read poetry. When working on a novel, read a screenplay. Make it a daily task to access different part of your creative mind. You'll be more likely to experiment with form or bend your mind when it comes to structure. The more you see writing as an activity associated with freedom, the more creative you will be.
Keep food simple and local. Taste is one of the senses you'll need to be exploring on your residency, but don't be gluttonous. You can enjoy local treats without them being the focal point of your stay; remember this isn't a vacation. As hippie as it sounds, put the most energy into feeding your creativity. Watch how much alcohol you consume, as a nice buzz is pleasant to work with, but hangovers detract from your work.
Unplug from social media. You can always blog about your retreat after it's done. Be in the moment.
Don't stress if you aren't producing pages. This one is hard. But it's surmountable if you remember that your creative spirit will find its equilibrium. Maybe you're not producing pages because you need time to recharge. Listen to that. Watch movies, draw, wander, cook, clean, talk to people. The only thing that's off limits is wallowing. Other than that, everything on your retreat will have value, even if the pages aren't there yet. (Let's just acknowledge that a writing residency is a completely hippie delicacy.) Your residency is as much about establishing your identity as a writer as it is about writing. When you know your value, the pages will come because you just have so much damn stuff to say.
Calling all HuffPost superfans!
Sign up for membership to become a founding member and help shape HuffPost's next chapter