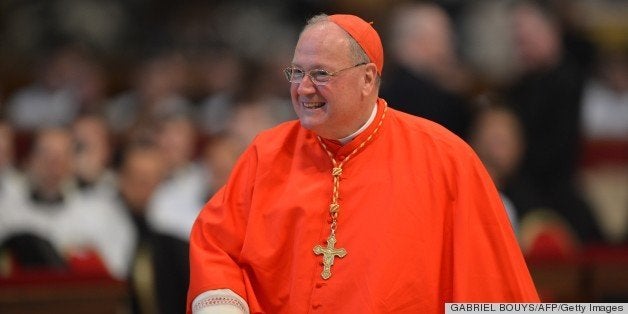 I love the way she laughs. I love that she can get a sunburn sitting in a car with the windows up. I love that she takes care of foster kittens and reads Pablo Neruda (in the original text), and I love that her heart is big and soft and sweet.
I knew when I saw her that I loved her. I knew it during our first fight. I knew it the first time she broke down in tears in front of me. I knew it when my parents disowned me for being gay. I know it every time I see her smile. I knew it when we wed, without family or friends, at a courthouse in Manhattan and she told me that I was enough.
Is this what Cardinal Timothy Dolan meant when he told Catholics to "share the truth in love"?
In a bulletin that he issued in association with the U.S. Conference of Catholic Bishops, Cardinal Dolan called upon Catholics to "be a witness for the truth of marriage in word and action" and confirmed that the conference urges the Supreme Court to uphold both DOMA and Proposition 8. He reminds readers that true Christians should oppose marriage equality for the LGBT community.
My wife and I were married in a Manhattan courthouse on Valentine's Day. After the ceremony a young woman approached us. She looked nervous.
"Did you guys get married?"
It was an inarticulate conversation of barely any length of time, but I saw hope and joy and so much life in her eyes. My wife and I receive a lot of hate as an openly gay couple, from strangers on the street, potential landlords, friends who choose not to understand and politicians who vote against our rights and work tirelessly to keep us as second-class citizens in both the government's and the people's eyes.
But we get a lot of love too.
Every day I kiss my wife. Sometimes it's in the grocery store, sometimes it's at the movies and sometimes it's sitting under the trees in Central Park. Every day I look around afterward; sometimes the eyes looking back at me are hateful and disgusted, but sometimes they're not. They're shy expressions full of wonder and hope and peace. Some accompany a nod and a smile. Sometimes there are two pairs of eyes belonging to two men or two women. Yesterday it was an elderly man helping his wife down the steps. A lot of the time it's kids.
Are they seeing the truth in love?
When I think about marriage, I think about commitment. I think about passion. I think about trust, loyalty and tenderness. Most of all, I think about love.
I don't think about genitals.
When I read Timothy Dolan's bulletin, I feel sick to my stomach. I feel uneasy and disappointed, especially in light of the recent anti-gay violence in New York City.
What I want to feel is hope.
I believe that people know what the truth about love is: that it exists between men and women, men and men, women and women and people who don't identify as either; that it is more than the genitals people were born with; that it is more than one person or one organization's definition of family; that instead of breaking people apart, it has the strength to bring us together.
When I think about love, I think about my wife. And I hope that one day soon, we will be a tiny part of what people think about when they share the truth in love.
REAL LIFE. REAL NEWS. REAL VOICES.
Help us tell more of the stories that matter from voices that too often remain unheard.