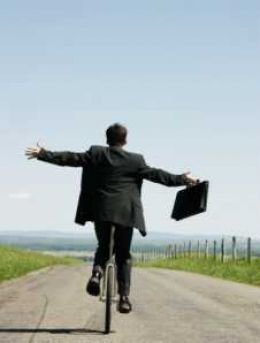 The souring economy and rising unemployment need not intimidate people forward-thinking enough to actually protect themselves from it. Those brave enough to face the recession head on, and go above and beyond to advance their careers creatively will thrive.
A recession survivor and personal friend of mine recently said to me, "If a bear is chasing me, I'm going to stop and put on my running shoes. I don't need to run faster than the bear, I just need to run faster than the rest of the people."
For your career or business, this translates into implementing unusual tactics, unimaginable to 99% of the population, to advance your brand. Yes, your personal brand.
Most people never think of themselves as a brand, but you have one whether or not you realize it. Your reputation is part of your brand, and your resume and business card are marketing tools. LinkedIn, with it's testimonial sharing and reference recommendations, is popular tool in personal brand enhancement.
But the most impressive enhancement to your personal brand, and most often overlooked, occurs from writing a book.
A book is the ultimate business card. It establishes credibility, wins clients from competitors, and lands jobs. Writing a book sends a strong message that no brochure, reference, or resume can compete with, silently claiming, "I am the expert in this field. Period." It shows your existing employer you are a valuable asset in your field. It instills confidence in an existing or future client or customer.
But book writing is not for sissies. It requires work. It takes time spent writing, editing, cover designing, and interior layout, just to name a few. But the up-front work pays handsome dividends in the long run. Years from now, it's something your career will thank you for.
With new print-on-demand technology, there are very little up-front costs in producing a book, since books are printed one at a time as they are purchased. With print-on-demand industry leader, CreateSpace (owned by Amazon.com), for about $40, you can upload your book via PDF file, and print one copy of your 100-page book for $2.15, glossy cover and all. You can buy them when you need them, one at a time or hundreds at a time.
If you choose to sell your books to the public, rather than just handing them out like business cards, you can do that too. CreateSpace will automatically post your book on Amazon.com, making your book available for sale to the public world-wide, and you earn 60% of the list price, which is set by you. This is an excellent source of incremental income, particularly if you market the book to your target market.
Simply stated, we have seen the barriers to entry in the book world completely eliminated. Anyone with drive, a message, and willingness to work can produce a book for almost no up-front costs. Fortunately for you, your competition will likely take the easy route, and avoid going the extra mile that book writing requires. But you don't need to hang back with the pack of 99%. Stop, put on your running shoes, and you'll outrun that bear.

Calling all HuffPost superfans!
Sign up for membership to become a founding member and help shape HuffPost's next chapter