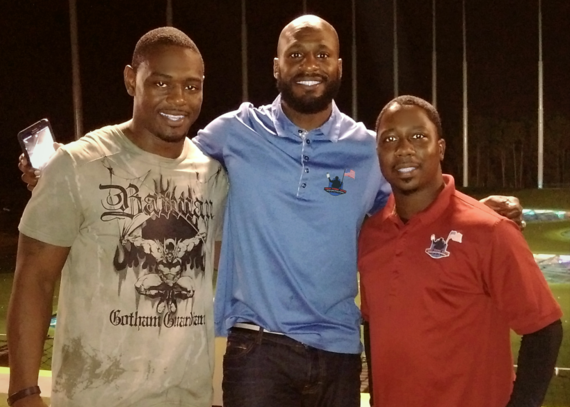 Caption: Retired NFL Superstar Lito Sheppard (Left), Retired NFL Superstar Drayton Florence (Middle), Jeff Shuford Ph.D. (Right)
Drayton Florence's domination didn't stop when he stepped off the football field and hung up his cleats. The Retired NFL Superstar is forging his future in tech and becoming the driving force behind the best veteran tech startup of the year.
In the tech world, many new startups struggle to find traction, media attention, and strategic partners. The lack of notable names in a company can make the difference in having a great fundraising round or a poor round. That's where powerful, successful, and tech-savvy business partners can make a difference.
"Drayton has the ability to expand us into various markets that are not only local but also international. His drive and initiative are unique in the tech industry and will foster the blueprint for tech companies in the future," said Tech From Vets' Public Affairs Officer, Lt. Colonel Rickey Pope, USA, Retired.
Drayton's impact has directly led Tech From Vets to accelerate their exploration into Virtual Reality.
"Our real estate company is enjoying the benefits of Virtual Reality greatly. Drayton's team brings a level of innovation that's new, refreshing, and highly engaging. We can now show homes to our clients without leaving the office, this cuts down on unnecessary showings, wear and tear on our agents vehicles and the ability for our elderly and disabled customers to see properties in our area effortlessly," said Angel Shuford, Realtor, with Kellum Corporation.
The landscape of the tech industry is changing greatly, with professional athletes eyeing startups as their next investment, it's imperative that tech founders take notice and reposition their marketing strategies.
A graduate of The University of North Florida with a degree in Sports Management, Drayton knows how to leverage his superstar status and his technological knowledge to acquire strategic partners for his company Tech From Vets.
"Our company is honored to have Drayton Florence as our Director of Strategic Partnerships. Our brand recognition has accelerated and our network of partners has grown exponentially since adding Drayton to our team," said Lonnell McCall, Vice President of Tech From Vets.
Being around military veterans is not foreign to Drayton. Drayton's father is a decorated military veteran who taught Drayton the meaning of patriotism and sacrifice.
Already featured on Engadget, Drayton now looks to show the tech industry that athletes are eager and willing to roll up their sleeves and help businesses build from the ground up.
With the help of Bunker Labs of Jacksonville, Drayton looks to assemble a list of up and coming tech companies in the Jacksonville area seeking investment and influential business partners.
Drayton's colleagues are always looking for startups that they can not only invest in but also help grow. Look for the trend of successful professional athletes entering the tech space to keep growing rapidly in 2017.
Adeyemi Adetilewa will help you create content that resonates with your audience, increase your blog's visibility online and help you grow your email list. Connect with him via Twitter.
Calling all HuffPost superfans!
Sign up for membership to become a founding member and help shape HuffPost's next chapter