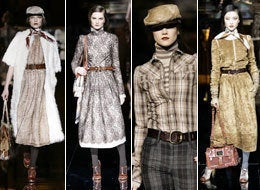 This may not be permanent -- designers have been known to perform dramatic volte faces every six months. But when two designers who made their names with skin-tight dresses that deliberately revealed bras, corsetry and all the other underpinnings that had hitherto been a woman's secret, find themselves overcome with an urge to produce herringbone dirndl skirts and ribbed polo-necks that reveal nothing, something's up.

Modesty has been creeping back into vogue for some time. It's a development not without benefits. The bare midriff, the evocatively named muffin top, the de rigueur paparazzi shot of a knickerless celebrity emerging from a car, now look very old hat. Covering up could be a really scandalous new tactic for the publicity-hungry celeb. Enter Dolce & Gabbana at their service.
Read the whole D&G review here.
Read blogger Samara O'Shea's review of Wendy Shalit's book A Return To Modesty.
Is it time women dressed more modestly? Is a little mystery more sexy? Tell us below in comments.