It is the final week of summer in the theater world. After Labor Day the new season really begins to heat up. Of course I'm already thinking about, and communicating with industry folks regarding, the Tony race. Back when I started, Tony campaigning used to involve nice gifts. My most cherished collectables include a Hairspray lunch box filled with goodies and a Wonderful Town Viewfinder. Then the people who run the Tony Awards decided to curb such showmanship by enacting a rule that pretty much said gifts were outlawed. A couple of years ago they suspended that rule for one year and then two. So far we haven't seen a real return to the swag of yesteryear. But will we this year?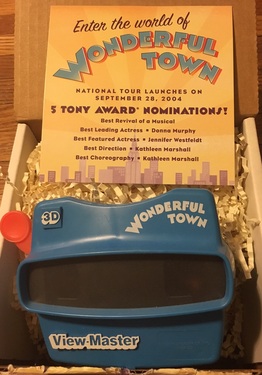 The swag ban came about in the 2005-2006 season when the Tony Awards Administration Committee added a rule that stated: "Producers may distribute (or cause or permit their agents or other representatives or affiliates to distribute) to Tony Voters/Tony Nominators (in one or more distributions) each of the following ONLY: (1) a souvenir book; (2) a script; (3) an audio and/or video cast recording that replicates the on-stage performance of the eligible production and that does not contain additional material such as narration, quotations, musical underscoring, etc. (Commercially available recordings that may separately contain additional materials are acceptable) and (4) one set of selected reviews and/or unedited quotations regarding the eligible production." At that time big money producers were on the rise and there began to be a lot of griping from the little folks. The rule was fairly divisive in the industry. It was also somewhat easy to get around to a certain extent.
You see, producers from the road come once a year for a spring road conference and many of them are Tony voters. These individuals could receive swag while they were here, because the swag was technically not related to their role as a Tony voter. You weren't reaching all voters this way, but it was something. Campbell Robertson of The New York Times detailed some of this rule-avoidance in the first year the rule was enacted. Additionally the rule never got rid of all swag. Press agent Rick Miramontez and I have each year since Hairspray (where producers made a "I ♥ Link" buttons) discussed campaign buttons. Seriously. Every year. In years when these types buttons couldn't be shipped to voters, they could be handed out at the theater to audience members at times when Tony voters happened to be there. For instance, A Catered Affair had "We Have Faith" buttons that were clearly aimed at generating buzz around leading lady Faith

Prince. A Catered Affair opened in 2008, when the rule was in full force, but these buttons were not considered campaign materials, as they were simply available from a basket post-show.
During the 2014-2015 season it was announced that the rule would be suspended for one year. At that time, Charlotte St. Martin, executive director of The Broadway League, and Heather Hitchens, executive director of the American Theatre Wing, said in a joint statement, "It is the feeling of the committee that the producers have been acting responsibly and that they will continue to do so without such restrictive language. It is felt that the voters also act responsibly and that such things as souvenirs, edited reviews and small gifts, etc. have no bearing on the voters selections." I loved this statement at the time because it was essentially your parents telling you: "You have earned this lollipop, but the second you start screaming on your sugar high, WE ARE TAKING IT AWAY."
That first year the rule was suspended, I was excited to hear about all the gifts. Sadly it was slim pickings. I think Fun Home might have sent voters the original graphic novel. You Can't Take It With You had some sort of flip book. People were excited to be able to manipulate reviews more, but no one went big on goodies. Producers I spoke to mostly stated that no one wanted to be the first to seem "tacky" or "ostentatious."
Last season the rule was still suspended, and small tchotchkes were sometimes sent, but most producers thought large gifts weren't worth the investment. After all, around this time last year, we all knew it would take a real spoiler to defeat Hamilton in the musical race. By the time March rolled around there were clear leaders in most of the major races (and only the very top awards are significant for sales).
Which brings us to this season. It is very early and things often change, but, due to what will possibly be closer races, I've already spoken to producers who are quietly pondering larger campaigns. If such campaigns did happen, it would involve more than an investment in money, it would involve a look back to the way we used to think about promotion. There has been real talk in every industry that online promotion now serves as a replacement for the old-fashioned tangible goods that used be seen as essential. Do we really need that mailing when we had an email blast? Do we really need to provide a hard copy souvenir book when we can just send a link to the same product? There are marketing and advertising folks on both sides of the answer to those questions. But real gifts are something different. People love exclusive gifts. There is something to be said for being one of under 1000 people to have an actual substantive thing to hold. (I'm not a Tony voter, but I'm already looking forward to someone handing over War Paint cosmetics.) Being one of a few people to get something digitally is not the same thing -- you know other people are going to have it soon enough.
Now of course you could debate whether any of this stuff influences the Tony race at all. Purists would say no. I'll tell you one thing though -- it doesn't hurt.

Please vote for Donna Lynne Champlin for her work Crazy Ex-Girlfriend in these Entertainment Weekly awards, thereby supporting the person with the most theater credits (who also happens to be the best).
If you want to contact me, you can find me on Twitter @CaraJoyDavid. I also welcome emails at carajoy@gmail.com. Please do not send me a Facebook message if we are not friends on Facebook. I will not see it.

Related
Popular in the Community