You may remember Suzanne Whang as the host of HGTV's House Hunters, or as Polly, the spa manager on NBC's Las Vegas, or memorable roles on Arrested Development, Dexter, General Hospital, Cold Case, Two & a Half Men, Boston Legal, Nip/Tuck, NYPD Blue, and many more dating back to Spenser: For Hire. Her TV credits go for miles, but her film credits are a much smaller list. In fact, one of entertainment's best Asian actresses finally has her first starring movie role this weekend in Director Chris Stokes' A Weekend With The Family. And after audiences get a taste of Whang's scene-stealing work in this hilarious film, her phone will be ringing with many more big screen opportunities.
A Weekend With The Family plays like an African-American version of Meet The Parents with just as many, if not more, laughs. In the film, Whang plays Sue Clancy, a traditional Korean-born woman married to a black man named John (Dorien Wilson). Their daughter Courtney (Karrueche Tran) is dating a black man named Travis (Marques Houston). When Sue and John meet Travis' parents for the first time, the Far East and the Deep South collide.
A Weekend With The Family trailer:
Outside of her television work, I discovered Suzanne Whang's talents at storytelling venues around Los Angeles where she has shared her funny, poignant and heartbreaking life stories. And if you're a Whang fan, check out her L.A. workshop, The Playing Field, for creative artists of all stripes:http://suzannewhang.com/what-im-doing/playing-field/
Much like her storytelling, a conversation with Whang is a journey full of surprises, and this recent conversation was no exception...
Xaque Gruber: Do you see yourself primarily as an actress? And how did a nice east coast, Asian girl like yourself get pulled into acting?
Suzanne Whang: Even though I've been acting the longest amount of time compared to the other hats I wear, you made me realize that I don't think of myself primarily as an actor. I'm an endlessly curious life experience junkie who was put on the planet to have wild adventures and find a way to turn them into art. Mary Oliver wrote an exquisite poem, Instructions for Living a Life. "Pay attention. Be astonished. Tell about it."
I never thought I was going to become an actor. I grew up in a small town in Virginia, with an engineer father and a stay-at-home mother. Neither of them were artists. However, my father had a great sense of humor and loved to sing, so there was always music and laughter in our house. He also owned every musical soundtrack album, so I knew every word to every song of every musical.
My first acting experience was the summer I was nine years old. My mother decided to bring me to an audition for The King and I at Wolf Trap National Park for the Performing Arts - a beautiful amphitheater in Virginia. I had never been to an audition before. We arrived at the huge stage, and there were a bunch of kids on stage already, holding sheet music and singing Getting to Know You. Mom guided me to the stage, so I happily started singing along with them. I already knew the song by heart. After the song ended, the show producer singled me out and gave me a monologue to read. I memorized it almost immediately, recited it, and he offered me the role of Princess Ying Yaowalak, the only speaking part for a kid in the musical. Then he was confused, because he asked for my name and couldn't find my information on his list. It turns out that auditions had been going on all day, and my mother had pushed me up on that stage during the final callbacks! I did three months of performances for 7,000 people. I was never nervous - it was purely fun.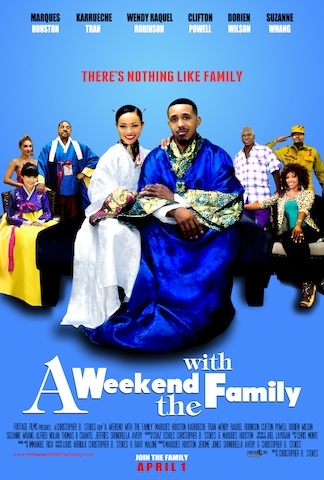 XG: Tell me about your role in A Weekend With The Family. Does she rise above the Asian stereotype? Were you channeling any particular person you've known? You are clearly quite different from the character you play, but how are you similar to her?
SW: I'm very interested in the topic of stereotypes. My character is far from oversimplified, and your opinion of her will likely change throughout the course of the movie. At first you may see her as extremely traditional. She was born in Korea, speaks Korean, and speaks English with a Korean accent, but you'll also discover that she has boundless enthusiasm, a huge heart, a ferocious temper, a sense of humor, a depth of pain, a strength of conviction, and an active libido, all of which apply to me in real life! And F.Y.I., you never see Sue driving badly, dry cleaning, excelling at math, giving a manicure, taking photos, or cooking a dog. I'm definitely channeling elements of my mother, and some of the battle-ax Korean women who were members of the Korean church I went to every Sunday as a kid.
I've never seen a romantic comedy feature film that deals with the tension between Koreans and Blacks. I'm very proud of this movie, and I hope that in some way it starts to heal race relations between us by shining some light on previous places of ignorance, showing how similar we all are as humans on planet Earth, and providing some much needed laughter.
XG: With all the brouhaha at this year's Oscars about diversity, what are your thoughts on the very few significant Asian characters we see in American or even European films? I haven't seen an Asian actor nominated for an Academy Award since Rinko Kikuchi for Babel (2006). The diversity issue seemed to be more about Black actors than other minorities (Asian actors, disabled actors, Indigenous actors, etc.) Even the Asian opera singer nominated for Best Song (for the film Youth) was not allowed to perform onstage this year - shocking and disappointing considering the diversity conversation dominating the show. Though The Academy Awards allowed Lady Gaga, Sam Smith and The Weeknd to perform their nominated songs. Are strides being made? Would you encourage young Asians to become actors in Hollywood?
SW: I believe in self-empowerment by creating your own content. If there is content that you are passionate about wanting to see, if there are characters you would love to have brought to life, then take charge and do it yourself. I would love it if more minorities, regardless of gender, age, or sexual orientation, became actors, film producers, screenwriters, directors and studio executives. Complaining about the current situation is a colossal waste of energy. As Gandhi so famously said, "Be the change that you want to see in the world." Don't continue with any victim mentality. Don't expect any white person in a position of power in the entertainment industry to create the perfect vehicle for you. Imagine it, dream it, visualize it, have faith, and take action towards making it happen yourself. Statistics are just numbers about what other people have created in the past. If I believe in statistics, I wouldn't exist. I'm a female, I'm Korean, and I had breast cancer so I have only one and a half boobs. I shouldn't be working at all, and yet I'm starring in a new movie! I'm 53 years young, and the best is yet to come. Blacks and Koreans have more in common than anybody realizes ~ for example, black don't crack, and yellow don't mellow!
XG: I often feel like the world needs comedy more than anything, and this trailer made me laugh out loud several times. Perhaps more than any other comedy film trailer in recent memory. Where do you get your gift for comedy? Who are your comedy heroes?
SW: I got my gift of comedy from my father, who got it from his father. My paternal grandfather, Whang Chai Kyung, was a famous Korean Presbyterian minister from Seoul, South Korea. In fact, in the Korean community in the U.S., I'm much more famous for being HIS granddaughter than for being the host of House Hunters. He traveled all over the world, preaching. He was very charismatic and funny, and he was controversial for using humor in his sermons. Some of the congregation didn't like this - they said, "Church no funny", but he said, "Only way get people stay awake." He founded a Korean Presbyterian church in Washington D.C. when I was a kid, and we went as a family every Sunday.
Well, many years after my grandfather had retired from his ministry, he was interviewed in a retrospective about his amazing life. This interview took place in Korea, and it was a live broadcast. The final question that they asked him was, "Rev. Whang, what is the secret to eternal life?" He smiled, took a deep breath, and said, "Here is the secret to eternal life." And then his head dropped face first into the table with a loud THUMP. Then on the recording you hear laughter, because they all know what a prankster he is. Then... you hear silence. Then, you hear gasps. Then, you hear "Uh muh nuh" - which means "Oh My God" in Korean. He had an aneurysm and died. Right then and there. He was dead on arrival at the hospital. Are you kidding me? Of course he died in the most hilarious, profound, and dramatic way possible. I mean, come ON. "Here's the secret to eternal life." THUMP. See ya! And on live radio?! I guess he really lived by the motto, "Always leave 'em laughing."
I'm funny because of him. I'm a comedian because of him. I'm a public speaker and a minister because of him. I'm brave because of him. I live a big life because of him.
Suzanne Whang at age 9 when she starred in The King & I as Princess Ying Yaowalak (Photo courtesy of The Virginia Reston Times)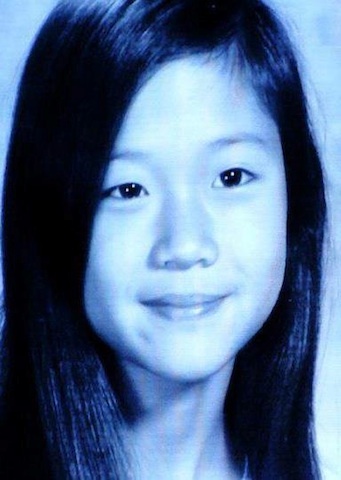 SW: And beyond my grandfather, my comedy heroes list is long, but here are some of them: Lucille Ball, Carol Burnett, Lily Tomlin, Mary Tyler Moore, Whoopi Goldberg, Tracy Ullman, Bob Newhart, Dick Van Dyke, Norman Lear, James L. Brooks, James Burrows, Steve Martin, Eddie Murphy, George Carlin, Bill Hicks, Chris Rock, Margaret Cho, Bill Burr, Sasha Baron Cohen, Jon Stewart, Judd Apatow, Melissa McCarthy, Tina Fey, Amy Poehler and Kristen Wiig.
XG: I know you had a long battle with breast cancer, and it has played a part in your success as a storyteller. Can you talk about that?
SW: I believe every human being is a fascinating gold mine, and we each have multiple stories from our lives that the world would benefit from hearing. Maya Angelou once said, "There is no greater agony than bearing an untold story inside of you." So one of my passions is encouraging people to tell their stories. We are only as sick as our secrets. In 2006 when the doctor called to tell me I had breast cancer, I said "Wow. This is going to be great material for my stand-up comedy act someday." I kept my cancer a secret for five years. In 2011, the cancer metastasized to Stage Four, and I was given six months to live. In Asian culture, it is considered shameful and tacky to talk about your problems. You're supposed to pretend that everything is perfect. So I had to break through a cultural core belief when I finally came out of the cancer closet. I did an NBC news interview and a press release. And I received such an outpouring of love and support from my extended family, my friends, and fans all over the world. My heart cracked open, and I was quite literally loved back to life. Every woman I know who has or had breast cancer has always taken care of everyone else -- saving, fixing, rescuing, helping, loving, and prioritizing everyone else's needs above her own. I had to learn how to slow down, stay still, ask for help and love, and receive it. It was unbearable at first. I felt embarrassed and like a failure for having cancer. I didn't want to burden my friends. But they were ecstatic to help me. In fact, they came over to my house and said, "Finally, we get to reciprocate." Wow. I had never thought of it that way before. Anyway, I finally started doing stand-up comedy and storytelling shows about my journey with cancer, giving keynote speeches about it, and even delivering guest sermons at spiritual centers. I believe that being honest and bold and funny about my journey helped me reclaim my health, and I encourage anybody going through difficulties to reach out for help. As human beings, we were not meant to go though challenges alone.
Suzanne Whang talks about her experience with cancer in this Profiles of Hope video (produced by the Los Angeles County Department of Mental Health):
XG: Most people would know you for your television career. Tell me about film acting vs. TV. What advice would you tell an actor making the transition from television to film?
SW: While I love going to the movies even more than I love watching television, I prefer acting in television to movies. In my experience, television shoots move much more quickly than film shoots. I like to work fast, do very few takes, and keep it fresh. Sometimes television shoots have multiple cameras shooting you from different angles simultaneously, so if you improvise something amazing, you don't have to do it over & over again exactly the same way for continuity, from a bunch of different angles. On television shows, you could be on for multiple seasons and have a long time with the same cast. I spent four seasons on NBC's Las Vegas, and I got to develop my character Polly over the course of an extended run. On a feature film, it's like going to an intense summer camp. It's a shorter time frame, but you'll be working your ass off for really long hours, and you might do 100 different takes of the same three lines of the movie. Chances are you'll be exhausted and delirious by the time the shoot ends. And last but not least, television tends to be much more lucrative than feature films for me, at least so far.
Suzanne Whang (photo by Caroline White):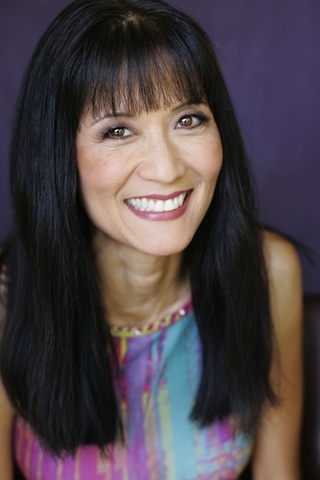 SW: For any actors who are making the transition from television to film, here's my advice. Prepare your mind, body and spirit for an intense shooting schedule with long hours. Meditate and do some form of physical exercise or stretching every morning. Eat a healthy breakfast. Bring healthy snacks with you so you don't crash on the sugary garbage that most craft services offer in between meals. Don't make any other plans during your film shoot schedule, because chances are good that you won't be able to honor them. Get as much sleep as possible. Bring your favorite pillow and blanket in case you can nap in your trailer in between scenes. Bring your favorite music to listen to, especially music that helps get you into the emotional state of your character for different scenes. Bring essential oils that will help relax you, energize you, seduce you - whatever the scenes require. Bring inspiring books or photos. And record the other characters' lines on a digital recorder for each scene, so that you can run lines without anybody else's help if necessary. And finally, remember to have fun - this is all supposed to be fun. So enjoy yourself!
A Weekend With The Family is being released in select cities on April 1, including N.Y.C., L.A., D.C., Detroit, Chicago, Houston and Atlanta.
Popular in the Community