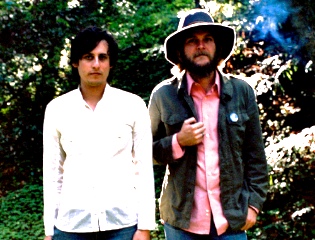 You might encounter Jesus here and there. Invoked from the pulpit or Facebook. In pro forma political pieties. Credited or blamed for events big and small. You probably didn't encounter him in a roughneck Motel 6 as you were poised to fall into hell. He didn't shoot you in the head.
That shocking, illuminating redemption scene is just one revelation in the most richly rewarding music to arrive recently. Poor Moon (Tompkins Square), the latest recording by Hiss Golden Messenger, presents a struggle for attachment to spirit, to family, to meaning in an indifferent wilderness of temptation. The work of MC Taylor and Scott Hirsch, also longtime partners in The Court and Spark, Poor Moon embraces no dogma, thematically or musically. While deeply personal and deeply informed by Biblical allusion, Taylor's lyrics often evoke places and feelings older than words; "Call Him Daylight" conjures a deity who could have walked straight out of the Rig Veda. And while the tones of traditional folk music frame the argument, the ecstatic soul of Curtis Mayfield makes just as clear a statement.
Like Van Morrison circa Astral Weeks, HGM confounds traditional-music genre expectations. The HGM sound only begins with the core band and Taylor's vocals. The arrangements may employ strings, horns, organ and aural details, including the outdoor sounds that surround Taylor's home in North Carolina. Don't let the Appalachian setting and Taylor's academic training in folklore lead to easy assumptions. Fiddles fiddle and mandolins chop when needed; strings and horns provide lush, long lines and punch when needed. It's no surprise that Hirsch also works in film sound. There are landscapes here, with deep-woods shadows and sudden bursts of light. Gentle front-porch instrumentals and roadhouse blasters. Straight-ahead country and deep soul. ( "A Working Man Can't Make It No Way" would work equally well for Merle Haggard or the latter-day Bruce Springsteen).
Poor Moon was first released as a limited, vinyl-only release, with no further expectations. Josh Rosenthal of Tompkins Square Records heard about the record from Lambchop guitarist William Tyler after Tyler toured Europe with HGM. He was captivated and pursued a wider release. The new collection follows Bad Debt, an intimate solo recording that shares four songs with Poor Moon. Taylor views them as a continuing song cycle.
"I made Bad Debt at my kitchen table in Pittsboro, N.C., in late 2010," Taylor told me. He continued:
At the time I was caring for my son, who was an infant. I would write while he was sleeping, and at night. It was not intended to be a record, not at all. But over time, it took on the shape of an album. What seemed like a possible final act for me became a new chapter. I think people had a visceral reaction to that record and it continues to be a very meaningful collection of songs to me. I consider the two records -- Bad Debt and Poor Moon -- linked in spirit. I have always liked to hear variants of the same song and see nothing wrong with an artist producing multiple renditions of the same composition.
Taylor arrived at that kitchen table after a decade with The Court and Spark, an agile country/rock ensemble that could negotiate Taylor and Hirsch's multiple musical interests. But Taylor was after a different life. He moved to North Carolina to pursue his folklore studies and to raise a family. "By the end of The Court and Spark, I think Scott and I were both feeling like we needed liberation from the constraints of a band," Taylor says.
I dearly loved everyone in the C&;S, but remaining in the band was putting that love in peril. I wanted to be free to play with anyone I wanted and dispense of this notion of band as democracy. I am selfish, I suppose. HGM has offered me unfettered access to my own emotions because I don't have to worry about whether things are happening musically. And that, in turn, has taught me that things can happen musically in many ways; it's less about technique and more about soulful playing, less about pedigree of instrument and more about how you use it. Discussion of technique puts me to sleep; it's either magical or it's not. Or you find a path towards the magic.
It was definitely a clean break and a refreshing one at that. I think HGM just crystallized something Mike and I had grown into over The Court and Spark years. For me, it was a broader interest in the creative side of recording, which I am free to explore in HGM. But another key difference is that I left my post as a guitar player. Turning to the bass in HGM was not only a much-needed relief, but opened up so much in terms of the rhythms we explore. Playing bass brought me closer to the core of the songs, while it allowed me to see the music from a much larger perspective than before. I still play plenty of guitar on HGM recordings, but it feels so different -- and enjoyable -- now.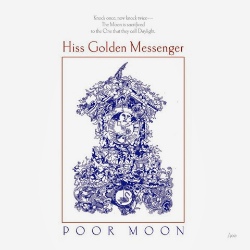 The transition also appears to have freed Taylor to more explicitly express his spiritual inquiry. The inspiration is clear enough in the lyrical language -- but his songs are no simple Sunday -- school lesson. I asked if it was fair to focus on the religious aspect of his work. "It is fair, sure," he replied.
Though I make a distinction between religion and spirituality. The most important theologians, to me, are those who continually face down the dark night of their soul and use their Lord -- whatsoever it may be -- as cause for celebration and solace and fellowship and bravery. The most important theologians are doubters who continually seek and gather affirmation of the existence of spirit. The true and just and generous of spirit do not harangue and belittle, like Rick Santorum and others in his clan... If there is an act of witness in my songs, it is witness of spirit, not of the Gospel of Christ or anyone else. Jesus Christ plays but a small, though important, part in my work. In that regard, my music is exponentially different from that of E.C. Ball or Charlie Louvin, who both sang the Gospel. I deeply love their music, but I suspect they would consider me a pretender. Though maybe not -- a good melody is a good melody, right?
I asked about "Jesus Shot Me in the Head" which I heard as a fine rendering of the Damascus-road story -- if Saul had found himself in a Larry Clark vision of Tulsa.
"Jesus Shot Me in the Head" is a song of spiritual bet-hedging... which I believe born-again Christians engage in regularly, participating in the idea that prostrating oneself before a Christian God will secure you a box seat in Heaven. Be good if you want to; be bad if you want to. Grasp the immediate implications of your actions within your community. I'm no angel, what do I know? But the song hinges on the lines, 'At least I hope this is how it goes; Because I'm just about out of bread; So hey everybody, did you hear the news?; Jesus shot me in the head.' Getting shot in the head being a play on getting right with God or what have you.
Hirsch lives in Brooklyn, Taylor in North Carolina, yet they maintain their close working relationship and partnership. "Scott and I have been working together a long time," Taylor says.
I consider his friendship a gift and blessing. He is my foil. We have a special language because we've been making art together since we were both 17 years old. We reference things that only make sense to us. We don't always agree on things, but that's as it should be. And we're always looking to throw curveballs, because we're both musical omnivores. To make a straight country-and-western record would be untrue to who we are as musicians. We love Mel Tillis and we love Curtis Mayfield and we love Keith Hudson. Who says we can't take the lessons we've learned from those musicians and put them to use in our own music? Logistically, it can be tricky, but not impossible. Scott flies down here a lot, we'll do a burst of work, and then we'll each work at it in our separate studios before meeting up again.
"We can predict each other's moves," adds Hirsch. "So the lines get blurred. Sometimes I will play a Mike riff, and sometimes he will play a Scott riff. We definitely do have our own styles that we bring to the table, but it might be confusing to pick out who is responsible for what. It is misleading to say Mike is the banjos and I am the electric stuff in the band. But one thing we do agree on is all the different styles of music we love and I think that influences the arrangements we choose." "Blue Country Mystic" is one example: guitar, strings, organ and horn section hold forth in turn as the song builds from a perfectly in-the-pocket shuffle to a joyously pumping chorus.
"The arrangement for 'Blue Country Mystic' evolved as we played it together," Hirsch said.
It began as a demo with drummer Terry Lonergan and Mike playing on acoustic guitar. There was something in the drum part that took me on a path to the pulsing verse bass and the melodic bass line of the chorus. I think we were particularly obsessed with this one Boz Skaggs live in Tokyo video of  'Lowdown' that really informed the groove. Another thing we were heavily listening to at the time was Jean-Claude Vannier's string arrangements. I'd like to think in the smallest way the strings (beautifully arranged by Mike's brother Graham Taylor) conjure up the magic of Vannier's strings.
The HGM creative process continues even as Poor Moon is released. "We are working on a new record now," Taylor allows. "I'd say we have about a third of it recorded. We now do most of our work in my parents-in-law's large, old house in Oxford, NC, so Scott comes down here quite a bit. The approach to the new one is not dissimilar to Poor Moon: don't spend too much time or too many takes on each song, try to capture the vibration of the first couple of takes even if it means leaving mistakes in. Keep overdubs to a minimum unless the song is begging for something special. Immediacy and impulse." (Taylor recently performed one of the new songs, "Busted Note," at a radio appearance on WUNC.)
The birth of his son added a watchful new witness to Taylor's journey. How will Taylor interpret a life chasing the spirit in music when Elijah wants to understand his father's choices? "Life offers many forms of reward and compensation," Taylor replies.
For better or worse, I have bypassed nearly every non-musical opportunity that has come my way in the last two decades. Most people I know have abandoned artistic pursuit for financially greener pastures while I have maintained a subsistence income. And I'm not convinced they're happier than I am, they just have more stuff. I am fortunate to be able to access my emotions and negotiate my spiritual life through music. I would be dead without it. So the rewards are deeply personal for me. You don't go into music to make money. By the time the money starts to arrive, it's no longer part of the equation, it's just some slight gravy. And this has been a long lesson learned. I'm not even sure how I would convey it to Elijah other than to continue to conduct myself as an artist as I have been. And let him watch.
REAL LIFE. REAL NEWS. REAL VOICES.
Help us tell more of the stories that matter from voices that too often remain unheard.