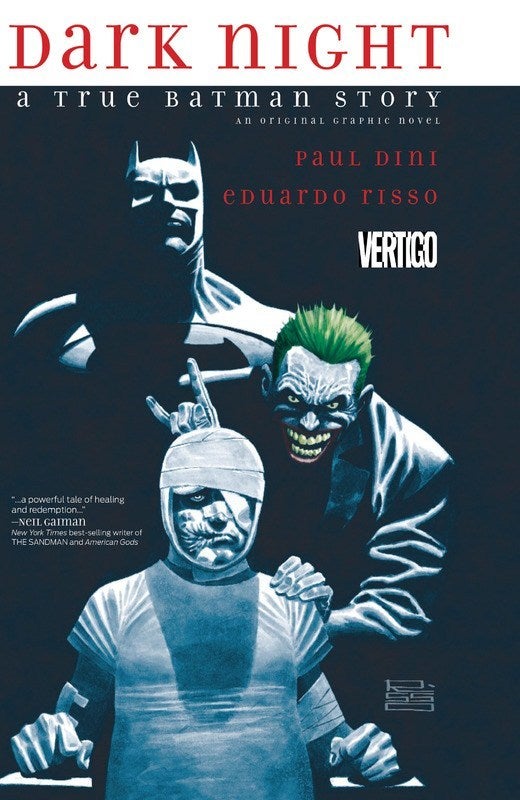 "Dark Night: A True Batman Story" is a fascinating book in that it tells a true story, but features all of the recognizable characters from Batman comics and cartoons. Written by Paul Dini, it's an autobiographical account of his time working on "Batman: Mask of the Phantasm." What makes that time so remarkable is that he was viciously attacked on the street, unprovoked. Sent to the hospital and spiraling in his mental health. The characters of the Batman mythos feature prominently in his inner monologue, they are, quite literally, the demons he needs to exorcise in order to get back to work.
I'm constantly fascinated by the time period at Warner Brothers and DC when "Mask of the Phantasm" was being made, so I was greedy to get any inside look at it that I could. As a lifelong fan of Paul Dini's work, I was shocked to see the horrible circumstances he endured while working on what might be the finest big-screen Batman film ever made.
For writers, it's fascinating to get a glimpse of how a screenplay like that would be able to come together with so many different writers working on it, but that's really an aside. The dramatic elements make this more of a side note, even if it's the sort of information I'd want to read on its own.
We watch as Dini has to deal with his physical ailments, but also the mental issues that result from this. It's a topic that requires much more attention these days than we pay it, and to see it told with such style and force is a treat for a reader, even though it might be uncomfortable at times. It's uncomfortable in the right ways, though. It can make you squirm with how you feel for Dini and the situation he's in.
"Dark Night: A True Batman Story" is a masterpiece of biographical storytelling in the comics medium. Paul Dini's highly personal story, struggling with his demons that take the shape of Batman's rogue's gallery in the wake of a mugging, combined with Eduardo Risso's stunning depictions, shows two masters of the form at the top of their game.
This comic elevates the escapist nature of comics and shows them for the powerful tool for beating our own internal demons that they really are. I really loved it. The structure of the story, framed around modern Dini laying the story out in storyboard format, is a stroke of writing genius. The elegance of storytelling combined with the vulnerability he shows in the text and Risso smuggles into the subtext is nothing short of heartbreaking and raw. I'll be recommending this to people for a long time to come.
I'll be recommending this to people for a long time to come. Like any great storyteller, Dini is able to take off the armour of his self and show you what lays beneath. Passing that through the artistic hands of Risso, in this case, offers us something that will truly make us feel. This isn't just a graphic novel, this is great literature and art combined.
This is a perfect 10 out of 10. A truly unique comic storytelling experience that has to be seen to be believed.
The book is available now. You can order it online or pick it up at your local comic book store.