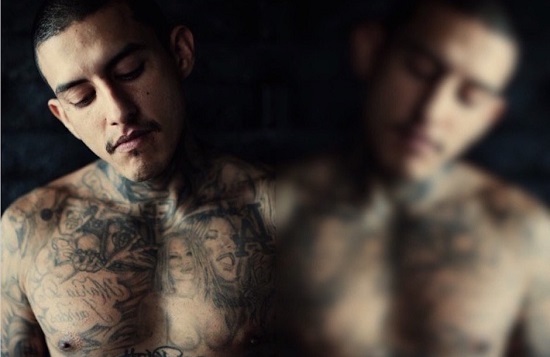 Last weekend I had the opportunity to see the one-man autobiographical play, Fighting Shadows, written by Richard Cabral with Robert Egan, which tells the trajectory of one man's struggle with social disorganization, and navigates through the redemptive process of the power of love and the arts. Performed hauntingly and epically by Emmy-nominated actor, Richard Cabral, known for his roles in ABC's American Crime, End of Watch, A Better Life, and other crime dramas, his deliverance echoes struggle and survival. It comes from the gut and oozes suppressed pain. Only through the catharsis of performance can Cabral exhaust complex issues such as his father's abandonment, drug use, gang life, recidivism, prison politics, death, and others. It is a harsh reality of growing up in dire conditions, in an era that spawned the crack epidemic, the warehousing of people of color, the CRASH units in law enforcement, the advanced militarization of the police force, draconian state and local legislature, the 92 Riots, the proliferation of gangs and vandalism, and it is through this era that Cabral comes-of-age.
The set design is a backdrop of a graffiti-filled wall. Gang nicknames plague the entire façade, chain-link fences reflect the oppressive social conditions, while cultural murals attempt to give pride and dignity. Painted by celebrated artist, Fabian Debora, who went through his own form of social disorganization on the streets of Los Angeles, the iconography places you in a complex built environment. The musical arrangement done by Rocio Libertad Mendoza & Jesus Martinez, ranges from Juan Gabriel to Johnny Cash, and it too reflects the complexity of navigating the ethnic American neighborhood via second and third generation cultural acclimation, which often results in social disorganization. At the start, Cabral performs his grandfather's immigration to Los Angeles as a result of despair, poverty, and unemployment. After his father leaves him at the age of two, he is thrust into an arduous world where his only mentorship is in the simplistic, unconditional love of a grandmother, who speaks in proverbs and offers unwavering advice. But as she leaves, Cabral enters an inferno on the streets without a Virgil to guide him, and searches for role-models in the wrong places. The call of the street is fierce and soon he advances into a perpetual world of gangs, drugs, violence, and jail.
Cabral goes deep into the belly of the whale and experiences more social disorganization that involves abandoning his own child, prison, recidivism, attempted murder charges, and seeing friends get shot and murdered right before his very eyes. But solace soon comes from an unlikely place - the special/solitary housing unit (SHU) in state prison where he can decompress and take a step back from authoritarian prison politics and apartheid living. The SHU is an unlikely place since it is often associated with cruel and unusual punishment, but as Cabral maintains in the play, it is the place where he learns to fight the shadows, for the first time. It is the push he needs to attempt metamorphosis and upon release reaches out to his five-year old son. It is the first step at reconciliation. Another step is taken when a woman in his life offers simple friendship, and the ultimate reconciliation process occurs in prison when he befriends an enemy from an opposite gang. It is at that moment where hatred, blame, and victimization cease to exist. Cabral takes charge of his life, an architect of his own destiny, and upon release starts a family, reconnects with his son and mother, finds employment, and finds new mentorship. A priest tells him, "Don't let people judge you by the first chapter, go out and write the next one. Don't let them write it for you." From then on, Cabral transforms from two-striker, low-level thug, to Emmy-nominated actor and playwright. His second chapter is just beginning.
The last words in the play reflect the latter. He says that Shakespeare cannot tell his story about doing heroine or methamphetamine, nor can Tennessee Williams capture what it was like to have your cousin die in your arms for representing your street gang organization. Outsiders cannot write our story, we must write our own narratives. This is commonplace in literature, cinema, and non-fiction. We get interviewed by outsiders who want to tell our stories. They are fascinated by our experience and reality and want to champion our cause. Despite their intention, it is another form of "othering." They want to capture our essence by combining it with their safe interpretation, but it is not our nuance, metaphor, or allegory that is being used - it is theirs.

People who grew up in Los Angeles during the 80s and 90s, who were involved in gangs and graffiti, or were directly informed by them and who survived the age of coldness, lived the most turbulent decades of Los Angeles' history. The death rate skyrocketed and the warehousing of people proliferated beyond normalcy. Entire groups of people were annihilated. The era was the true spirit of Lost L.A. Richard Cabral and Fighting Shadows are the complete reflection of dark progressivism; to come from a somber place and transform into something sublime and colorful. It is the most relatable piece of drama I have ever experienced and sobbed throughout. It is an epic hero's journey and a true redemptive American story of hope and possibility. When you open up to the world and expose your truth and vulnerability, it becomes your strength, and the world opens up to you.
Don't miss out on this extraordinary and authentic drama which runs one last time on May 8th in Skid Row, Downtown Los Angeles at Inner City Arts 720 Kohler St, Los Angeles, CA 90021
For more info go to:
http://www.fightingshadows.com
@richardcabralofficial
Photo credit Fighting Shadows 2016
Related
Popular in the Community