Evan's Crime, starring Douglas Smith and David Arquette, is a crime drama centered around a boy named Evan (Smith) who gets into a heap of trouble after he is busted for possession of marijuana and accused of far worse. Arquette, who plays a corrupt district attorney, is hell-bent on locking Evan away despite his obvious innocence.
There are a few aspects of Evan's Crime that felt a bit disjointed, such as the jump forward in time. With the Evan being so young, skipping the story forward a full seven years made it harder to accept the situation, because people change so much in seven years especially from such a young age. However, the plot of the film is certainly heavy enough to justify unchanging motives from most of the main characters despite a seven year leap.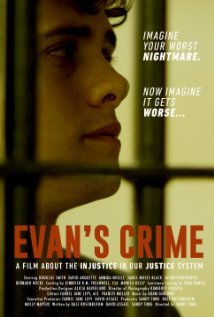 What I can say, as an audience member close to Evan's age, is that the film scared me. As I was watching, I felt myself wondering how I would handle the same situation, one in which my life is ruined and I am powerless to stop it. Not many films can inflict fear without being considered a horror, so in that way Evan's Crime is exceptional.
By far the crowning jewel of this film is the performances by the three lead actors: Douglas Smith, David Arquette and Annika Noelle. While bits and pieces of the exposition felt a bit loose, this flaw is more than compensated for by well fleshed out characters. Evan's character goes through a very emotion driven and very real arc, as he struggles with forces outside of his control and ultimately must make a decision regarding whether or not to exact revenge on Arquette's character for putting him away. Additionally, Arquette does a phenomenal job of conveying how misguided his character truly is, using Evan's life as a pawn in his own sick bid for power. The character believes that he is just despite his obvious flaws, and Arquette brings that egotistical absurdity to life fluently. Annika, who play's Evan's girlfriend, brings a layer of sympathy and catharsis to the film otherwise lost.
Overall, Evan's Crime, while not perfect, is a must see for young audiences and indie film lovers alike.
REAL LIFE. REAL NEWS. REAL VOICES.
Help us tell more of the stories that matter from voices that too often remain unheard.