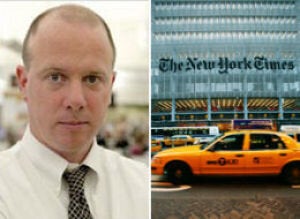 Dear the New York Times Ex-Reviewer (E.R.) of restaurants:
"Take an abysmal meal I had one night at Hotel Griffou, a warren of rooms below a town house on West Ninth Street: nasty, brutal and short. Worst of all was an entree of chorizo-stuffed squid that tasted of rubber and sawdust, as if it had been fashioned at a sex-toy factory. My guest pushed at the thing with his fork. It repelled his efforts."
The Ex-Reviewer's salvo sullies two years of critical work, as it slaps at the important responsibility of the critic: to see and analyze cultural products in a thoughtful fashion. The words are reminiscent of the "fair and balanced" views that stew out of sham news organizations. The commentary is befitting of the sensationalism of a 14-year-old looking to make a digital splash, a Palahniuk-like descent into high school verbal cruelty and existential hell. If E.R. is correct in stating that "all criticism is argument" then he has not made a critique of Griffou; there was no argument, no wrestling for the truth.

The lifelong critic Lionel Trilling wrote, "It is possible that the contemplation of cruelty will not make us humane but cruel; that the reiteration of the badness of our spiritual condition will make us consent to it." Intended pain is on the way, E.R.
According to the Ex-Reviewer, "There is no better perch from which to examine our shared values and beliefs, behavior and attitudes than a seat in a restaurant dining room." Then, I posit, there is no better way to examine a reviewer's ethics than by examining his summary notes. In two years, only one complete restaurant mention contains only the demeaning: E.R.'s of Griffou. From my recollection of 20 years of New York Times critical attention (from Tommasni in classical music, to Asimov in wine, to Kakutani in literature — all dedicated professionals), E.R.'s satirical sandwich stands alone in its entirely inclined instinct. If examining restaurants allowed E.R. to view shared values, then through his Griffou position, one reads his value system as periodically derisive and derogatory.
I am in accordance with the Ex-Reviewer's ex-boss, Bill Keller, who takes no umbrage with advocated positions (as in the case of Fox News); only when skewed comments are delivered with claims of objectivity are they so bedeviling. A warning to all who read the National section of the New York Times: be wary of E.R.'s (its new editor) editorial eye.
Allow me to re-contextualize a few choice E.R. phrases:
"fashioned at a sex toy factory"...best describes our bathrooms with room for three.
"warren of rooms"...space to play hide and seek among.
"rubber and sawdust"...the latter used by some of our choice guests to squeeze on their slinky dresses made of the former.
"nasty, brutal and short"...Did E.R. mean to quote Hobbe's definition of life without the important organizing element of government: "nasty, brutish and short"? In any case he fully described his mention of Griffou, as it was nasty (without critical balance), brutal (mean spirited), and short (three fun filled sentences). His editors would have done well to note, rightfully, that as government's role is to protect people against the tyranny of the powerful few, so are editors meant to protect the reading public from the virulent spewing of unmeasured critics.
The Ex-Reviewer set himself the farewell condition to express the two poles of his restaurant experiences: "greatness, or despair"; both, then, are misleading guides to balanced observation, and therefore, can be considered critical exaggerations, by definition. Could his comment be considered an unjustified injury of the good name of Hotel Griffou? A critique — i.e., a detailed evaluation — is justified; indeed, it is a reviewer's required work. This was not a critique, it was a defamation.
So why the calumny, E.R.? Comedians lampoon without analysis to give rise to laughter. E.R., you are not a comedian. You are, and now were, a self-proclaimed reviewer. A capitalist's Darwinian moment might have explained Griffou's unadulterated axing, "E.R. opens new restaurant on West 9th Street" or "Griffou owners vie for new position as food critic for the New York Times." But, alas, no such business competitive purpose exists. Perhaps, there is no code of ethics in E.R.'s food view, just the need to feed what he sees as his reader's beastly appetite.
A Minority Report from Open Table (if only E.R. knew Dick, Philip K.)*:
HAPPY
Overall rating
(Very Good) 4 / 5
Dined on 07/28/2011
"This was absolutely memorable. I loved the decor and the artsy remnants of the original establishment. The atmosphere is warm and the food is absolutely heavenly. I treated my mother and brother to the 5 course Gilt dinner and though the health inspector showed up (they got an A!) which held up the event, time flew by relatively quickly with the help of their fabulous cocktails. I really loved their peach one and the "trophy wife". Their halibut melted in my mouth and though I'm no pork connoisseur, I really did love their tenderloin. Overall, brilliant!"
In a mean world there was never any meanness in Al Hirschfeld. "I once did a drawing of Jimmy Durante, and I left the nose out," he was quoted. I ask you, E.R., have you no Hirschfeld, Sir? At long last, have you no sense to leave our nose alone?

Misanthropy without irony pointing to redemption is simple malfeasance. Moliere would have protested. Shall we cancel our sex toy orders? And stop the shipment in from the sawmill? That E.R. will have no continuity in the hospitality community means there is no Griffou redemption possible, and no community to which he must explain himself. But I assure you, none of my relations takes pleasure in his swipe. All with whom I've spoken look disbelievingly and incredulously upon his mean-eyed visage. Besides empathy, I've received many messages, euphemistically summarized as: "Sifton's commentary just ain't right."

E.R., you were just learning your job after two years. Griffou will stay on; we just turned two, and we know we have a lot to learn. Inspiration from Voltaire, I advise E.R. at the national news desk: may the garden of national news be cultivated in ways that enlighten our perspective, in ways opposite to the dim view you laid down upon Griffou. This retort attempts to master my misery over E.R.'s miserable meanness (from Julius Caesar): "There is a tide in the affairs of men, which taken at the flood, leads on to fortune; Omitted, all the voyage of their life is bound by shallows and in misery." May we take this tide, at flood level!

In the parlance of a healthy body taken to the hospital: we could have done without the needle of the E.R.; we're feeling just fine.
Healthfully yours,
Jesse Keyes
Co-Owner, Hotel Griffou

* Thanks to Hendrik Hertzberg
Popular in the Community