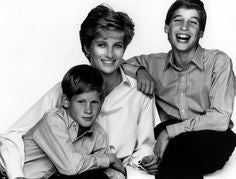 In this year of harsh, mean-spirited social discourse, the summer brings a gratifying reminder of tenderness. The late Princess Diana's two sons, commemorating the 20th anniversary of her death, are featured in various documentaries and magazine interviews to illuminate and honor their mother's work caring for the disenfranchised of society.
Of course, there were many sides to this complex woman. Biographer Andrew Morton, like other observers of Diana's life, declared that "in death she has been portrayed as happier, livelier, more saintly than she ever was in life." Nonetheless, the authentic hum beneath the attractive, alluring surface—or even what some experienced as an "obsessive personality"—is indeed her legacy of "leading with the heart."
As a preamble to Prince William and Prince Harry's memorial celebrating their mother's life, another mention of "tenderness" got our attention this spring. Right in the middle of a backlash squall of politicians with closed hearts and glib hate-speak spreading their mischief, a singular kind of world leader spoke out. In a surprise TED talk during a conference called "The Future You," the spirited Pope Francis called for nothing less than "a revolution in tenderness":
And what is tenderness? It is the love that comes close and becomes real. It is a movement that starts from our heart and reaches the eyes, the ears and the hands. Tenderness means to use our eyes to see the other, our ears to hear the other, to listen to the children, the poor, those who are afraid of the future. To listen also to the silent cry of our common home, of our sick and polluted earth. Tenderness means to use our hands and our heart to comfort the other, to take care of those in need.
The Pope's words could be considered an apt description of Princess Diana at her best. In the 1980s and 90s, she called for her own "revolution in tenderness." Diana's actions as a devoted hands-on parent in a stiff-upper-lip royal culture and a courageous humanitarian taking on "undesirable" causes awoke a 'relationship of the heart' revolution in the House of Windsor, peeling back layers of outdated customs designed to keep feelings at a lofty distance. Diana, conversely, got down to the bone of intimacy.
A woman who "made a conscious decision to dispense with formality very early on," recalled former British Vogue editor Anna Harvey about assisting the young, inexperienced princess with wardrobe choices, Diana rejected the British royals' tradition of wearing gloves to greet the public. "She wanted flesh-to-flesh contact." Diana's more kinesthetic sensibility and warmth, her direct eye contact and gentle touch created an immediate intimacy with "her public." This is what empowered her legacy—only enhanced by her vulnerability, her emotional wounds—that we still feel and learn from today.
Whenever I read about Diana's life, a "wabi-sabi" kind of quality comes to mind—a 'beauty in broken things' quality—reminiscent of how Leonard Cohen wrote and sang about human frailty, our cracked spaces, "that's how the light gets in." Diana was indeed lit from within as she extended a healing, tender touch, making room at the table for the rest of us.
Like many trailblazers, however, Diana could savor few of the earthly rewards of her own revelations, but a generation later, we see the effects of such a promise in the lives of her sons. Prince William and Prince Harry were 15 and 12 when their mother died, yet as young adults they both seem to follow her heart-centered motivation in service to others; less about "duty" than a natural expression of kindness.
In her particular brand of palace revolt, Diana helped break apart the centuries-old, patriarchal régime of "duty" that frequently destroyed any notion of familial tenderness and personal happiness. "'Duty' is a word," writes novelist A. S. Byatt in The Children's Book, "that only too often acts like restraining magic, to make a woman deny an important part of herself…." Diana's sons knew their mother's kind of magic and consider no restraints in sharing their own.
During Pope Francis' 18-minute soliloquy addressed to a world sorely in need of reminding that "tenderness is not weakness; it is fortitude," he also declared that "tenderness is the path of choice for the strongest, most courageous men and women." Speaking how one's power can be a "force for good," the Pope suggested that "if you don't connect your power with humility and tenderness…your power will ruin you, and you will ruin the other."
As Diana encouraged her sons, her remembered spirit also encourages us to use our innate nurturing abilities and reach out—no matter the circumstances swirling in our lives—to help tender the world's frayed edges and, in turn, heal our own. This summer of 2017 is truly the perfect time to be reminded of beauty and kindness and, yes, tenderness. Not only to imagine a world where strong, open hearts prevail, but to follow the lead of an imperfect princess and practice living with an open heart every day—then take a deep breath and watch as something quite revolutionary happens! ~
[Excerpts from the author's book-in-progress, tentatively titled, From Princess to Goddess & the Rebirth of Love.]
Calling all HuffPost superfans!
Sign up for membership to become a founding member and help shape HuffPost's next chapter
This post was published on the now-closed HuffPost Contributor platform. Contributors control their own work and posted freely to our site. If you need to flag this entry as abusive,
send us an email
.