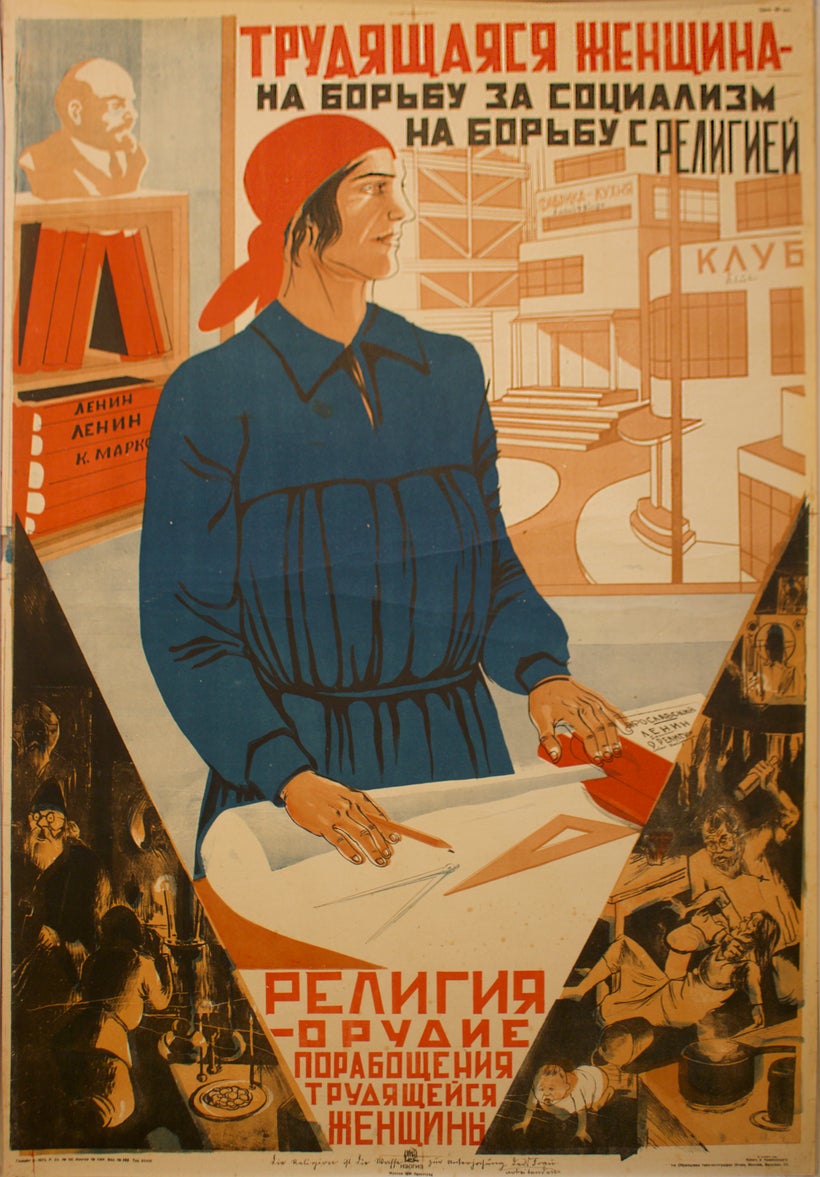 IPCNY is currently presenting a not to be missed show called"Russian Revolution, A Contested Legacy 1917-2017." Curator Masha Chlenova, an expert in the field of historic Russian art, took me on a 100 hundred year tour through Russia, from Communism to the present confused socio-political dynamic exorcised through contextual visual imagery. Chocked full of treasures, this show speaks volumes about one of the most profound social revolutions the world has ever seen, the movement addressed and aimed to correct the adverse conditions of centuries for so many, particularly women, Jews, gays and all manner of the oppressed.
We stopped first to view the lynchpin for this fascinating investigation. There we stood looking at a contemporary rendering of a historical painting without the main character present. Instead, our eyes were compelled to gaze at 'the' billowing Red flag with its golden hammer and sickle waving in the wind in the foreground, while thousands cheered in abeyance for the ghost of their powerful leader. Yevgeniy Fiks', Leninana reflects on the eerie absence of Lenin in his series of re-imagined portraits from the original popular propaganda of the Red Revolution which was disseminated all over Russia between 1920 -1960. Fiks has omitted the notorious leader of communism, yet his spectral effects remain nonetheless, even if selective memory prevails. Among the modern pieces are old journals, historical book covers, posters, and illustrations. An historic poster of a woman with her hair bound back and covered with a scarf, sturdy and formidable; she works in a factory doing "men's work" independently displaying her know-how and singularity, unbeatable, the perfect soviet emancipated female. Lots of images are displayed of Jewish communist life with Hebrew and Yiddish boldly escaping the shadows. Chlenova elucidates: "If you were Jewish you could only live within the so-called 'Pale of Settlement.' Actually before the Bolsheviks in February 1917 this restriction was abolished, Jews could go into the city, they could study in the cities.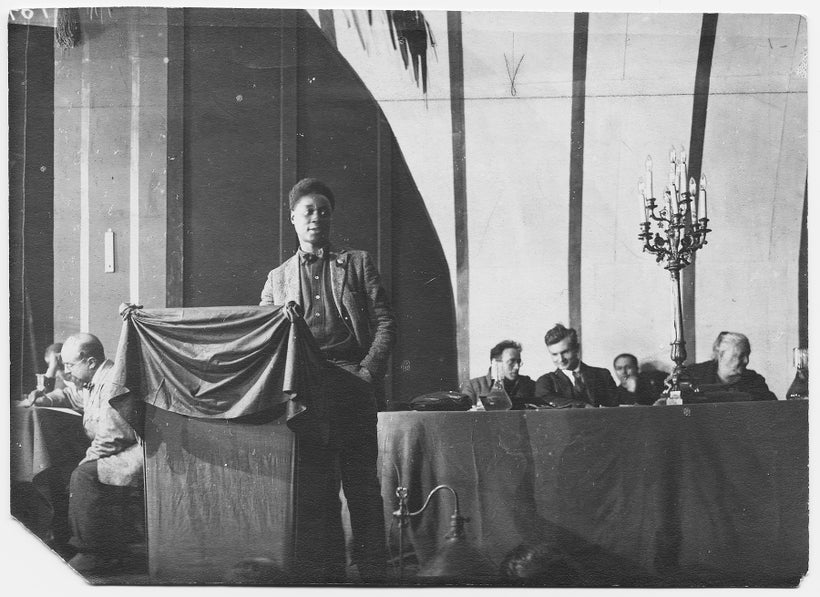 We wanted to anchor history in concrete facts. These things I'm telling you, we put them on the brochure and made this timeline on the subject of racial equality, on the issue of Jewish freedoms because there were moments when for example, Soviet government gave Jews land. Jews never were allowed to own land in Christian Europe or Russia, and so the Jews were given land and allowed to form the communities that became the prototype for the idea of the Kibbutz. And this was a part of the dream of the early Soviet history, that now the Jews will also be part of this Soviet society.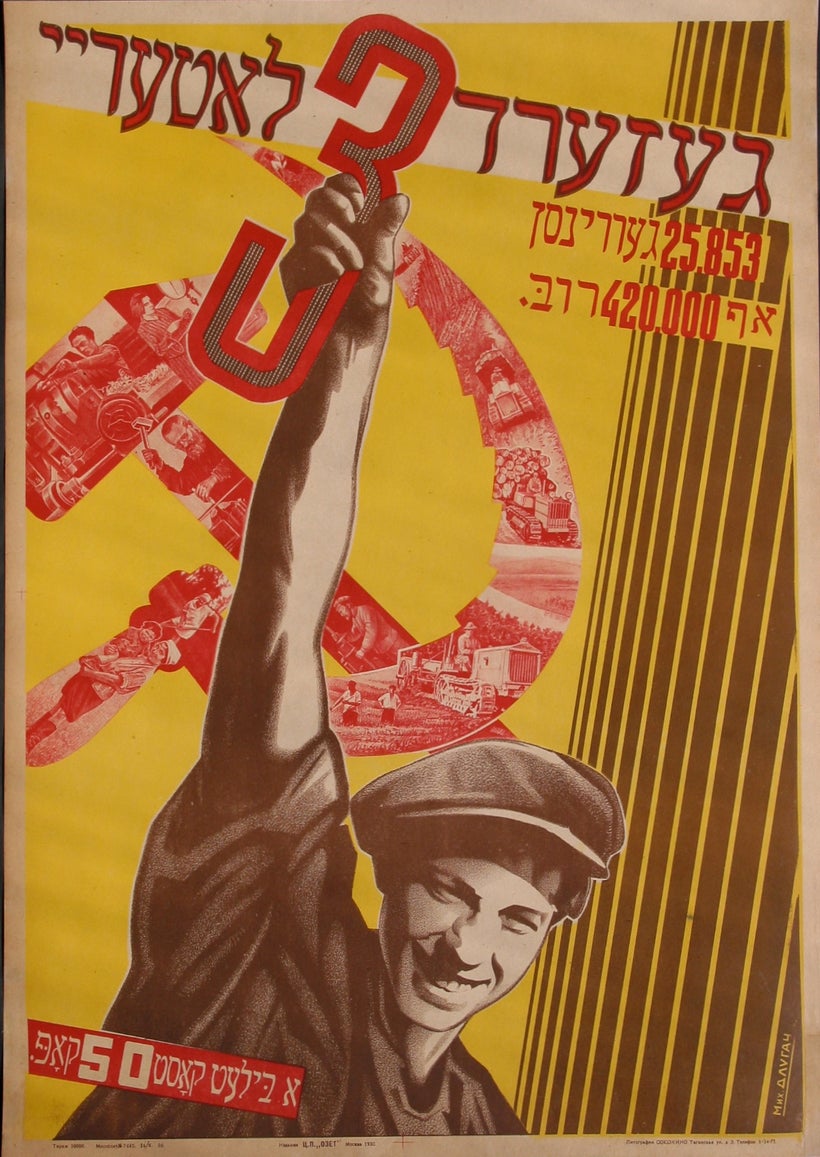 Yevgeniy speaks to that history because he takes a very famous poster by Lissitzky an iconic thing, and it is from the time before the Civil War, called "Beat the Whites with the Red Wedge" created during the Civil War and what Yevgeny does is he superimposes Yiddish writing on top of the Russian. And that speaks to the artist Lissitzky own hyphenated identity. Because Lissitzky was both someone that came out of the Jewish small town and somebody that became an international artist. Some of these works are from MOMA, some of them are from a private collection these are works by Lissitzky and by Altman where they have already developed this graphic language of international modernism but they also still keep the connection to their Jewish roots, and they speak in this language that becomes secular Jewish visual culture."
I view an impressive photograph of Claude Mckay who was an African American activist in the U.S. and was invited to the Soviet Union at the invitation of John Reed who was an American communist at the time living in Russia. He spoke at the Kremlin, at the fourth Congress of Communists to International associates of Lenin who were in a power struggle with Stalin in the 1920's. He wrote an essay praising the achievements of Soviet Russia for their lack of racism, and egalitarianism, liberating women and putting down anti-semitism. It inspired African Americans like Paul Robson to become communists and stand up for their rights. Racially driven crimes have become popular again in Russia, so Yevgeny read McKay's essay on a site in Moscow where those crimes were committed against people.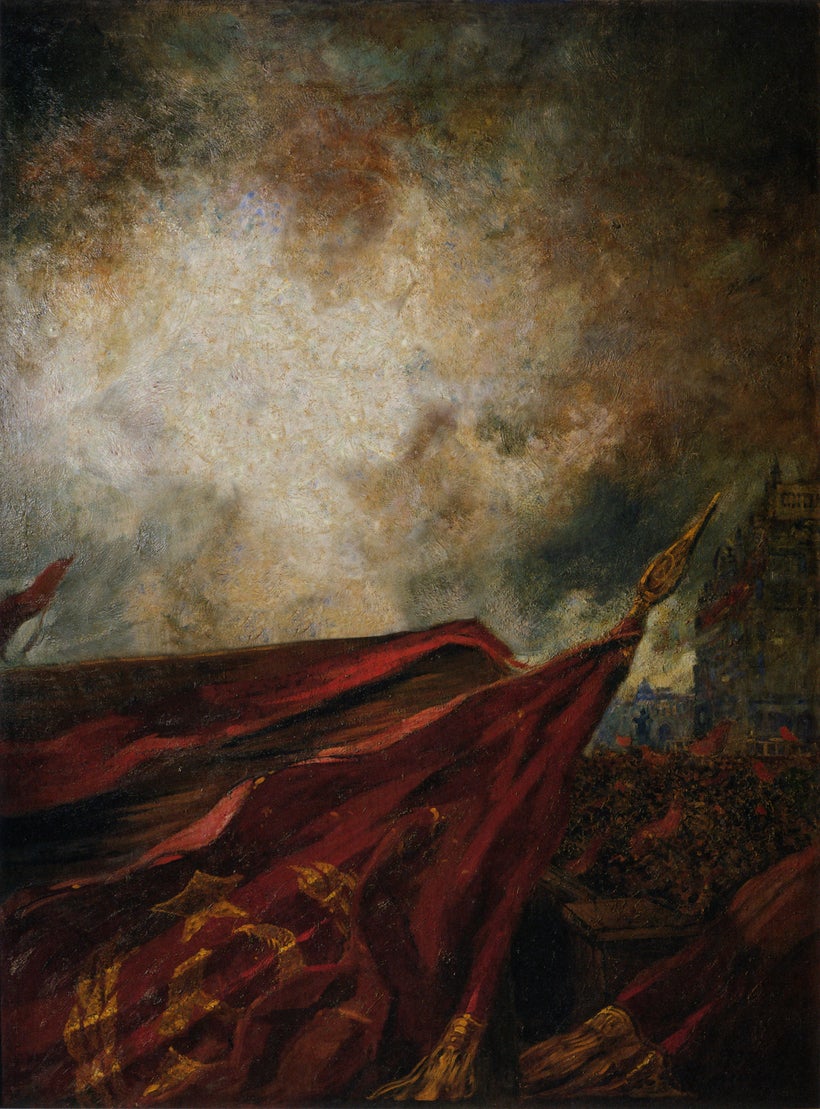 Chlenova is by no means a novice to this world. This exhibit is one in which at times, mirrors our own backward, forwards fight for anti-ethnocentrism, sexism, economic and homophobic anxieties flattening daily life. The show unpacks history from a scholarly and thickly complex bundle, so one must take the time to look at what is new and what is old carefully. "Was" versus the present interpretation of what "is" are subtly distinctive. According to the IPCNY website: "By placing a selection of historical printed works by key Russian avant-garde artists of the 1920s and 1930s in dialogue with contemporary works by Russian-born, New York-based artists Yevgeniy Fiks and Anton Ginzburg, the exhibition evaluates these often-obscured goals of the Revolution and addresses their continued urgency today – in Russia, the United States, and elsewhere."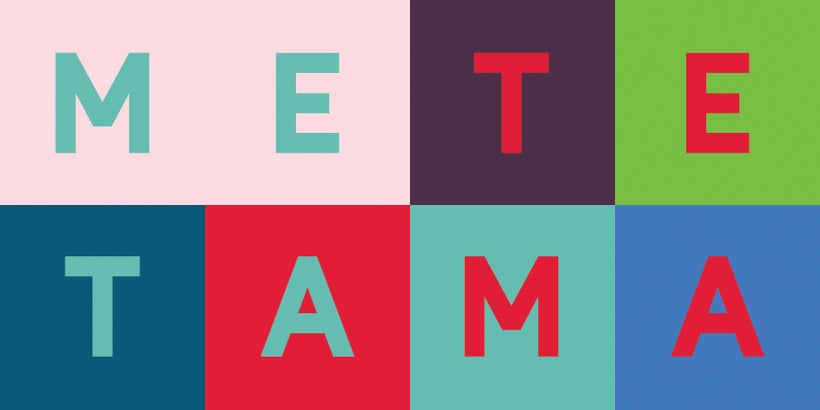 Chlenova explains: "We grew up in the Soviet Union in the Perestroika time, in the time where the Soviet Union was collapsing, and everything was opening up. All the information became available, and we had these hopes that now we have a free country. And it happens that all three of us left in the mid-90's when the expectations just started going down again. And so in a way, this way of looking at this revolutionary history, it's something that I grew up with, and both of the artists grew up with and have lived in, most of our conscious life here in New York. And so Anton, Yevgeniy and I have a historical approach. And so this is one of the strategies, taking the historical moment and seeing the reality. And we created this exhibition way before the November elections. So then suddenly boom, things have changed in a year. So, there is this aspect of we are American looking at Russian history from this side of the ocean; now there is also a lot of questions facing the U. S. of individual freedom."
Transcribed by Allison Simon
Contact: ifhpblog@gmail.com
REAL LIFE. REAL NEWS. REAL VOICES.
Help us tell more of the stories that matter from voices that too often remain unheard.
This post was published on the now-closed HuffPost Contributor platform. Contributors control their own work and posted freely to our site. If you need to flag this entry as abusive,
send us an email
.