With the completion of the Berteau Avenue Greenway project comes contention from the Chicago cycling community on the city's first designated greenway. The corridor is a one-mile stretch from Clark to Lincoln along Berteau Ave. Passing through Lakeview, Ravenswood, and North Center while connecting four designated bike paths -- Clark, Southport, Damen, and Lincoln -- as well as my favorite unofficial route, Ravenswood.
A more appropriate policy and design name is the "Berteau Bike Boulevard" or "Berteau Bikeway," as greenways are most commonly associated with off-street trails, comparable to the lakefront trail, the Hudson River Greenway in New York, or the Midway Greenway in Minneapolis. In Chicago we titled it the Berteau Greenway, as our officials love to greenwash for marketing and political gain.
Although most similar in design to the National Association of City Transportation Officials (NACTO) definition of a bike boulevard, the street doesn't fully meet the requirements of one. The defining component of greenways or bike boulevards is prioritizing bicycle travel with low motorized traffic volumes and speeds. This is accomplished by using "signs, pavement markings, and speed and volume management measures to discourage through trips by motor vehicles and create safe, convenient bicycle crossings of busy arterial streets." On Berteau cut thru traffic is not prevented or discouraged with the new measures; therefore not meeting the greenway requirement of providing non-motorized traffic priority on the street.
The use of traffic diverters is one of best design examples preventing cut thus. Other cities, most notably Berkeley, have done this to great regard with physical street barriers. Traffic diverting was part of the original plan, but car-centric local homeowners rejected the idea and the planning team changed designs based on their complaints, as reported at the time by Streetsblog Chicago.
Instead of prioritizing Berteau equalizes, recreated as an equal space for bicycles and cars. That being said, the street does incorporate a majority of the design elements of a bicycle boulevard. This conflict from the greenways defining goal while lacking a bike priority design has led to "good intentions but bad execution," "half-assed," and overall underwhelmed feedback from The Chainlink's bike community.
Specific components from the bike boulevard design featured on Berteau that enhance the streetscape for cycling and pedestrians include (with pictures below):
A newly paved surface; no potholes
Sharrows in the center of lanes
Street greenery with bioswales to capture street water run-off & enhance the environment
Bump outs that tighten up the turning radius, forcing drivers to turn at slower speeds
Two contra-flow bike lanes with bike lane signage & street markings
Two bike signal traffic lights at contra-flow intersections
Green bike lane markings at contra-flow intersections
Circle barrier traffic calmer
Narrowed pedestrian intersections
Increased signage for "one way - except bikes" "do not enter - except bikes"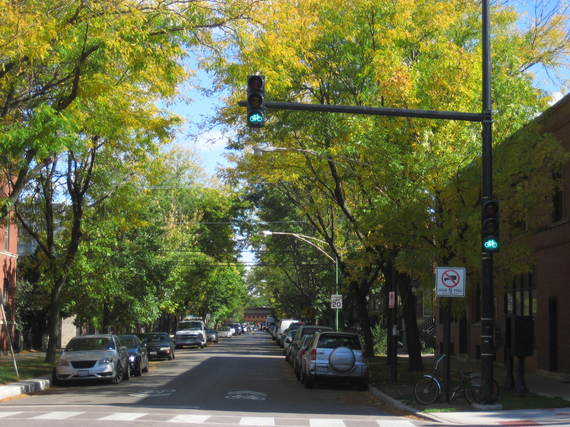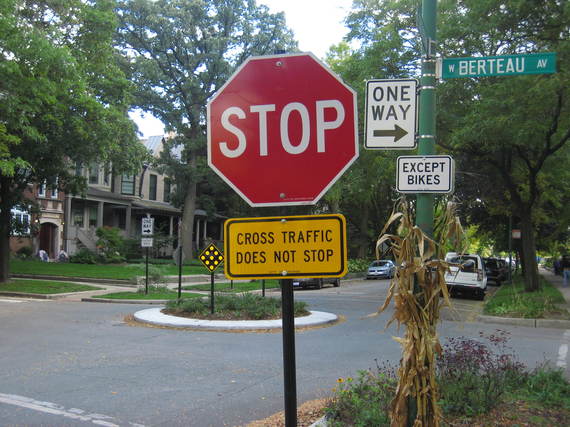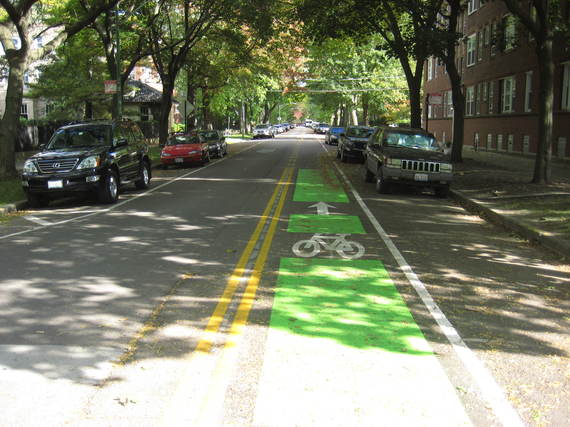 These design elements force drivers to operate and turn their vehicles at lower speeds. The goal of this to increase pedestrian safety at intersections and bicyclist's visibility and safety at intersections and on the road.
Riding down the street with these enhancements I now feel an more significant presence on the street. I have the infrastructure support to take the lane, far enough away from parked cars to avoid doorings. Drivers will have to deal with it and slow down or find another route, both goals of the project, because I am not moving aside. It is a case study for using design to force sharing of the road while connecting together the bikeway grid and routes.
As to the driver that honked at me the other morning; per the Municipal Code of Chicago, 9-36-010 drivers must pass bicycles with at least 3 feet of clearance when passing & section 11-1505 of the Illinois Vehicle Code, provides me with the space to ride a safe distance from parked cars.
The new pedestrian island and left turn lane at Clark onto Berteau is understandably the standout disagreeable new feature. On one hand, the pedestrian island, hopefully and eventually, will reduce vehicle speeds on Clark where a significant amount of drivers speed. On the other hand, it created a pinch conflict zone. For a rider to feel safe, they would most likely have to take the full lane and block drivers from passing, but this is a hostile assumption and dangerous situation for citizen cyclists. Other riders report stopping before the pinch point and waiting for traffic to stop before riding through or modifying their routes to avoid it.
The island has led to a stressful and intimidating route on Clark while creating the appearance that the greenway is a path for cut thru vehicles with a left turn lane from Clark northbound onto Berteau. In my experience and photo review, the space is sufficient for a biker and driver if the car is small, going the speed limit, and at the far left side of the lane with the bicyclist as far right as possible. The width does not meet the minimum legal space to pass a bicyclist or allow any sharing the lane with a bicyclist plus a bus, truck, or van. This creates an unsafe space for pedestrians and cyclists alike.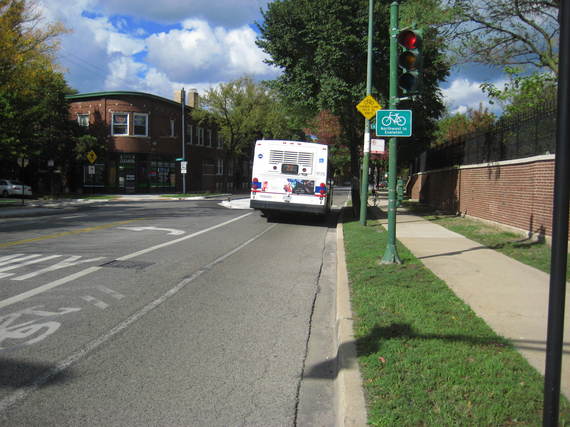 Currently drivers haven't seemed to have slowed but prefer to approach the island speeding and oblivious, seemingly not comprehending how to handle the change. Riders have witnessed drivers running over the barrier and the signage on the barrier has been flattened. The flattened sign had reflectors at eye level; how a driver could hit this is beyond me. I witnessed a southbound delivery van use its' turn signal to go around the island and continue on Clark.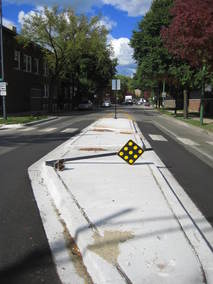 Based on the NATCO defined bike boulevard and case studies from other cities, Chicago almost made it on to the same level. Where the project is lacking the community's critiques are understandable and legitimate. Using the Berteau Greenway as an example, by collecting data and feedback from this experience, my hope is that our officials and communities will advocate on future projects for a model truly prioritizing bicycling; that the importance of the bike boulevard design, with benefits to a local street and community, will be understood as more valuable to our neighborhoods than caving to allowing cars in control of another street.