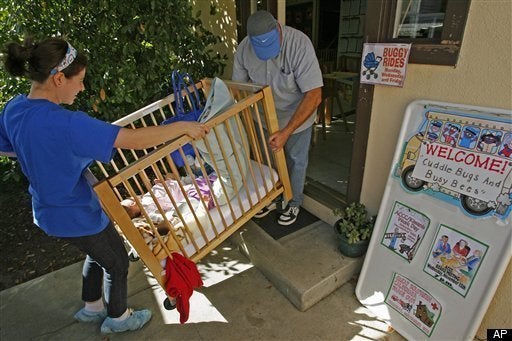 Ten years ago, a teenager looking for work to help his parents pay the bills might post signs around the neighborhood or ask his parents' friends if they have lawns that need mowing. Today, that teenager turns to Craigslist.
"I am 17 years old and need some work," one Las Vegas student posted in the "Items Wanted" section of Craigslist on Sunday. "I have been looking for a job for 1 year now. I am available on Everyday during Summer Break. I can work on Saturday & Sunday any time. I am willing to work hard. I can lift around 250 pounds or more, I was in weight training in High school, also in Military ROTC. I don't drive or have a car. I would need to take City bus work. My mom is disabled and currently not able to work due to a Lung disease. We are a family of 6. My father works, one paycheck does not help pay for bills, medications. His paycheck barely pays Rent."
Ads like this one all over Craiglist Nevada reflect the state's staggering 14 percent unemployment rate, which just surpassed Michigan's as the highest in the country, according to the most recent Labor Department statistics. Nevadans and unemployed people across the country have turned to the popular website to beg, barter, self-promote, and otherwise help themselves survive the recession.
One South Reno parent is willing to trade a rifle for a crib: "Lost my job and can't afford a crib for my 1 year old son.... Not looking for a hand out, just need a crib and would like to make a trade. Things I have to trade... a 22lr rifle, various tools, mountain mike, car stereo equipment, 2 geforce 6900 graphics cards, an epson printer, etc."
Other ads are even more unexpected: An aspiring nurse in Reno posted a last-resort Craigslist ad for immunization shots. "I have been unemployed for some time now," she writes. "I am trying to take a nursing assistant class at the college. They say i need immunizations, cpr card and insurance. I can afford the CPR card, but i cannot aford the immunizations. I know this is pathetic, but i am pathetically despirate and want to work. Can anybody help me with this or direct me?"
Susan MacTavish, a spokesperson for Craigslist, said the website has noticed major booms in certain kinds of sales listings since the recession.
"Towards the beginning of the recession, we saw an explosion of growth in the for-sale listings of gas guzzlers, such as RVs," she told HuffPost. "Certainly people do use the free section on the site very enthusiastically. For sale, barter, and free sections are the ones that have grown tremendously during the lousy economic times. But Craigslist users have always been extremely creative with using the site to pad their wallets."
Single mother Kathy Shines of Las Vegas says she has leaned on Craigslist for the past two years to help supplement her unemployment checks. The most recent ad she posted begged the local community for a free electric dryer and dishwasher. The ad reads: "I am an unemployed single mom in need of good samaritan - my unemployment has run out - i desperately need a dishwasher and an electric dryer. If anyone has either that they would be willing to donate i would be most grateful. I can pick up. Please help!"
Shines, who was laid off from her job as an air conditioning dispatcher in October of 2008, told HuffPost that Craigslist has been a tremendous help to her and her two sons through their difficult financial times.
"Craigslist has been huge," she said. "When I first lost my job and was starting to go out looking to find a new one, I put an ad on Craigslist for some business clothes. I had been working as an air conditioning dispatcher for 15 years, so all I had was jeans and tees. No dresses, no suits -- nothing I could wear to an interview. So I put an ad out for casual business clothes and got three or four responses. I still haven't gotten an interview, but the clothes all fit!"
Shines said she has also used Craigslist to search for jobs, to advertise garage sales and now to find some major appliances to replace her non-working ones.
"My dryer just kinda kicked the bucket, and I had been looking through the free stuff on Craigslist, so I thought I would just see if anybody had one that they were trying to get rid of that worked," she said. "I found a dishwasher. I'm just waiting for her to contact me back so I can go pick it up."
Craig Newmark, the founder of Craigslist, says he's just glad his site is there to help.
"A lot of people are hurting, given the current economic situation, and I'm really glad they can get a little relief from using Craigslist," he said. "I hear from people that it helps."
How have you learned to cope with the recession? If you or someone you know has a story to tell, please e-mail me at LBassett@huffingtonpost.com.