Rising Tide Capital is a nationally acclaimed nonprofit organization that helps aspiring but financially limited entrepreneurs to start and grow successful businesses. Their innovative model combines training, consulting, and startup resources with the goal of helping working parents to better provide for their family through entrepreneurship:
About 1 in 10 Rising Tide Entrepreneurs are formerly incarcerated; and,
About 2 in 10 are unemployed when they first walk through the doors.
In my last article, I shared Alfa's story: from Ethiopia, to Harvard, to eventually co-founding Rising Tide Capital with her husband and partner, Alex Forrester. Theirs is a story of two social entrepreneurs -- I would argue that they are the top of their generation -- who shared an energy and passion for changing the world. They started with a dynamic and interesting idea and built it into an organization that today serves almost 500 entrepreneurs every year from high need communities. Nearly 1,000 aspiring entrepreneurs have graduated from Rising Tide Capital since 2007, and the organization has received national recognition for its work.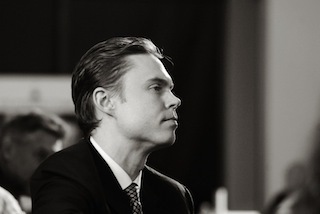 Alex has spent the past ten years dedicated to building and scaling Rising Tide Capital's vision of a world where entrepreneurship is used as a catalyst for social and economic justice. At just 32 years old, and with a degree in Postmodern Philosophy and Theology from Harvard University, he is an unlikely leader in the world of microfinance and social entrepreneurship. But his belief that capitalism can be harnessed for good and that small-scale entrepreneurs around the world represent one of the most powerful forces to combat poverty make him a thought leader worth listening to.
Steve Mariotti: Alex, tell us some about your background.
Alex Forrester: I was born and raised in a town called West Windsor, just outside of Princeton, NJ. I had a great childhood. Every summer, my dad would take my brother and I on a road trip out west somewhere. He would have a business meeting, but instead of flying there we'd all jump in the car and have an adventure instead.
It was on those long drives that I first learned the love of the unknown destination. It's also where I spent hours talking with my dad about history and philosophy and religion--about how the world works and why. Those conversations made a deep impression on me.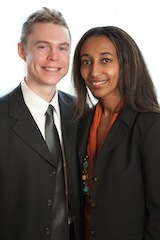 SM: What did your father do?
AF: My dad went to Harvard and then to Princeton Theological Seminary but found his calling, not in the pulpit, but in the business world and in public policy. His passion is for good government. He ran for U.S. Senate in 2005 and for Governor of New Jersey in 2009. Today, he runs an innovative healthcare company called Integrity Health that is really on the cutting edge of figuring out how to save taxpayer dollars while improving medical care. I've been influenced by him to recognize how important it is to be involved in making the world a better place, and how hard it is to really change things.
SM: What was your experience in college?
AF: I had a harder time in college than in high school. I couldn't find my place. I went from department to department--from English to Philosophy to Religion to Women's Studies--before eventually dropping out after my junior year.
It was only thanks to encouragement from my best friend and future wife Alfa--and to the kindness of a mentor and professor, Rev. Peter Gomes--that I was able to come back and retroactively declare an independent major. I wrote a 250-page unofficial thesis called "I:We" and set out to find a way to put these ideas into action by starting Rising Tide Capital.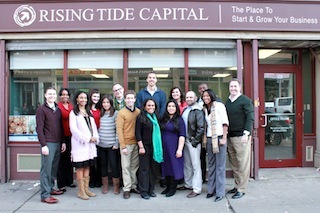 SM: So, you're an entrepreneurial educator by accident? There was no love of small business, no love for free enterprise, no libertarian political theory--lower the tax rate now?
AF: During our time at Harvard, Alfa--who was a government major--used to tease me for the books I would walk around with under my arm on campus. She would ask me what good these esoteric ideas would do in a world with such concrete suffering and injustice. My response was that people like Martin Luther King and Gandhi didn't change the world just because they worked harder than other people. It was because they brought a philosophy to their work that mobilized millions of people to join them. Essentially, history moves at the intersection of ideas and action.
She and I really connected under that banner and decided that after we graduated we wanted to get involved with putting ideas into action. We started researching about which ideas were going to play a big role in the social justice movements of the 21st century. We came upon two: social entrepreneurship and microfinance. Rising Tide Capital was born after we read books like Banker to the Poor by Dr. Muhammad Yunus who later went on to win a Nobel Peace prize for his pioneering work at the Grameen Bank. We started Rising Tide Capital because we wanted to find out if the model he had developed could work in the United States too.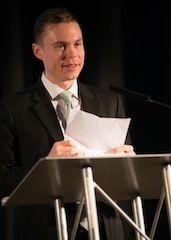 SM: So how do you integrate your love for philosophy with your work at Rising Tide Capital?
AF: The core idea that my parents had instilled in me was that the purpose of life is to learn how to love. The thing I've added from my time at school is that we live in a culture that believes that love is a feeling, but it's not.
Love is something that you do. Just because you can feel it when it is there or isn't there doesn't make it a feeling. Love is an action.
There is a quote from Cornel West that says: "Justice is what Love looks like in public." When I read those words, the dots all connected. Rising Tide Capital, for me, is a way to fight for justice by putting love into action. At Rising Tide Capital, love takes the form of walking alongside someone who is struggling to open a business as a way to make a better life for their family. By helping that entrepreneur to succeed, we not only have an impact on their life, but we also influence the lives of their children and create jobs and economic opportunity for others in their community. What might seem to be a very business-focused approach is actually a way of coming into relationship with people at the intersection of their greatest dreams and greatest struggles and adding some support and encouragement along the way.
SM: What would you share with others who want to pursue a similar path?
AF: Figure out what your "north star" is. If you really want to change things you are going to have to work at it for a long time. Along the way, there will be many obstacles and many doubts. You often won't be able to know what the right decision is and you will have to take many risks that may not always work out. Your "north star" is the idea or belief that guides your actions when you can't see the ground in front of you. If you don't have a way to tell true north, you can very quickly get lost. The word disaster essentially means "to lose one's star."
My advice to others would be to make sure to connect the decisions they make and the initiatives they start with the ideas that form the deepest part of their hearts. If you ignore this part and set out into the waves of life, you may not be prepared to weather the storm.
For Alfa and me, Rising Tide Capital is our attempt to live out our deepest beliefs. You don't have to be a social entrepreneur to do this. No matter what career you choose, you can make it an expression of who you are and who you want to be. Life is too short and too precious to do otherwise...and the world will be a better place as a result.
Special thanks to Lauren Bailey for her assistance with this article.
Calling all HuffPost superfans!
Sign up for membership to become a founding member and help shape HuffPost's next chapter