Traveling with Airstream in tow along the rivers that run through Montana, I couldn't help but reflect back on the film, "A River Runs Through It", and the life lessons learned through the storytelling of American author Norman Maclean. A well known author for his many works such as "The Theory of Lyric Poetry from the Renaissance to Coleridge", it was his book "A River Runs Through It and Other Stories" that captured the attention of director Robert Redford making its way to the big screen.
Robert Redford's narration in the film makes you feel as if Norman Maclean himself is telling the story at the family dinner table.
It is a story about religion and fly fishing.
It is a story about two brothers.
It is a story about haunted waters.
It is a story about loved ones unable to help the ones they love.
It is a story how fly fishing was the line that tied a family together.
If one is a fan of this film and a trip through Montana is in the future, it would be a shame not to revisit some the filming locations.
On our recent trip through the Montana Rocky Mountains we did just that.
It began one sunny Montana morning as I made my way to the town of Livingston which is home to Dan Bailey's fly shop. It's where I was told I would find Mr. John Bailey who was Fly Fishing Advisor for directors Patrick Markey and Robert Redford on the set of the film.
As I stepped inside I was immediately drawn to the historic fly fishing literature and black-and-white photographs of anglers that adorned the brick walls. Established in 1938, there is rich history behind the story of Dan Bailey and his infamous fly shop run now by his son Mr. John Bailey, with whom I was about to meet.
Sitting at his desk, Mr. Bailey stands up and we shake hands. I am mesmerized once again by the photographs on the wall behind him showing Mr. Bailey standing side by side with director Robert Redford as well as photographs of Mr. Bailey advising actor Craig Sheffer (Norman) on the sport of fly fishing.
I felt very honored to be able to sit down and talk with Mr. Bailey about the film and learn of some unknown facts.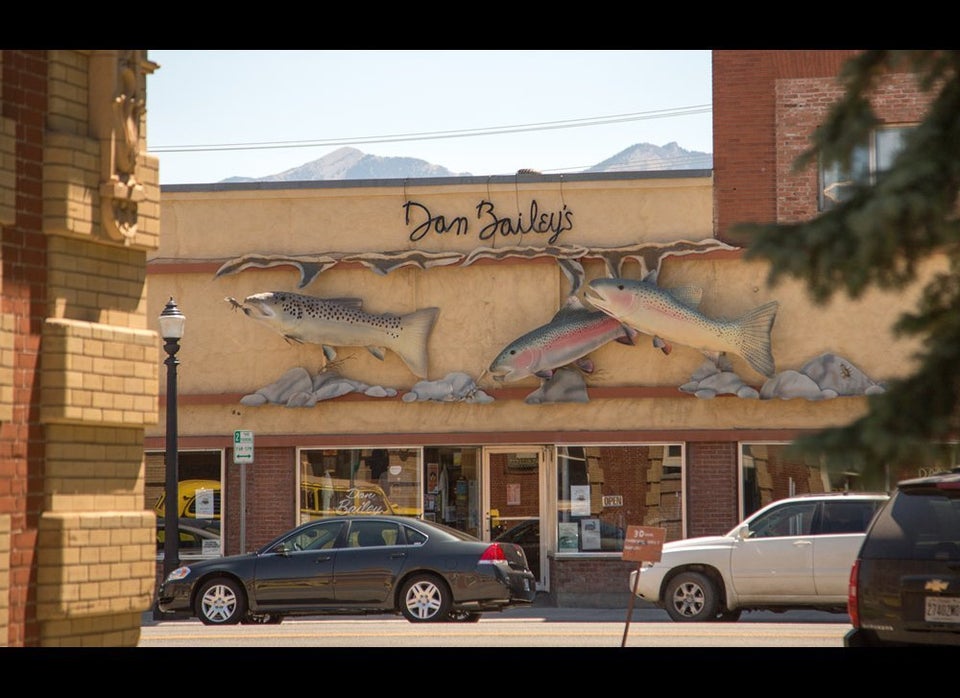 Dan Bailey's Fly Shop in Livingston, Montana
Shortly after my meeting with Mr. Bailey, not too far from the fly shop, was the Livingston Civic Center where I would meet Sandy Wulf, Public Works Director and mother to Brianna who was one of the many local extras that still call Montana their home. Civic Center is where they held casting calls for the film as well as staged the interior of the Maclean family home.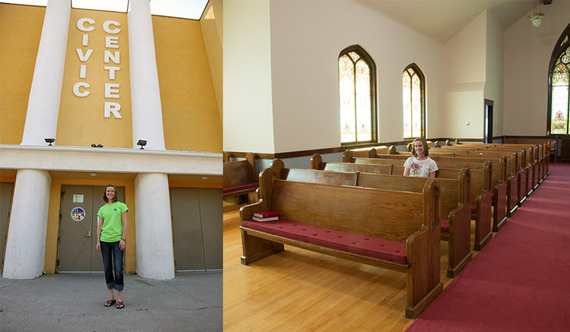 Sandy toured us around Livingston to some of the key filming locations. Our first stop beginning with Reverend Maclean's turn of the century charming brick Protestant church unassumingly perched on the corner of two Livingston residential streets. We quietly sat in the oak pews visualizing Reverend Maclean preaching from the pulpit on man's journey to achieve grace through art.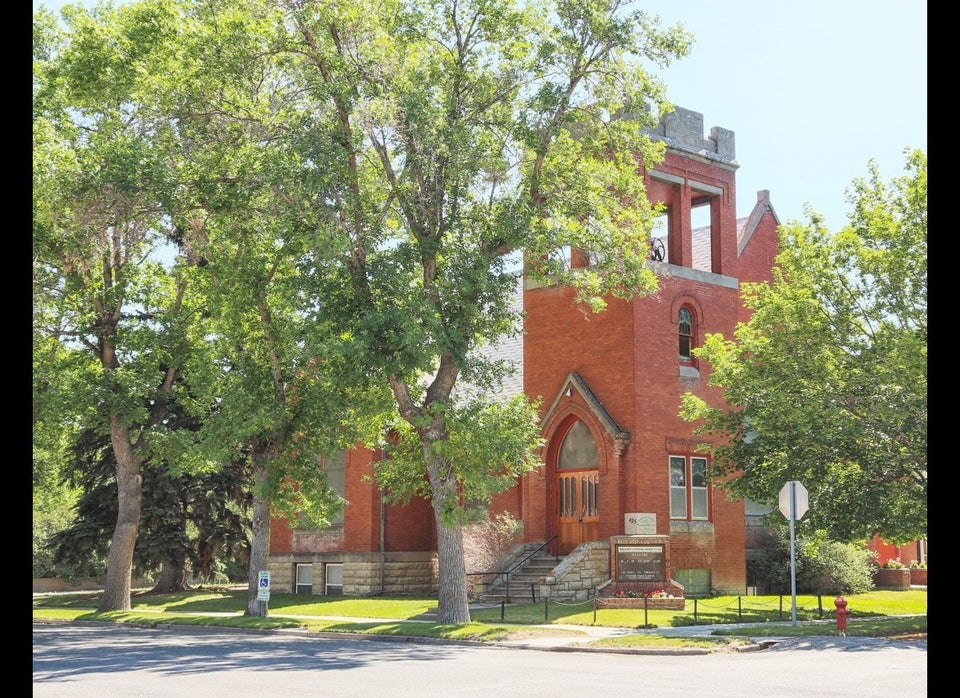 Reverend Maclean's Protestant Church
From the house of God we set off for the streets of Livingston cast as those of Missoula. Upon arrival the streets seemed to be frozen in time and I could almost see Norman and Paul playing and fighting on those dirt roads and alley ways as well as seeing young Paul showing off his dancing prowess in front of the prostitutes tending their laundry.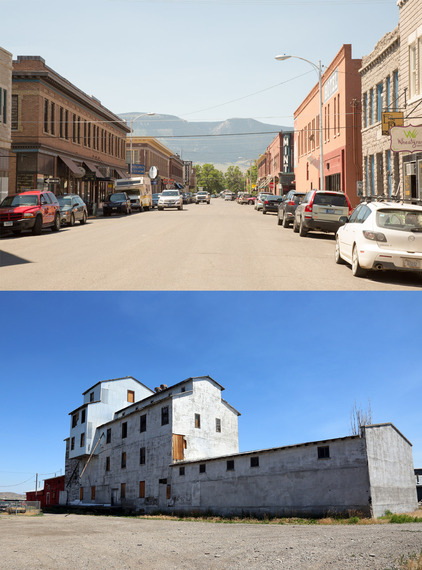 Saying goodbye to Sandy we drove for what seemed like forever through the western Montana farmland that rose to the foothills in the distance meeting the sun-drenched mountains. We were in seek of the Maclean family home as depicted in the film. As we turned up a dusty gravel road, my eyes slowly focused to a white structure up ahead which turned out to be the infamous house. As I hopped out of the truck with my camera, an elderly man drove by in a pickup. "Hello Miss, you know about that house, right? It's pretty famous..." he gave me a wink and off he drove. I had to smile.
As I walked up to the Maclean family home down the long walkway, it was as if I could see the Reverend Maclean and his two sons, Paul and Norman, obediently practicing their fly casting to the beat of the metronome in the front yard. I could visualize Paul sliding down the roof in the moonlight to participate in local fights, drinking, storytelling or even a slip off to Lolo's Hot Springs. The cape cod style bungalow looked as it had 20 years ago except for the now fully mature trees and slightly sunken pathway. Flower gardens and a babbling brook adorned the story book setting.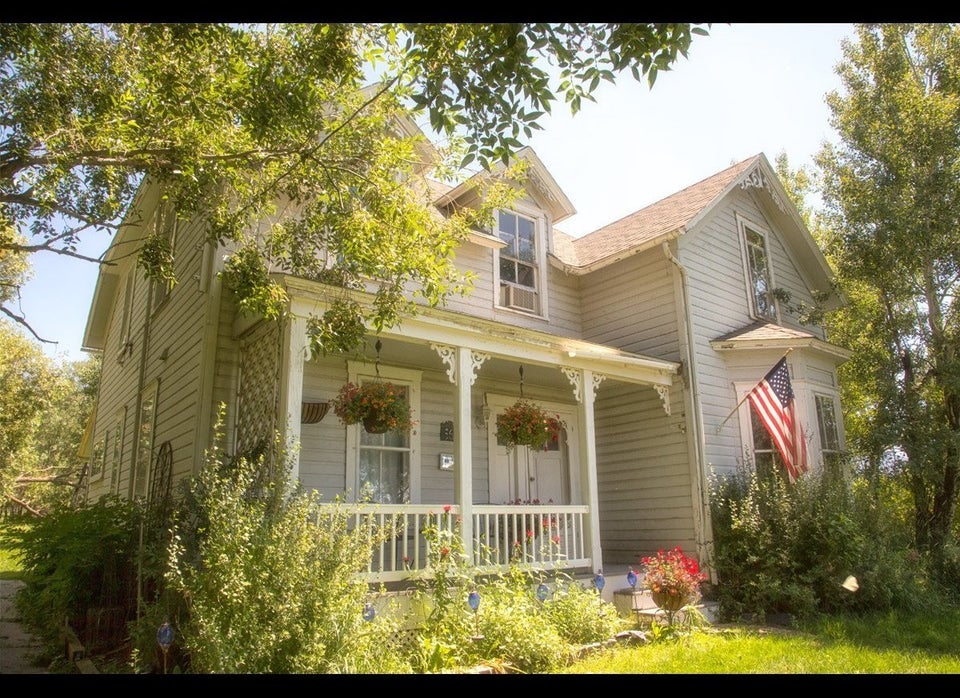 Maclean Family Home
Continuing on we set our sights on the Gallatin Valley, home to the Gallatin River where many of the fly fishing scenes were filmed. We happened upon a quaint little RV park, The Inn on the Gallatin where we eventually learned from the locals that this was the filming crew's temporary home base of sorts. The cast would spend time on the spacious front lawn practicing their fly casting until perfected.
As we unhitched the Airstream and set up our camp, the sun slowly began to set over the valley. It would be an early-to-bed evening as it's well known in Montana that there are three things one is never late for: Work, church and fishing. And it was fishing the following morning that we would dare not be late for.

Greeted by a luminous sunrise, we dawned our fishing gear and made our way down to the river. In a single moment I felt as if I was transported back in time into the film itself. The swiftly flowing Gallatin River before me has carved its way through the canyons and cliffs and the views here were nothing short of spectacular.

I slowly waded out through the still waters into the rushing current and climbed atop "Brad Pitt Rock", the infamous rock Paul had Shadow Casted from in the film.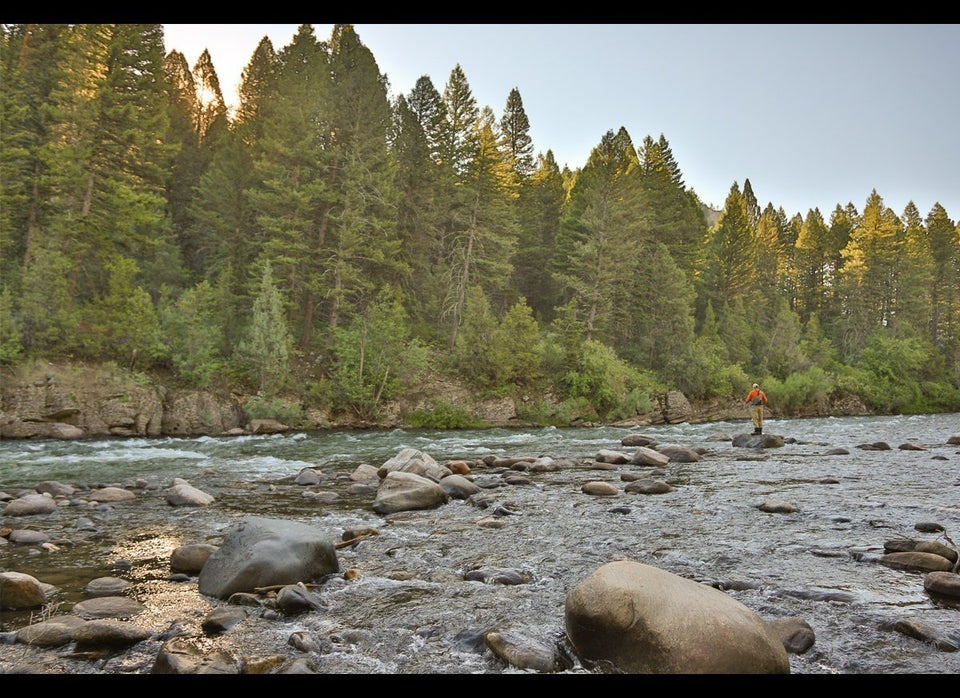 The Gallatin River
There is something magical and meditative about fly fishing as author Norman Maclean shares in great detail of the sport in his poetic writings.

During our visit along the Gallatin River we hiked, explored and fished to our heart's content. My Montana experience demonstrated clearly why in the film, Paul would reply, "Oh, I'll never leave Montana, brother," to Norman's invitation to move to Chicago. Montana is a state of pure, clean beauty and natural wonder. I too did not want to leave.

Reflecting back on "A River Runs Through It", one first appreciates the natural beauty of the aspects in the Montana Rockies so skillfully captured by cinematographer Philippe Rousselot, the stories within the story as told by Norman Maclean, the sport of fly fishing elevated into a lofty art and a family's story living in a rugged yet majestic frontier.

As I sit here writing this I can attest that beauty sometimes mirrors tragedy. "A River Runs Through It" visits a tragic loss of life in the character of Paul Maclean. Norman searches his heart for an answer to the ageless question, "How do you help a loved one headed towards self harm? Can you really help them?"

Ironically, while on our trip through Montana, I learned upon my arrival home that I lost my only brother to an equally a tragic fate. He too was a fine fisherman. I once watched him land a huge cod in the tender after the fish had broken his rod.

No one could save him either.

"A River Runs Through It" is an iconic masterpiece. The movie documents a time, place and events in our nation's history that were as monumental as they were rugged. The story immortalized by directors Robert Redford and Patrick Markey has forever impacted Montana and fly fishing.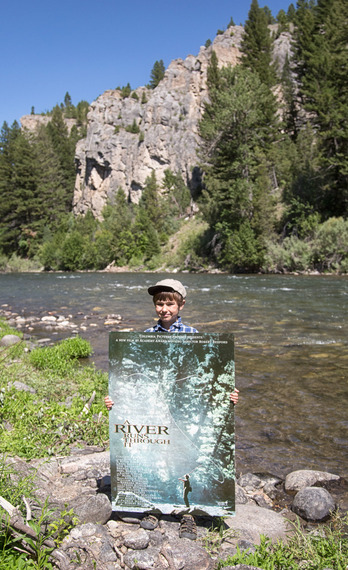 Related