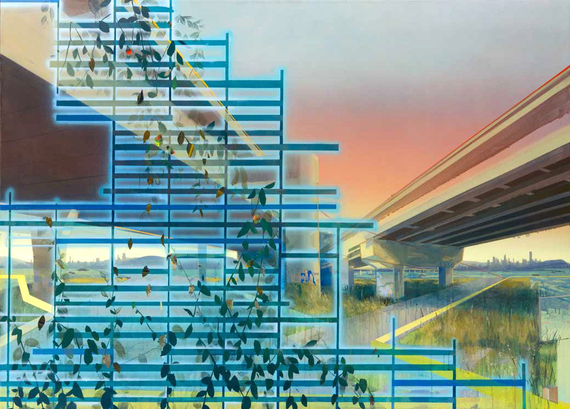 Robert Minervini: Until Tomorrow Comes | A site-specific exhibition of nine interrelated large-scale paintings intended to be viewed and considered as a single, continuous panoramic landscape. While the works function independently, they are reliant on each other to unravel a long-form narrative space that wraps around the gallery, inviting the viewer to experience the passage of space and time.
The paintings were made with great consideration to their physical placement in the gallery and with the aim of creating a tension and awareness of interior/exterior space. The works are meant to be viewed as windows to the outside, giving the audience the sensation of being immersed in the viewing experience of an artificially constructed reality. As one enters the space, the works transition from day to night as the viewer works their way around the room. By having each work rely upon the next, it creates continuity to the grouping, and a complete view of the imagined environment.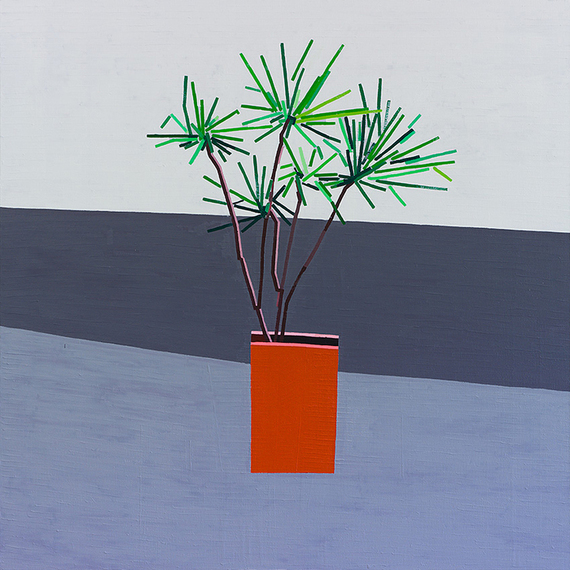 Guy Yanai: Accident Nothing | These 18 new paintings by the artist provide insight into a new tendency in his work to reflect states of mind that are unfurled, raw and defenseless -- states of apprehension comparable to the lucidity and sobriety one experiences at the aftermath of an accident.
Best described as a painter's painter, Guy Yanai has carved out a special niche in the Israeli art scene, where mainly installation, performance and new media art has proliferated. Today's art operates within a field of disenchantment and cynicism, which is true of painting in particular. Yanai's painting also corresponds to an age of commodified goods and consumerism, whether via its material objects or ubiquitous images, but there is a simplicity and a naïveté to his love of painting, a love that is perhaps the driving force behind his prolific output.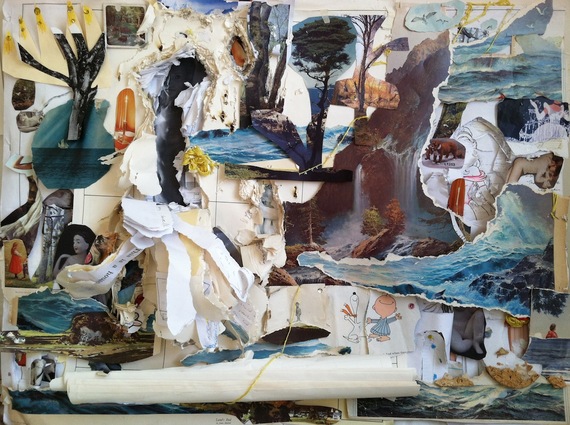 Chad Attie: Contempt | The exhibition features collage works presented on paper, canvas and light box, exploring themes of idealized love, alienation, mythologized beauty, and loss of innocence through the use of found imagery of figure and landscape. Attie uses a variety of found materials that speak to our investment in (potentially false) ideals, and in the objects we create to represent those ideals. Vintage paintings purchased at garage sales, imagery from cinema (the title, Contempt, is an homage to Jean-Luc Godard's film of the same name), children's book illustrations, fabric, and needlepoint all become fodder for re-examination, as Attie layers his imagery and then tears it away to reveal what lies beneath (which is more surface, more idealized representation). Attie's found representational objects themselves have been vested with hope -- of reconciliation and wholeness through love, of childhood imaginings, of land that has not yet been overrun with industrialization. Attie's manipulation and composition of those objects acts to invest new hope through dialogue, while simultaneously ripping apart the very ideals to which they speak. Presenting the moment of recognition as taking place exactly where the ideal meets its own impossibility, Attie continually focuses in on the destructive potential of desire to override all other modes of seeing and being. In the surfaces of Attie's works, he shows us the unconquerable distance between subject and object, and the struggle to find agency while an idealistic hope for unity still maintains narrative power.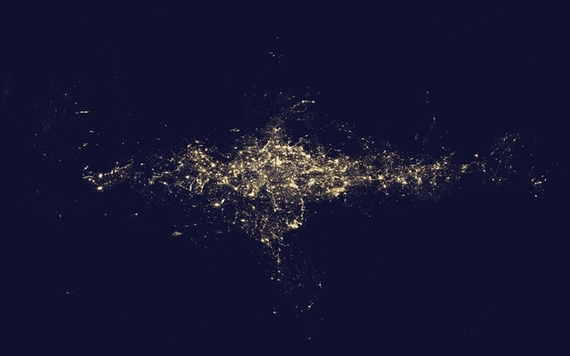 Karin Apollonia Müller: Far Out | Müller's photographic journey into a mystical wilderness culminates with the inevitable surrender: of the camera, of traditional notions of perspective, and the established boundary between the viewer and perceived object.
Karin Apollonia Müller presents photographs that pull focus on human life from the reaches of outer space. The German-born artist alters raw data from NASA/JPL and creates three series of abstract images: Citylights, Worldlights, and Starlights. Here, Müller investigates our world from an ever-distant vantage point. Using a telescope as her lens, she positions herself between the Earth and the stars and shifts her gaze upwards. Her dynamic skyscapes replace so-called "empirical" representations of the universe with the artist's vision of an ideal world.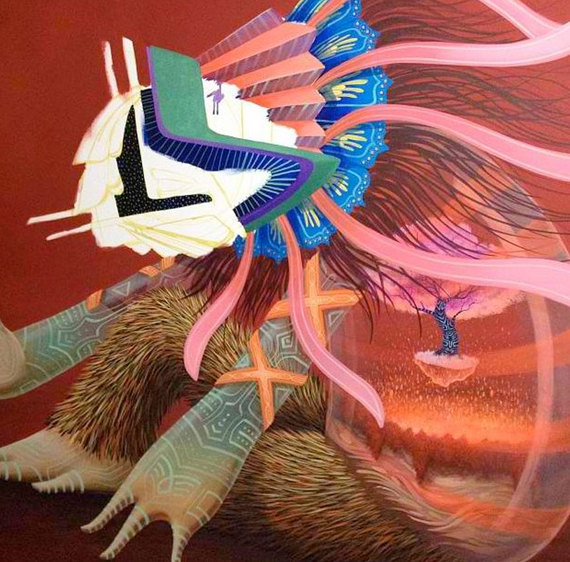 Nosego and Curiot: Unknown Elements | Both artists have unmistakably distinct iconoclastic styles, inspired in part by the graphic originality of their respective practices as street artists. Each works with elaborate layers of imagery, building complex visual events through the disarming whimsy and creative disinhibition of the surreal. Constructing entire worlds of colorful, larger-than-life, composite creatures and hybrids, each artist explores the symbolic possibilities of juxtaposition; working with the known of the everyday and transforming it constantly through free association. The iconicity of both artists' work can be likened to the cohesive staying power of myth: their output is immediately recognizable as their own, populated by recurring themes, characters and motifs, and subject to the internal logic of its own creative cosmology.
For the most comprehensive calendar of art events throughout Los Angeles, go to Artweek.LA.
Related
Popular in the Community