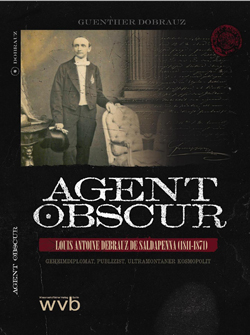 It's funny how you think you know someone, and then you are pleasantly surprised to learn that there is more to this person than meets the eye. I am referring to a friend of mine – Dr. Guenther Dobrauz.  He is a lawyer and businessman – working as a senior advisor to the financial services industry at PricewaterhouseCoopers in Zurich, Switzerland. He is also an advisor to the Arnova Fund as well. Not only is Dr. Dobrauz a very nice and successful professional, I learned last year that he is Austrian nobility.
Dr. Dobrauz is also a successful author. He is about to release his third book Agent Obscur.  It is a comprehensive biography of his great, great, great, great grandfather - Alois Anton Dobrauz Ritter di Saldapenna (1811-1871). He is better known today under the French version of his name - chevalier Louis Antoine Debrauz de Saldapenna.  Saldapenna was a leading 19th century statistician, high-ranking government official, journalist, newspaper editor and author of legal textbooks. But first and foremost he was a secret diplomat who served the Austrian Emperor, Napoléon III, the Pope, as well as his mentor Baron James Rothschild out of whose Paris office he operated. 
As an Applied Mathematician, I was intrigued to learn of di Saldapenna's successful career as a statistical expert.  But I was even more interested in his ties to the Rothschild family.  I have written a few blog articles about The Banking House of Rothschild's connection to the Federal Reserve.  Dr. Dobrauz's thoroughly researched book tells the fascinating story of an exceptional life.  Thanks to his unlimited access to his family's archive and the secret files of the Austrian and French imperial governments, he reveals a number of previously unknown behind the scene facts and facets of 19th century secret diplomacy:
The facilitation of cable connections between Europe and the UK, as well as between Europe and the USA. This greatly altered the method and speed by which news was disseminated and communicated. It also spurred the rise of powerful news agencies such as Reuters and Agence Havas.
The brokerage of the Mexican crown and the important role the prospect of controlling the country's silver mines as well as the vacuum created by the American civil war played in this.
The blackmailing of the Egyptian Khedives and how the instruments of dispute resolution, academic as well as political lobbying were perfected for this to ultimately pave the way for the Suez Canal project.
The strategic manipulation of international news coverage through both proprietary access to and control of new channels of communication opened up by technological advances.
A carefully woven network of media contacts orchestrated by a multilingual and multi-disciplinary puppet master.
Dr. Dobrauz writes that his ancestor di Saldapenna essentially acted as Paris correspondent of approximately thirty of the world's leading newspapers at the time. This enabled him to use his octopus-like tentacles to strategically place information and influence opinions and perceptions literally everywhere.  As di Saldapenna also learned that the bulk of all the other newspapers would simply copy and paste whatever news he planted, he could effectively orchestrate the world's media.
It goes without saying that news agencies like Agence Havas and Reuters were also a great help in this and indeed he worked for and with both. Saldapenna also made a fortune this way as he was paid by all those newspapers for his contributions even though he had already been paid for his services by the Rothschilds, Napoleon and others. With the information Dr. Dobrauz extracted from the Accounting Department of the historic archive of the AZ News in Augsburg, Germany, he was able to trace the huge amounts of money that passed through di Saldapenna's hands, as well as to follow his trail of placements.
His noble predicate di Saldapenna - which basically means "strong pen" - was awarded to him by the Austrian Emperor. He was also made a knight by the French Emperor. Dr. Dobrauz thinks these honors were bestowed upon his ancestor because he maneuvered in a space created by the Rothschilds. Saldapenna later took his clever strategy to another level by creating his own influential newspaper "le Mémorial diplomatique" which again served as a platform to strategically disseminate information. Dr. Dobrauz provides some examples of how di Saldepenna actually reversed the image of certain people and entire regimes via his influential newspaper.
After the death of James Rothschild things became more difficult for di Saldapenna.  Some of his former adversaries such as the Prussian government took their revenge by filing fake court cases against him. He usually got away or had others go to jail for him. He had another great mentor in Archduke Maximilian who was also his good friend. Saldapenna brokered the deal for him to accept the Mexican crown and was rewarded with ownership of a Mexican gold mine.
Tragically his good friend Maximilian had to pay for this with his life.  Dr. Dobrauz writes that Saldapenna never really got over this. He died under rather mysterious circumstances during the siege of Paris in 1871. His family back home in Austria had to suffer quite a bit as he was considered as being one of those liable for the death of the Emperor's favorite brother.
Calling all HuffPost superfans!
Sign up for membership to become a founding member and help shape HuffPost's next chapter