Tafelmusik's Messiah sing-along has become an annual traditional full of holiday merriment that brings together friends and loved ones to sing aloud one of the season's most joyous songs.
Directed by Tafelmusik's Ivars Taurins - dressed to impress as the venerable Handel himself - 2,700 eager Messiah enthusiasts packed the rafters of historic Massey Hall on Sunday to join Tafelmusik's Chamber Choir and Orchestra in a rousing rendition of this holiday classic about Christian salvation.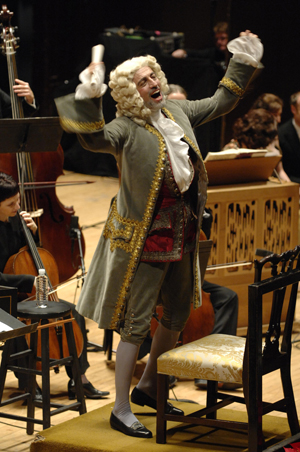 Tafelmusik conductor Ivan Taurins as Handel
Spirits were high as people chose their seats according to voice-part and opened their score books, some tattered by time and some brand new. This powerful audience choir embraced everyone, young and old, to magically sing Messiah in a way you can't help but feel. The Hallelujah Chorus is perhaps the most moving and inspiring part of the whole sing-along as all of Massey Hall stands to sing out Hallelujah! with an exhilarating jubilance of unmatched spirit. Critics are united in their praise for Tafelmusik's Messiah; it has been called "an almost superhuman achievement" by The Globe and Mail and The Toronto Star consistently lauds it with a full four stars.
Tafelmusik's Messiah at historic Massey Hall
Tafelmusik's Messiah sing-along is a truly unique and special experience that inspires good cheer and will leave you exclaiming Hallelujah! throughout the holidays. If you missed it this year be sure to mark it down on your calendar for next December and get your tickets early - this holiday classic sells out every year.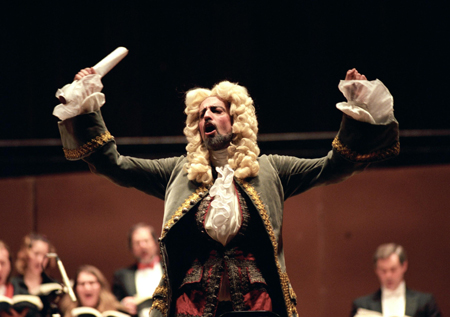 Taurins plays to the crowd
The Toronto Symphony Orchestra performs Handel's Messiah brilliantly at Roy Thompson Hall each year and while you can't sing along out loud, it is certainly an incredible experience worth having. Click here for more information.
REAL LIFE. REAL NEWS. REAL VOICES.
Help us tell more of the stories that matter from voices that too often remain unheard.