If you're looking for a royal getaway with ultimate luxury, surrounded by the unparalleled natural beauty of the Sunshine State on the southeastern coast of Florida, The Brazilian Court Hotel at Palm Beach has plenty to offer. This hotel — with its lavish amenities and artistic influences, along with some of the Palm Beach's best-kept secrets, will provide you with a luxe and relaxing experience to treasure for a lifetime. I recently stayed at The Brazilian Court during my trip to Palm Beach and had an amazing time!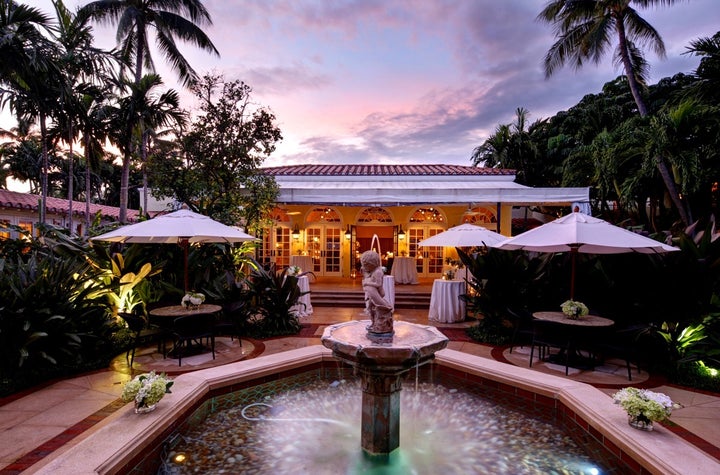 The Entrance
As soon as I entered the hotel's threshold, there was a serene oasis, a cloistered world unto itself with lush gardens and a tropical ambiance to soothe any soul. The hotel heralds architecture with lush courtyards and classic Spanish Mediterranean decor capturing European Old-World charm that is redefined for a new generation seeking a retreat within its soft and stuccoed walls, sure to leave you spellbound! I was welcomed through the door to the receptionist, immediately making me feel at home. Natural light pours into the bright lobby area, with luxurious sofas that are both timeless and inviting.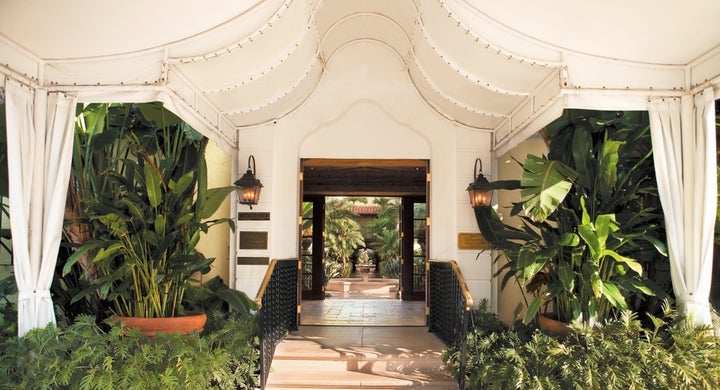 The Room
From the lobby to the guest rooms, striking Art-Deco design transcends through the entire hotel. With 80 custom re-designed rooms and suites featuring mahogany crown molding, hand-forged, English, oil-rubbed bronze fixtures, Provence-style wood shutters and plush beds topped with imported linens, The Brazilian Court Hotel maintains that consistent attention to detail which sets luxe hotels apart from the rest. This stunning design and quality carries into the spacious guest rooms and suites, with dark woods and cozy ambiance.
The hotel offers studios as well as one, two and three-bedroom suites with everything from custom designed furniture and tapestries to flat-screen plasma LCD TV's with all the modern amenities. If you want the ultimate luxurious stay, you can experience your own taste of society with suite names invoking the era such as Bergman,Astaire, Hepburn and Brando.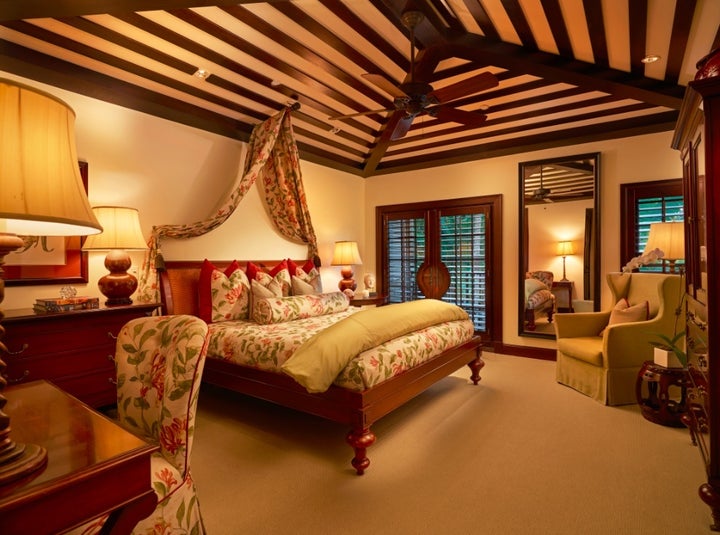 The restroom included modern touches, such as a marble-top vanity, iridescent tile walls, and creative lighting features, giving it a modern and refreshing look. The bathroom was spacious and clean, containing all the essential and exclusive toiletries. There was a separate shower area as well as an ultra air-jet bathtub with customized hydro-thermo massage menu. It was a royal treat to relax in the bathtub with a glass of champagne after a long day.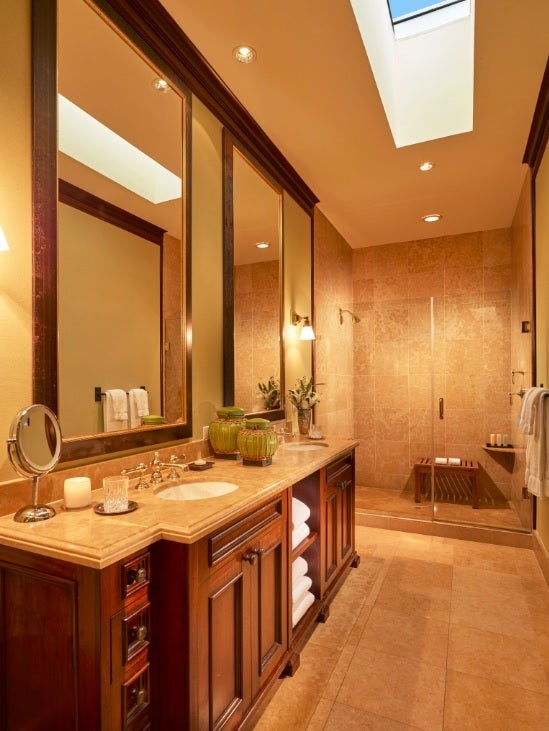 The Restaurant
Café Boulud at The Brazilian Court hotel is one of Palm Beach's most coveted dining destinations. Located in the heart of the historic hotel, Café Boulud invites sophisticated palates to indulge in epicurean delights from world-renowned chef Daniel Boulud. The interiors of Café Boulud have recently been renovated and now boast an elegant, sleek complementary design – complete with a shimmery ceiling made from sea shells and Pecky Cyprus, an expanded bar with 15 seats and new cocktail/bar menu, and warm wooden flooring surrounding the glowing bar.
Café Boulud offers the French-American menu that balances signature Boulud dishes and French favorites inspired by Boulud's restaurants around the world, with a spotlight on Palm Beach's incredible seafood. I delighted my taste buds daily with some of the amazing food at Café Boulud during my stay!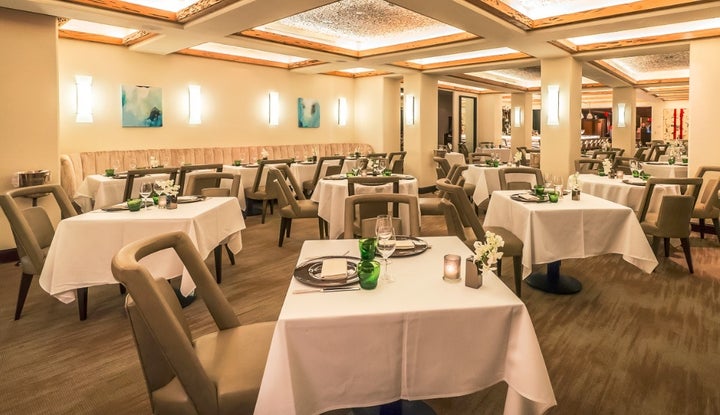 The Salon & Spa
No trip to The Brazilian Court would be complete without heading to Frédéric's Fekkai Salon and Spa. World-renowned celebrity hairstylist Frédéric Fekkai, founder of Frédéric Fekkai salons in New York and Beverly Hills, opened his third salon in Palm Beach at The Brazilian Court Hotel in May 2004. The Frédéric's Fekkai Salon and Spa offer a full range of luxury spa services from soothing massages to European facials delivered by highly trained aestheticians. The staff was polite, welcoming and excelled in their professions. I experienced the Revitalizing Spa Pedicure and the entire treatment was astounding!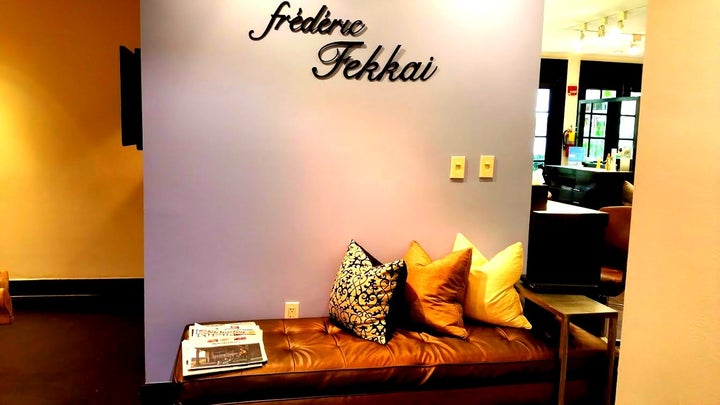 The Pool
The heated outdoor pool — situated under a canopy of palm trees with chaises lined in crisp white linen, and cloaked behind cascading bougainvilleas — is a perfect place to experience the panache of Palm Beach. The only interruption to be heard is the whispering of lush foliage and palm trees in the balmy Florida breeze. This was my favorite place to soak in the sun and revitalize myself during my stay.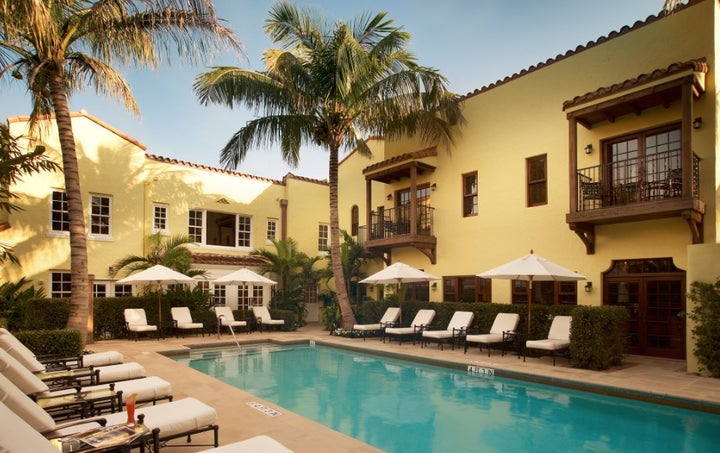 The Art Gallery
For art lovers, a visit to the Paul Fisher Art Gallery located between Frédéric's Fekkai Salon & Spa and the walkway to the pool at The Brazilian Court Hotel is a must. The gallery features curated contemporary works by renowned artists. Paintings and sculpture exhibitions including receptions with the artists are ongoing events at The Brazilian Court. You can not only embrace the work of these artists, but all work is also available for sale.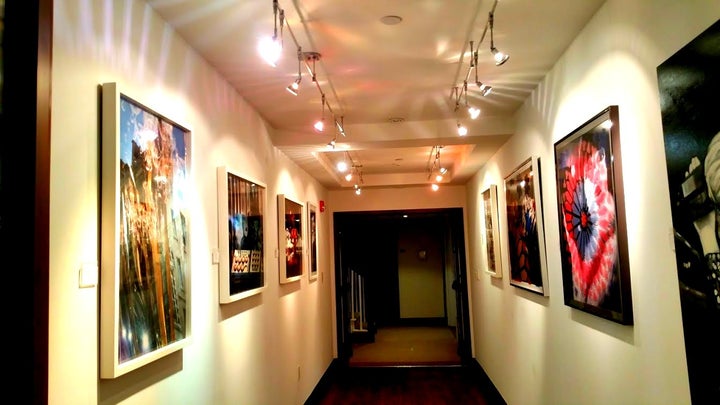 The Ballroom
For those who fantasize about a fairytale wedding, The Brazilian Court Hotel has been a witness to hundreds of exclusive storybook weddings over its 90-year history. The courtyard offers a magical setting amidst a canopy of lush foliage, vibrant Mediterranean colors and Wishing Well. You can celebrate your wedding under the twinkling stars of a breezy Palm Beach evening or inside the recently renovated Brazilian Ballroom or the Conservatory for a more elegant setting.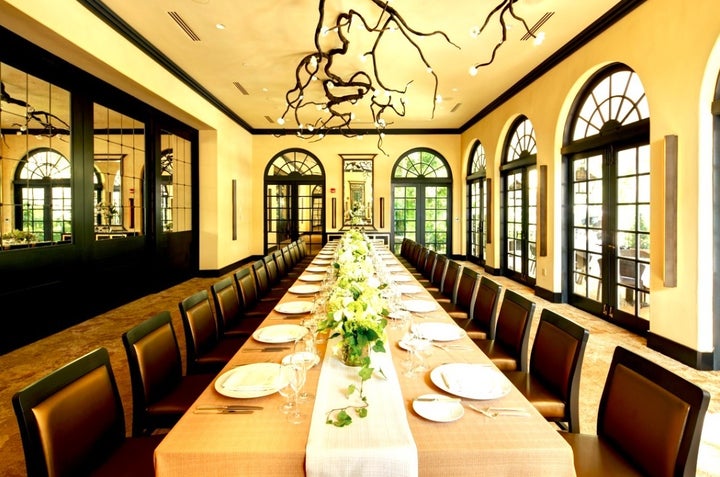 Other Amenities
The Brazilian Court Hotel also offers an ideal setting for executive board meetings and conferences with 3,000 square feet of meeting space, international teleconferencing and a wide-screen plasma monitor. The hotel's sleek BMW's are available to chauffeur guests to the nearby beach along with complimentary umbrellas, water, towels, chairs, and magazines. The hotel also provides Lilly Pulitzer bikes and beach cruisers to use during your stay — my personal favorite way to explore Palm Beach!
The Verdict
From the hotel's historic yet luxurious, tucked-away, private atmosphere — all the way to the ideal location just steps away from Worth Avenue and the beach, and numerous attractions in Palm Beach that are a mix of historic, iconic and delicious — The Brazilian Court Hotel is a true hidden gem in Palm Beach. So the verdict, I think you can guess, is a resounding thumbs-up! My stay at The Brazilian Court was absolutely flawless from start to finish. The service, hospitality, facilities, food and rooms bring you the ultimate luxury experience at The Brazilian Court Hotel and I would recommend this hotel to anyone looking for a unique luxurious royal getaway in South Florida.
Perfect for: Business travels or conferences, family vacation for leisure, wedding destination and a luxury base for exploring Palm Beach, Florida as it's in the close vicinity of the airport as well as other local attractions.
Popular in the Community