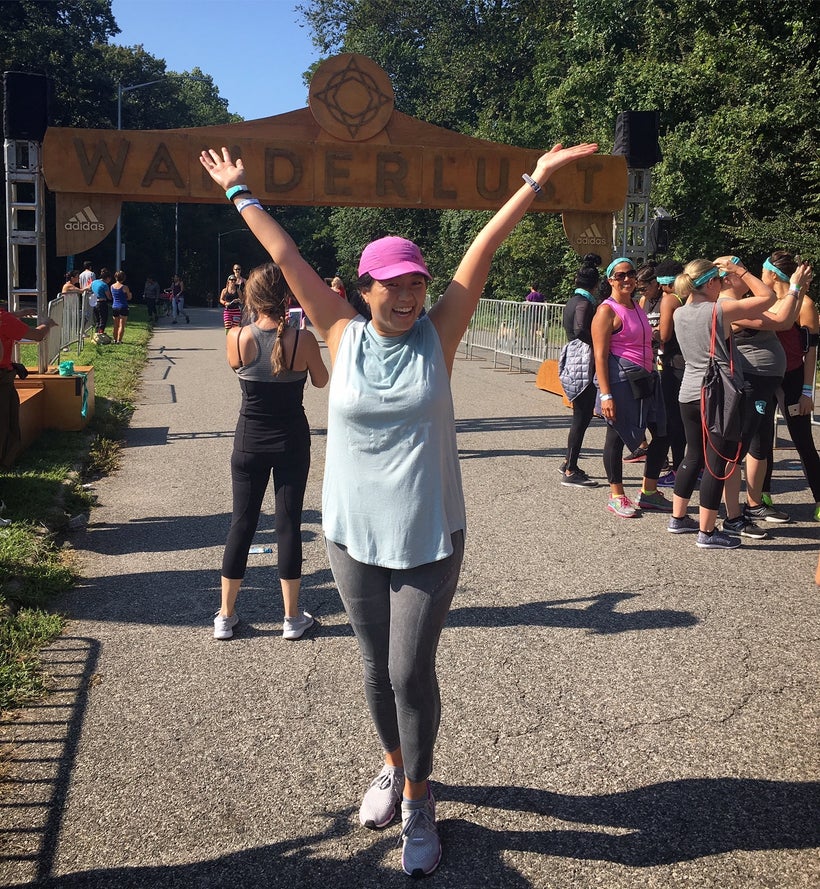 There are three things I am not.
1- I am not that glistening-not-sweating runner in a matching outfit effortlessly zipping past everyone in Central Park.
2- I am not that that girl with the perfect braids, patterned Lululemon pants, and neatly coiled mat walking out of yoga class.
3- I am not that Zen meditator sitting cross-legged on a beach at sunrise.
I mean, I practice all them all. I ran my first race in May 2010, a 5-miler that challenged me to my core since I just wasn't built to be a runner... and even though I somehow managed to cross the finish-line at the 2016 New York City marathon (after dark!), I still shudder when people call me a runner — it's just not a title that fits me. I've taken yoga on and off for 16 years, but often in spurts followed by long breaks and eternally consider myself a beginner (my wobbly tree pose would make anyone shout, "Timber!"). And a year ago, I tried the Muse meditation headband that measured how quiet my brainwaves were during meditation — while everyone walked around with double-digit number of "birds" to symbolize how Zen they were, when the the guy looked at my score, he said, "Well, I could give you a ribbon, but I'd have to write 'zero' birds."
So on September 10, I walked into Brooklyn's Prospect Park for the Wanderlust 108 feeling like a bit of a fraud since the event is a mindful triathlon starting with a 5K run followed by outdoor yoga and meditation sessions.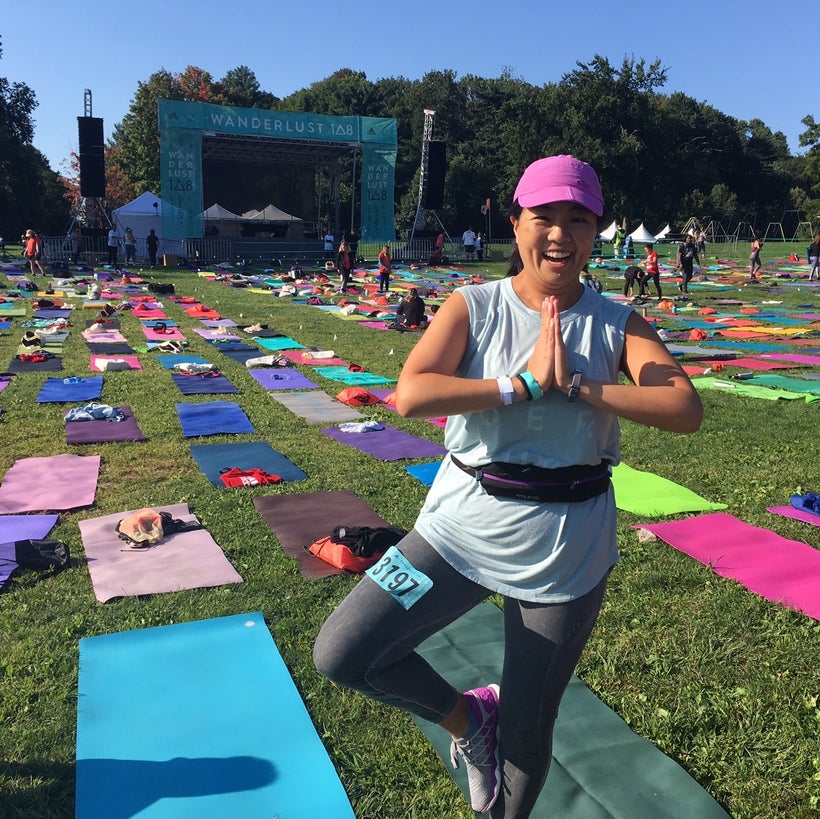 But on my way in, I started bonding with other people, easily identifiable by our yoga mats (mine sloppily stuffed into a freebie mat bag). The closer I got to the event, the more the crowds grew and the more that I saw there were people of all kinds... and here we were to each challenge ourselves on this three-course mission on our own, but also to join together in force to show the collective power of finding our pace, balance and quiet through each of the three events.
As a 11:00-per mile-ish 5K runner, I'm used to people speeding by me. But at Wanderlust, it wasn't about how fast you go, it was about being there and going! In fact, along the route, there were motivational quotes, my favorite being Maya Angelou's "Every journey begins with a step," especially poignant as we all took so many steps together. I was 10 weeks into haphazardly training for the New York City marathon a second time and I still never felt like a runner. But now I did, being reminded it's not about the speed or the time, but it's about the journey to the finish line. And suddenly I was able to say it: I am a runner.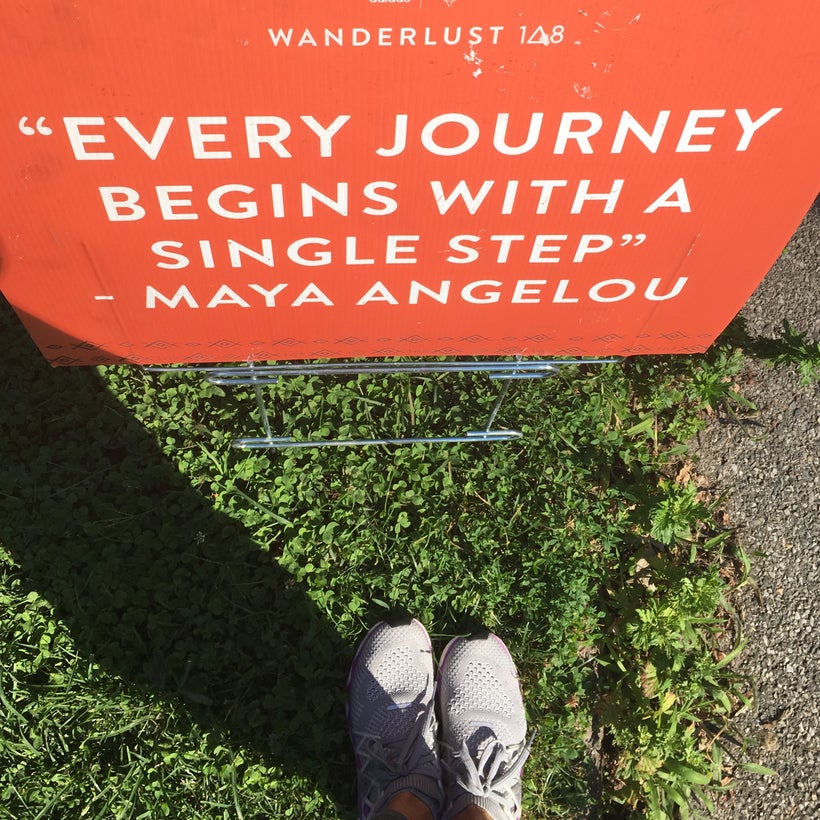 After crossing the finish, I headed to the lawn where I had left my yoga mat... it looked so lonely in the sea of fancy brand-name mats, just shyly sitting there like a wallflower. Literally finding balance is the hardest part of yoga for me — I'm always teetering and holding onto walls for support. I know that's allowed since yoga isn't about skill, but in this sea of yogis, I didn't want to be that sore thumb that stuck out. Once the session started, I disappeared into the poses. It's remarkable to me that even though I don't practice routinely, yoga is the type of thing I can just step into and join... like a universal language. As all of us unified, flowing from one pose into the next, at one point, I took a peek around me... literally a sea of thousands of people in the same stance, yet each with their own spin. In that moment, I realized it didn't matter how I felt about my yoga skills, just like all the people in various levels around me, I can say it it too: I am a yogi.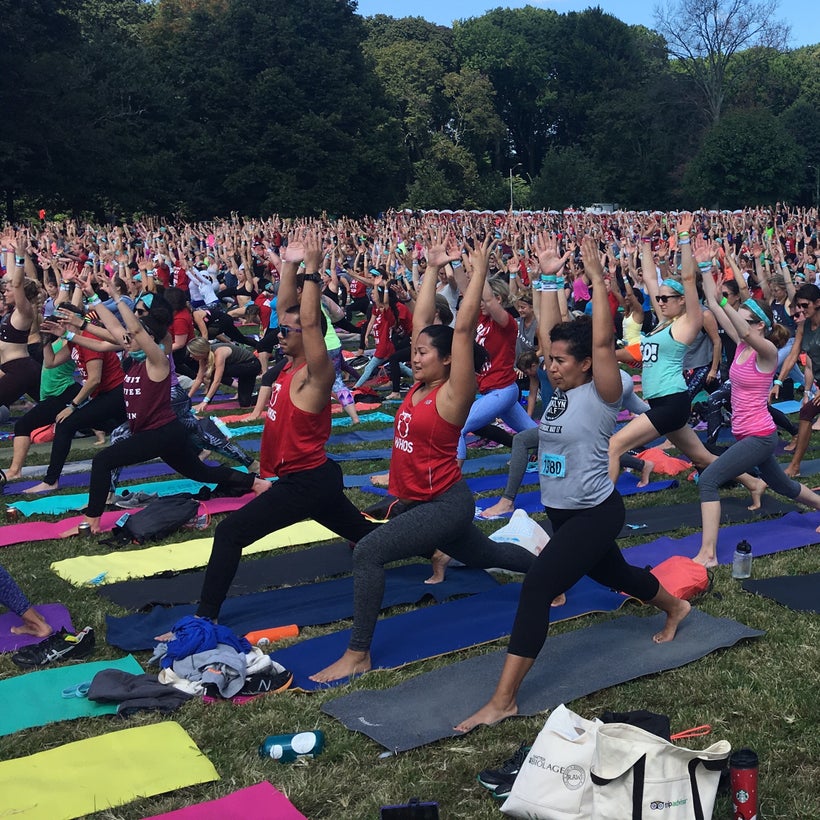 Then after basking in a relaxing shavasana in the sun, it was time for the final event — and my least practiced — meditation. Stilling my thoughts has always been a challenge, as I find myself suddenly deep in the thoughts I haven't had time to think while running through my days. The focus on breathing always helps, but only lasts so long. I'm always shocked how long the short sessions last — often even getting antsy... and then scold myself for drifting to that thought. Totally counterproductive! But sitting in the open under the September rays and listening to the quiet yet feeling the power of so many others around me, it occurred to me, meditation is called a practice for a reason. It's not a skill set. It's time to practice being able to find quiet in this crazy routine we all get so caught up in. And yes, now I can add that to my vocabulary too: I am able to meditate.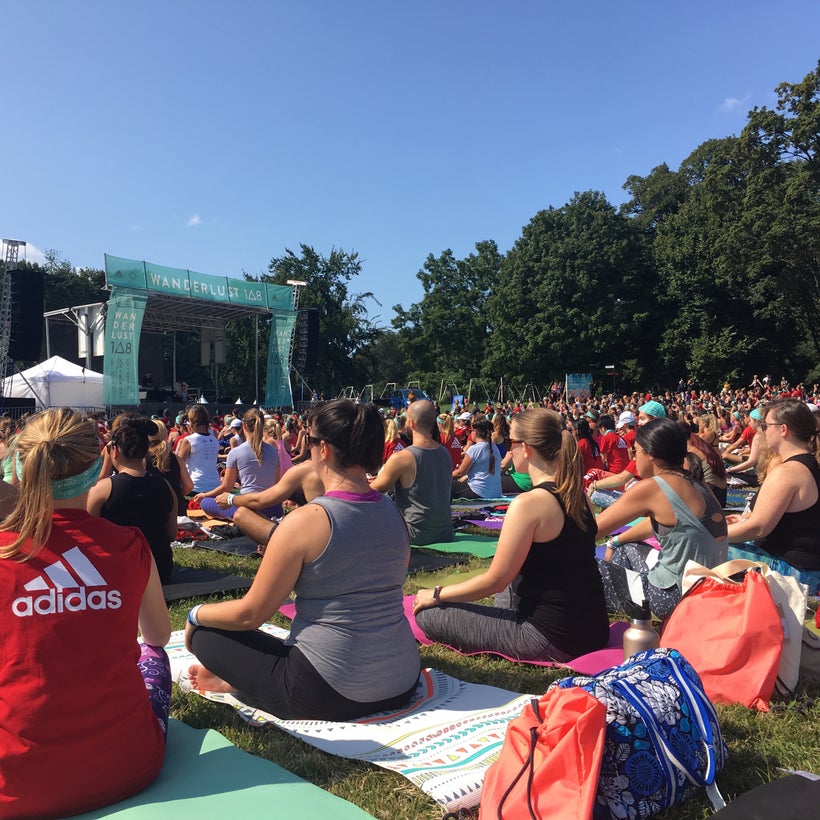 The irony is essential: Three solo activities, none of which I feel like is "me," aggregated in importance and effectiveness when done in a huge group like this... and that power in numbers radiated back to tilt the radar on my own vision of myself. A formerly self-described non-sporty, lazy soul who can now call herself a runner, yogi and meditator... and above all, a Wanderlust 108 triathlon finisher.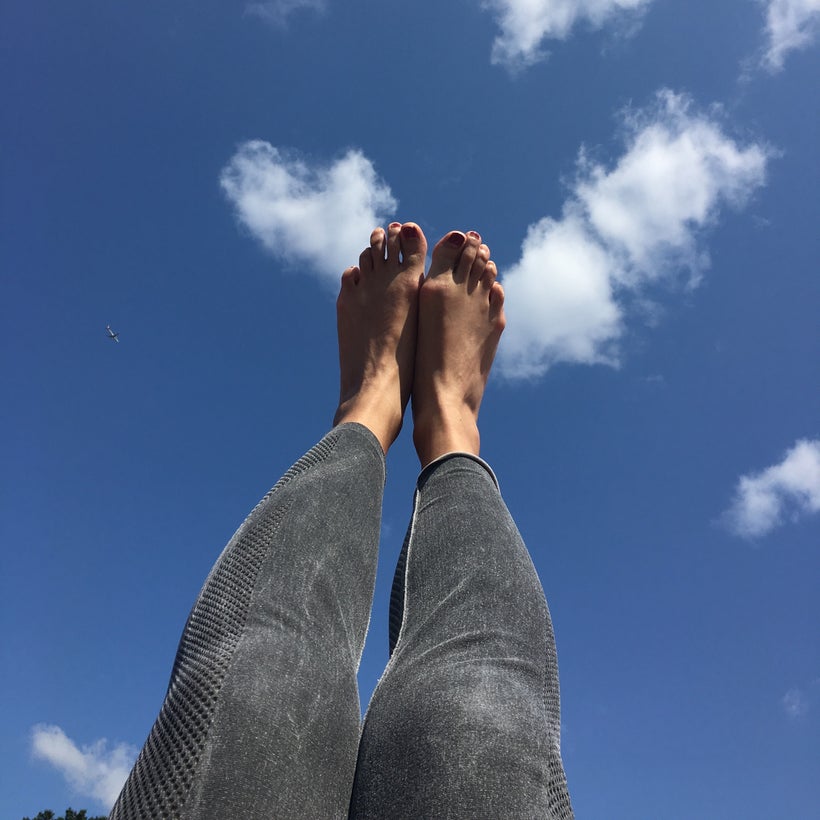 Calling all HuffPost superfans!
Sign up for membership to become a founding member and help shape HuffPost's next chapter
This post was published on the now-closed HuffPost Contributor platform. Contributors control their own work and posted freely to our site. If you need to flag this entry as abusive,
send us an email
.