In just two short weeks, Imelda will give birth to a brand new baby. Like most expectant mothers, it's a time filled with excitement and nervous anticipation as she prepares to welcome her second child into the world.
For Imelda, who lives with her grandparents and her 4-year-old daughter in San Jose Piedra Gorda, a small, rural community, in Mexico, this pregnancy has been much different for her than her first.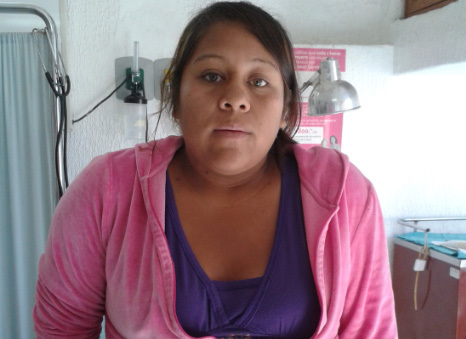 For starters, she has had access to prenatal care and health education throughout her entire pregnancy. Thanks to the not-for-profit organization Mexfam, which offers health services to rural communities throughout Mexico, Imelda has had regular checkups to make sure she and baby are healthy. While it may seem obvious that prenatal care is a critical part of any pregnancy, you may be surprised to know that 30 percent of women worldwide don't have access to it.
When Imelda is ready to give birth to her baby, there will be a skilled birth attendant by her side to make sure her and baby are okay throughout delivery. While the research shows that the single most important intervention to ensure safe motherhood is to make sure a trained provider with midwifery skills is present, according to UNICEF, almost half of births in developing countries take place without one. In the event that there are any complications during the birthing process, Imelda and her baby will also have access to emergency services.
An estimated quarter of a million women like Imelda die in childbirth each year. More than 95% of these women are from developing countries. Fortunately, 90% of these deaths can be averted with access to basic healthcare services and emergency obstetric care.
Kangu envisions a world where all pregnant women get the support they need before, during and after childbirth. Through its online crowdfunding platform, individuals and groups come together to fund a specific pregnant woman's access to clean, life-saving healthcare services for as little as $10 each. Contributions received by Kangu go directly to in-country partner organizations that deliver prenatal care, assisted delivery, portpartum care, and more.
As you prepare to celebrate a birthday, a baby shower, Mother's Day, Valentines Day, or any other day that means love to you, we invite you to think of the love that exists between a mother (we call them "Mamas" at Kangu) and child and consider making a contribution. You can also give the gift in honor of a loved one who will receive a personalized card as well as a birth update -- complete with picture of mama and baby -- after the selected mama has safely delivered.
For more information on Kangu and to support a Mama, click here.

REAL LIFE. REAL NEWS. REAL VOICES.
Help us tell more of the stories that matter from voices that too often remain unheard.