"I want to sit on rococo furniture wearing Levi's and an aloha shirt; that's my ideal of a life-style." - Yukio Mishima, 1959.
Yukio Mishima's suicide in November 1970, with its grim invocation of samurai machismo, is probably the most famous moment of his legend. It overshadows everything else, including Mishima's three nominations for the Nobel Prize in Literature. The colourful adventures he enjoyed at the height of his fame - when he was a self-styled kinjaku movie star and a patron of underground gay bars in Tokyo, Paris and Rio - are even less celebrated and this seems a shame, since he was an intercontinental dandy of the highest order.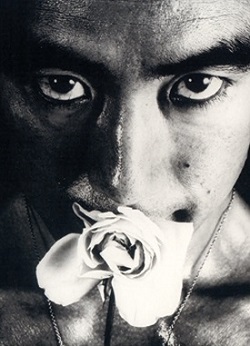 Raised in what one biographer described as the "darkened sickroom" of his grandmother, Mishima was nicknamed "asparagus child" in high school and escaped the draft in 1945 when was declared unfit for military service. After the war he found a job in the public service but quit after nine months to "dissect myself alive" by writing what became Confessions of a Mask (1949), a bestseller filled with explicit musings on sadomasochism and homosexuality. The next year he produced Thirst for Love, which sold 70,000 copies and Whitest of Nights, a potboiler that was published as a serial in magazines and made into a hit film.
In the early 1950s Mishima became a regular at Brunswick, a Ginza gay bar that drew an eclectic crowd of moneyed diplomats, American GIs, and savvy Japanese hustlers. There, he met Akihiro Miwa, who performed in drag as Edith Piaf and who would later play the title role in the film adaptation of Black Lizard, a novel that Mishima would write as a play in 1961 (in the film, Mishima starred as a stuffed dead body). "He was pale as death, and his body seemed to float in his clothes," Miwa recalled. "And he was a narcissist, that was clear, and he had a true eye for beauty."
Mishima celebrated the success of 1951's Forbidden Colours with his first trip to "the West". He set sail for San Francisco aboard the S.S. President Wilson and journeyed from there to New York, which he described as "Tokyo five hundred years from now". He lunched with Christopher Isherwood and Tennessee Williams, and refused to stay in a hotel room that he deemed too reminiscent of Frank Sinatra's room in Man with a Golden Arm. "I'm not quite ready to become an addict," he declared.
Tired of such "torture", he flew first class to Rio where he was observed bringing "the boys who hung around the local parks at night" back to his hotel room. After Carnival, he travelled to Paris, where he was hustled out of $2,500 by a young man he met on the Champs Elysees. While waiting for his replacement traveller's cheques, he went to the kind of bars "a pederast would go to" and wrote a play, Sunflowers at Night, and also a journal, where he described Paris as "very thick makeup on a very ugly woman. In Madrid Mishima stayed in the city's most luxurious hotels, and in Rome he went shopping for ties on the Via Condotti.
Mishima returned to Tokyo in May 1952 armed with what biographer John Nathan describes as a "distinctive persona which seemed designed expressly to fascinate and antagonise the Japanese."
His style was a blend of Hollywood cool and Roman drug store cowboy. He wore loud sport shirts, often alohas, black "pegged" trousers, and pointy black shoes. He wore the shirts open halfway to the waist to expose a chest which for a Japanese was hirsute; around his neck he hung a golden chain and a variety of medallions which he had bought in Italy and Greece. He was never without dark glasses, and, literally to top it off, he affected a crew cut, considered in Japan in 1953 to be "the latest Hollywood fashion."
Mishima told an interviewer in 1958 that he had "tossed off" many of his bestselling novels, and in 1959 he spoke of his desire to be a movie star, to "play a gangster, wear a leather jacket, and die at the end". Such a role presented itself when the president of Dai-ei Studios called Mishima personally and secured him the lead role in Karakkaze Yarō (Afraid to Die), about a gang member free after a long stint in prison for murder who falls in love with a pregnant prostitute. Nathan describes the excitement around the production:
In the months before the filming every newspaper and weekly in the land carried exclusive interviews withe the soon-to-be star; Mishima seized every opportunity to place himself in the most ludicrous light. He dressed like a movie star in striped shirts and flashy ties, a pinstripe suit, and of course dark glasses. He showed his interviewers "fan letters" [and] asked if he had the confidence to play the part, he replied "Absolutely!" because he had checked and satisfied himself that all the actresses were shorter than he.
The making of the film was less exciting, and multiple takes failed to coax a Brando mix of tenderness and toughness from its miscast leading man. Critics found the movie bland, and Mishima embarked on a new stage production of Oscar Wilde's Salome amid brewing nationalistic tensions, centred around the renewal of the Japan-US Security Treaty.
In February 1961 the fascistic Great Japan Patriotic party encouraged its members to murder all parties connected with Chuo Koron Publishers in response to a controversial magazine article that had dealt irreverently with the residents of the Imperial Palace. The magazine editor's maid was killed and his wife wounded by intruders. Mishima, who sat on the Chuo Koron board, armed himself with a sword and every night for many weeks he patrolled his garden, which was filled with marble statues of Dionysus that he had imported from Greece. Mishima's brother Chiyuki has insisted that Mishima was terrified by the incident, even awestruck, and that his later "swing to the right" was informed by his "profound fear of the right".
Subsequently, Mishima established a private militia group, the tatenokai ("The Shield of Honor"), in March 1968. It numbered 100 young men who had been drafted from right wing college groups and trained (by Mishima) in how to use force if necessary to "guard the Emperor" and uphold the kamikaze values of feudal Japan. Nathan suggests Mishima was heartbroken over losing the Nobel Prize to Yasunari Kawabata in 1968 and craved a grandiose act of pique. Another of Mishima's biographers Jiro Fukushima wrote that group sex, supervised by Mishima, was a routine feature of the Tatenokai's clandestine meetings at the Misty Sauna Baths. Many of Fukushima's contemporaries also believed this, such as film director Genji Nakamura who in 1983 made a film called Beautiful Mystery which followed the subversive adventures of a Mishima-alike and his horny band of devoted revolutionaries whose metronomic group sex was performed nightly under his watchful eye and facilitated by handily placed tubs of Nivea Creme.
In November 1970 Mishima abandoned a planned trip to India, where he was to complete his four-part novel The Sea of Fertility and instead delivered a speech from the balcony of the military headquarters in Tokyo. When the laughing from the soldiers gathered below began to drown him out he went inside and disemboweled himself with a dagger. Then, he was decapitated by a Tatenokai member wielding a sword.
Japanese right wing groups (the uyoku dantai) continue to use an image of Mishima's face on their propaganda buses and Henry Rollins cites Mishima's example when he wrote of the metaphysical sense of manliness that comes from lifting weights. But David Bowie was a different kind of fan, once painting a large, expressionist portrait of Mishima that hung on a wall of Bowie's Berlin apartment, and the playwright Larry Kramer developed in 1970 a screen treatment for Forbidden Colours, pitching it as a study of "homosexuality, power, and the difficulties between men and women".
Yukio Mishima was born 90 years ago this week, on 14 January 1925.
REAL LIFE. REAL NEWS. REAL VOICES.
Help us tell more of the stories that matter from voices that too often remain unheard.