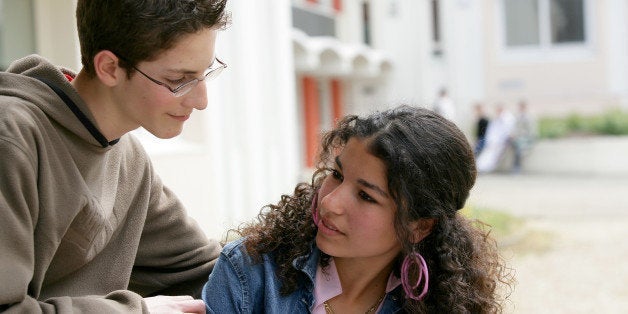 Shortly after I turned seventeen, my parents discovered my closely guarded secret. For some time I had been in love with another boy at school. We were sexually active. It was true love in my mind and we wrote long, romantic letters to each other expressing our teenage desires and hopes for a future together, far away from the constraints of our conservative Indiana upbringing. I hid those letters under my mattress, where my mother found then one day while cleaning.
The resulting family chaos and emotional upheaval resulted in my being sent away. At the time, my older brother was headed to his new life as a teacher in the far reaches of the Alaskan frontier. I was now to accompany him.
This decision had several results, positive for my parents and negative for me. My mom and dad would be spared the public humiliation of having a gay son: the side-eyed stares of the congregation at church and the pity of well-meaning friends in the community.
But for me, it was exile. I was to miss graduating with the classmates I grew up with - my senior year would be spent among strangers in Nome, Alaska. And principal in my parents edict was the decree to never see my boyfriend again.
My brother told me many years later that my father had confessed a desire to kill me. His inability to cope with my homosexuality had driven him to such an extreme.
A few months after I moved to Nome, I ran away. Finding myself on the streets of Anchorage, I wandered the foreign city looking for a gun shop. I had begun to think that killing myself was the only way out of the desperation I felt. Thankfully, I chose other options.
As an adult, I look back on that time with compassion for my parents. They didn't have the tools, emotionally or psychologically, to understand how to navigate the waters of life with a gay son. Through the ensuing years we made inroads and reached, once again, a place of love and appreciation.
But by then, I had made a new family, largely peopled with other LGBT individuals. The intimacy and approval that was available within this community far surpassed the strained relations that I experienced within my birth family.
My story is far gentler than that of other gay, lesbian or trans teens - who came out, or were found out - and faced violence or retribution. Homeless teens in America are predominantly LGBT. And of the hundreds of thousands of kids in the foster care system in the United States, a disproportionate percentage of them identify as LGBT. A newly concluded study in Los Angeles County put that number at 19%.
Of these teens, nearly 100% report abuse - emotional, physical or sexual - while in foster care. And they are twice as likely to be living in a group home than other straight teens in foster care.
The findings in that study also show that the percentage of LGBT youth living in foster care is double the percentage of the population in general. Sadly, LGBT kids are more likely to be thrown out of their birth homes or to be removed from them as a result of abuse or neglect.
But equally as shameful, is the foster parent who, upon learning that their foster child is gay, calls the social worker and asks for the child to be removed. They don't have to state why, but more often than not, it is for religious reasons. The child in placement has no legal recourse.
LGBT youth in foster care are far more likely to run away, to become homeless, to wind up on drugs or prostituting themselves. And sadly, they are more likely to harm themselves or commit suicide.
Understanding these facts and wanting to create a family of our own, my spouse, David Rothmiller, and I saw the need for there to be a place of refuge, a new kind of group home for LGBT-identified kids in foster care. To serve that need, Sanctuary Palm Springs was born.
Sanctuary Palm Springs will be a group home for LGBT kids in foster care. (We prefer to think of it as a family home.) We don't have any illusions that this will be a Brady Bunch kind of household. These kids will come to us with emotional and psychological issues, many of them will have attachment disorder, or addiction issues, and be on a raft of medications. Most of them will arrive with poor self-esteem and poor academic skills and accomplishments. The focus of this family home will be on stabilizing these kids around the understanding that they may have a bunch of problems, but being LGBT isn't one of them.

Teens in foster care in California, who are able to finish high school, can have their full tuition paid at state colleges. With that in mind, Sanctuary Palm Springs will focus on providing the environment, the resources, the tutors and mentors to help our residents catch up academically and begin to find their unique gifts and skills. A supervised mentor program is a key element to this program design. Successful business people, educators, entrepreneurs, artists, etc. will be able to interact with the kids, helping them gain insights, build new skills and, ultimately, begin to build a new family within the LGBT community at large. Executives, chefs, computer engineers, musicians, filmmakers, athletes, business owners - these are just a few of the individuals who have already stepped up to be mentors to the residents of Sanctuary Palm Springs.
Our goals are timely, not lofty. We envision future homes, not only in California where progressive politics recognize the needs of LGBT youth, but in a network of other homes across the nation - especially in those states where there is the greatest discrimination against the LGBT community. It is in those states that the most pressing need exists and it will be in those places that Sanctuary can most certainly fulfill its mission.
Popular in the Community