When English-Palestinian filmmaker Basil Khalil heard that he'd been nominated for an Oscar, the first thought that went through his mind was, "I will have the title of "Oscar Nominated," at least, for life!! Goodbye bad credit rating!" And the second thought? "What will I wear?"
No over-worn, old suit from his closet would do, this was a glittering once-in-a-lifetime event, requiring a couture outfit.
But lets retrace first the journey this young filmmaker's short masterpiece of cultural misunderstanding has taken, since first premiering at the Festival de Cannes last year. Ave Maria is a humor filled, brilliantly acted, beautifully shot fifteen minutes long work of art that brings together both sides of the Israeli-Palestinian conflict. By showcasing what happens when a group of Palestinian nuns who have undertaken a vow of silence, and a loud family of Israeli settlers rushing to get home before the start of the Sabbath crash into each other, the film tears down divides. And builds cultural bridges in their place.
Am I rooting for it to win the Best Short Film Live Action Academy Award tonight? You betcha. And by the end of this piece, you will be rooting for it too.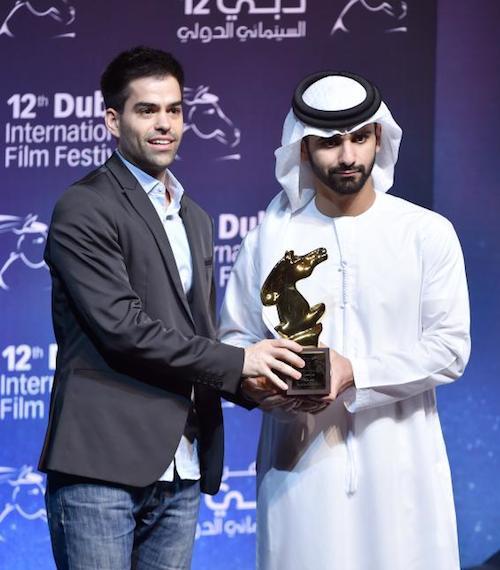 Khalil receiving the best short Muhr award from H.H. Sheikh Mansoor bin Mohammed bin Rashid al-Maktoum at the 2015 Dubai International Film Festival
When I caught up with Khalil, who both co-wrote and directed Ave Maria, in Dubai earlier in December, the film had just won the top prize for a short at the Dubai International Film Festival. In the filmmaker's own words, he "was on a high." Then in early January, Khalil resigned from his job with an understanding that if on the 14th the nomination didn't come through, he'd be back doing promo videos for charities and NGOs. Thankfully, the stars were aligned.
Once nominated, there was loads to think about, because, Khalil explains, "I was the one running the Oscar campaign; we had to raise funding, pay for advertising place, book flights, hotel, make posters, DVDs, [create] a new FB banner (that was ready the night before) and upload that instantly!" Incidentally, some of the campaign funding fell through in early February, when I met Khalil again, attending Berlinale where, he explains, he "presented Ave Maria in Berlin at the Robert Bosch Stiftung who funded the film." But the high was followed by a low, when "that day I found out that one of our campaign backers pulled out their funding which was supposed to go towards an ad in the Hollywood Reporter," Khalil explains, adding, "I spent the following few days trying to patch up that gap."
While in Berlin, he wore a lovely sweatshirt made by Jordanian brand Jobedu, featuring old Egyptian movie posters and posed in front of the iconic Bear. His attachment to the brand began, as Khalil explains, "when I saw their stall at the Dubai Film Fest selling really cool Arabic pop-art t-shirts. I will be wearing them when doing interviews in LA, as they do really cool designs and some funny slogans. I like their play on words, and their use of our cultural icons, like singer Um Kolthoum, with a modern twist."
But the main outfit for the big night was found thanks to some creative thinking on Khalil's part. Google sometimes is one's own best friend... Khalil explains, "I went onto the Harrods online shop, browsed through their suit department and jotted down names of brands I'd like, then googled their PR reps including a few on Saville Row." He continues, "the next day Scabal from Savile Row responded positively, and I was glad they did, because I saw them featured in a TV documentary about luxury goods where they offered a £30,000 suit for sale!"
Next for Khalil was a fitting with Joe Woolfe, who is also Benedict Cumberbatch's personal stylist. Scabal is a brand not only known for their beautiful bespoke suits but also their luxury fabrics, which have been featured in films like The Godfather trilogy, on James Bond himself and this year's Best Actor nominee Leonardo Di Caprio.
Woolfe suggested "midnight blue" for Khalil's suit, worn with a thin tie. In Khalil's own words, "I can't find the words to describe how it felt wearing that suit." And he doesn't look too shabby either, wearing the splendid creation. The only downside to wearing something that luxurious? "I don't think I'll ever be able to go back to a normal polyester suit again," adds Khalil, "I have the same complex with pizza, after living in Italy for 9 months."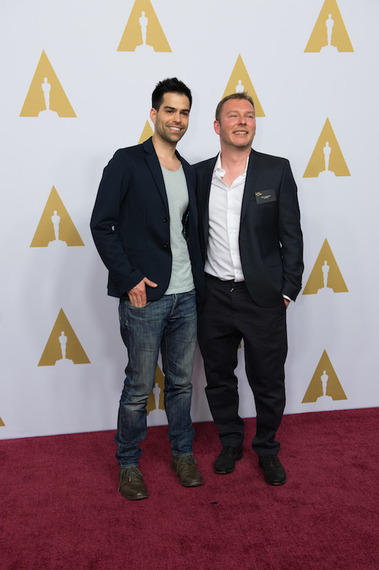 Khalil, wearing AX and All Saints, poses with Eric Dupont, producer on Ave Maria, photo courtesy of AMPAS
The sartorial road to The Oscars was not without an averted fashion disaster that happened to Khalil for the official Oscars nominee luncheon. Ready to fly to Los Angeles, his guest cancelled last minute and Khalil scrambled to find a replacement to what he calls, "a once-in-a-lifetime opportunity to dine with the stars." Who would have thought?! Anyway, finally he convinced his agent to come along but in that whole commotion, "I forgot my suit at home," Khalil admits. So what to do next? "When I arrived in LA my only option was an Armani Exchange near my hotel; I went in and realised I can only afford one piece, so I bought just a suit jacket, which I really liked, and popped it over a nice t-shirt," he says. The look, well lets just say Khalil stood out in a sea of suits and pretty dresses and channeled his inner rockstar.
In mid-February, Khalil once again flew to Los Angeles, this time for good until the big day. Everyone will be happy to know that he packed all three suits, including the completed Sabal bespoke number for Oscar night's red carpet.
Part of the duties of Oscar nominees have included, "many press appointments, and a screening of all the shorts, plus a Q&A session." But also a mind-blowing trip "to San Francisco on a private jet to visit the Pixar studios," which, in Khalil's words, "was one of the highlights of my time in LA," continuing, "I got to meet the legendary John Lasseter and Pete Docter, who are responsible for many of my favorite films. They had such nice things to say about Ave Maria, since they are in the committee responsible for nominating us, so I was deeply touched by them."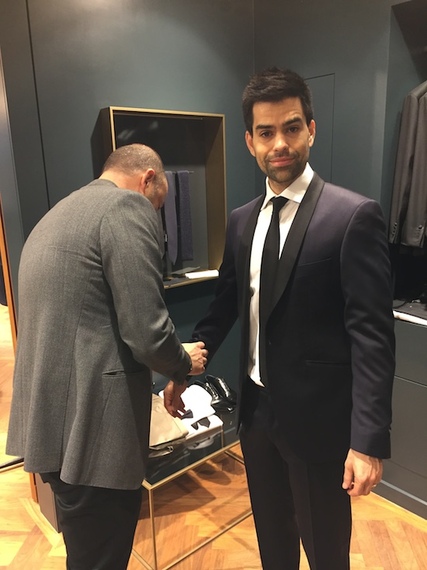 And what does an Oscar nominee do the day before the big night? Khalil confirms, "I'm exhausted, I have one more party to attend and a few more interviews to do; I have taken my shirts out to iron and steam in the shower. Inspecting them for any stains, holes or imperfections."
Here's to hoping that by this time tomorrow we'll all be saying our "Hail Marys!" Fingers crossed for Ave Maria.
All images courtesy of the filmmaker, used with permission.
Popular in the Community