The influence of Robert Silverberg on the science fiction genre is vast: the multiple Hugo and Nebula Award winner and Grand Master is often cited as an inspiration by the biggest names in the field. This is certainly true for science fiction author and essayist Alvaro Zinos-Amaro, whose long friendship with the renowned author provided inspiration which he now imparts in this thorough and intellectually impressive book of interviews, Traveler of Worlds: Conversations with Robert Silverberg.

I spoke with Alvaro about the genesis of the book, his friendship with Silverberg, the influence of the Grand Master even in today's science fiction, and more.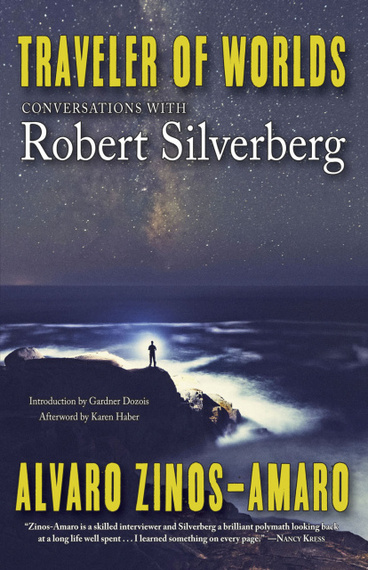 It's clear that Robert Silverberg leaves an enduring legacy in science fiction. How would you describe this legacy? Apart from the sheer quantity of work that he's produced, what do you think he has brought to the genre and how do you think it continues to influence the genre today?
As the Science Fiction Encyclopedia notes, "Silverberg's.... metamorphosis... from a writer of standardized pulp fiction into a prose artist of great interest was an accomplishment unparalleled within the field." Silverberg enriched the genre with a series of sophisticated, visionary, deeply felt novels like The Book of Skulls, The World Inside, Son of Man, Tower of Glass and Downward to the Earth that expertly fuse content and form, investigating the human condition through the lens of technological and societal change. Thomas Clareson observed that Silverberg's "emphasis upon technique--and the realization that all stories cannot be told in the same manner--is crucial," and I think that's an important part of his legacy too. Michael Dirda recently wrote that Dying Inside "could almost have been written by Philip Roth, and is just as brilliant, mordant and moving as Portnoy's Complaint."
This book is compiled of conversations you had with Silverberg in his California home, over many days. What was the impetus for this project? Can you paint a picture for us of what the process was like, perhaps share an anecdote from behind the scenes?
The short version is that I've loved Bob's work since I was seventeen, we became correspondents and then friends, and since he's never going to write an autobiography, I figured this would be the next best thing. I thought it would be enjoyable and enlightening to converse with him about a long life well spent (and that hunch turned out to be right). I wanted to record his thoughts on diverse subjects he doesn't usually discuss in print. The longer version of how the book came about may be found in the Preface.
Once Bob agreed to the project I came up with seven main subjects I wanted us to discuss and made plenty of notes. I re-read many of his essays and some of his stories and novels. Over the course of four long weekends I turned on a recording app on my phone and asked him everything that's in the book. I transcribed the answers, lightly edited them, and had him approve the final text. During those marathon conversations Karen Haber, Bob's wife, made me some excellent cups of tea. And Miranda, a former cat, kept us company, once even inserting herself into the text of the book.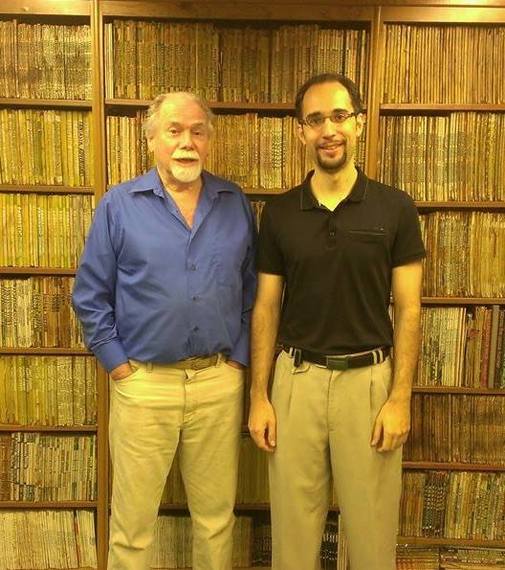 One section of the book deals with Silverberg's aesthetics and his approach to writing. You write science fiction. In what ways do Silverberg's approaches to writing resonate with you? Do you detect his influences in your own work? Has he influenced your artistic process?
Some years ago I listened to a recording of Silverberg's Guest of Honor speech from Heicon '70 (the twenty-eighth World Science Fiction Convention, held in Heidelberg, Germany in 1970) and several observations from that speech struck a chord with me.
For example: "It is not the writer's business to change the world, only to see that world clearly and present it on paper, refracted through his own unique sensibility."
And the way Silverberg described himself: "I'm a maker of verbal objects. I think of myself as more as a sculptor, in a sense. Instead of using clay or marble or strips of art, I use words ... what I'm making is ... something quite abstract to me. Something made up of adverbs and semicolons, which has many aspects. Style and form, character and dialogue. Content. Yes, content, too. All of those things. Yet my aim is not to offer you interesting characters, or interesting political theory, or interesting platforms for reshaping the world. But to make this verbal object, this total entity. That's my purpose."
In that same speech Bob quoted the opening of a piece by Michael Kustow that has also stayed with me: "Every sentence which begins, 'The role of the artist is...' is untrue as soon as spoken. Professors have roles. Politicians have roles. Speakers in debates have roles. No sooner do you clothe an artist in a role than he slips out of it, and is skipping away down a road you haven't imagined. Roles are things to be performed in front of other people. The artist does something else: obeys a necessity, solves a puzzle, fills a hole, sheds a skin, makes a mess, sets fire to himself. Whatever he does is an act of freedom and cannot be contained in the straitjacket of any definition."
Silverberg has influenced my work and process in other more specific ways, some of which I'm aware--for example, how to start a story, or the importance of a title--and others which I'd probably be surprised to have pointed out to me.

If you were going to recommend a "gateway" novel to someone who had never read Silverberg, what would you recommend?
Nightwings, a collection of three linked novellas, did the trick for me. Dying Inside, too.
It takes a lot of dedication to put together a book like this, composed of so many in-depth conversations. How would you explain your commitment in this instance?
This was a dream project, and I was always excited to work on it. Prepping for the interviews was exhilarating--"I feel like I'm taking finals," I told my girlfriend--and my curiosity continues unabated even now that the project is done. Just yesterday, for example, I emailed Bob to ask if he'd ever met Evelyn E. Smith.
More generally, I enjoy working with words and I like to stay busy. Many of the writers I look up to, such as Joyce Carol Oates, are focused and productive. "Constant work is the law of art as it is of life," as Balzac said.
Silverberg refers many times to his advanced age (he is in his eighties) and that he doesn't consider himself a part of the current genre scene. In what ways do you think his work might still hold relevance for new, young readers of science fiction?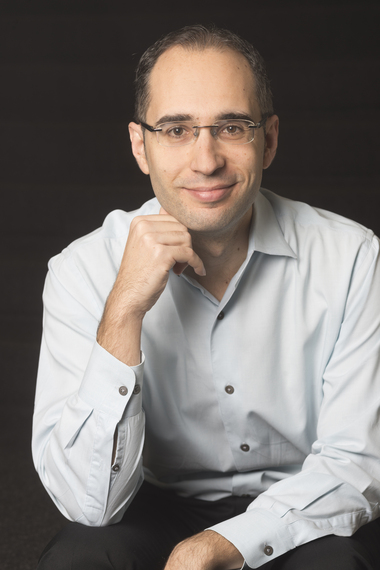 Alvaro is co-author, with Robert Silverberg, of When The Blue Shift Comes and most recently Traveler of Worlds: Conversations with Robert Silverberg. Alvaro's more than thirty stories have appeared in magazines like Analog, Nature, Lightspeed, Galaxy's Edge, Lackington's and Farrago's Wainscot, as well as anthologies such as The Mammoth Book of the Adventures of Moriarty, The Mammoth Book of Jack the Ripper Tales, The 2015 Young Explorer's Adventure Guide, Cyber World, This Way to the End Times, Humanity 2.0, and The Year's Best Science Fiction & Fantasy 2016. Alvaro's essays, reviews and interviews have appeared in The Los Angeles Review of Books, The First Line, Asimov's, Tor.com, Strange Horizons, Clarkesworld, Foundation, The New York Review of Science Fiction and Intergalactic Medicine Show; he also edits the roundtable blog for Locus.
*
Ilana Teitelbaum's writing has appeared in the Globe and Mail, the Los Angeles Review of Books, and Salon. Her epic fantasy debut, Last Song Before Night, was published in October 2015 by Tor/Macmillan under the pen name Ilana C. Myer.
Calling all HuffPost superfans!
Sign up for membership to become a founding member and help shape HuffPost's next chapter