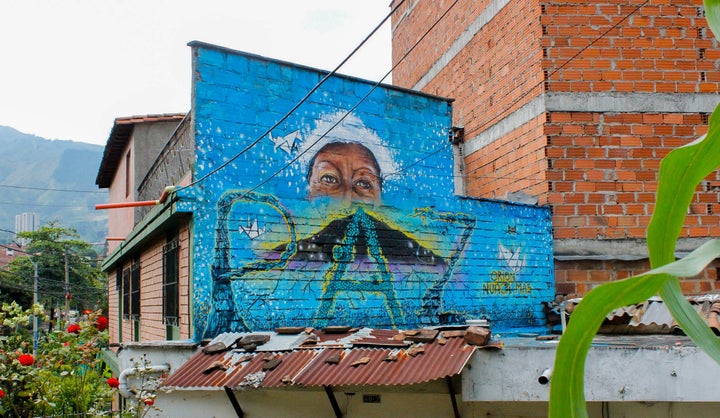 MEDELLÍN, Colombia — The second time armed men came to her house, Blanca Nidia Perez Botero wasn't home.
She was at work. But her sons were home caring for her sick father when some men dressed as soldiers showed up at their door and threatened them. They said that they would take the boys away if they found a gun in the house.
There was no gun. The boys were safe. For now.
The first time the armed men had come was the night before. Perez thought she heard someone trying to open the door to their home. Her husband told her it was nothing. But when he heard it too, he told her to step back and peered out the window.
Outside, masked men in military uniforms were climbing out of a truck. The men came to their door and asked to search Perez's home for leftist guerrillas who controlled her neighborhood.
Perez's husband said there was nothing to hide and invited the soldiers inside. But even after they finally left, Perez knew it wasn't over.
The security operation, dubbed "Orion" by the Colombian government, continued for an entire week. Military helicopters hovered overhead, firing into the Medellin community where Perez still lives. Tanks and police vehicles rolled through and security forces busted down doors and detained residents. Hundreds of civilians were injured, killed or disappeared.
Exactly 14 years later, victims are still seeking justice and searching for answers about what happened to loved ones who disappeared that week and in the years following.
"When Operation Orion happened, everything was really scary," Perez said of the military campaign that laid siege to her neighborhood of Comuna 13 from October 16 to 20, 2002.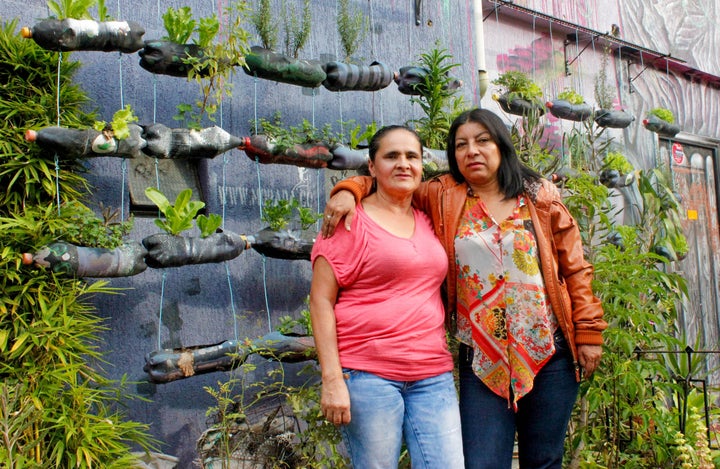 The week long operation was ordered by then-President Álvaro Uribe Vélez, who had been recently elected on the promise of using stronger military force in the decades-long war against left-wing guerrilla groups like those operating in Comuna 13.
The Colombian government maintains that only official security forces carried out Operation Orion. However, witnesses, experts, former paramilitary leaders and even the country's Tribunal for Justice and Peace say a paramilitary group known as the Cacique Nutibarra Bloc (BCN) played a central role in planning and executing the operation, paving the way for Comuna 13 to become a stronghold for armed criminal actors linked to the paramilitaries.
Built into the side of a mountain in Colombia's second largest city, Comuna 13 has long been one of the poorest parts of Medellin. But the neighborhood's strategic location has also made it one of the most sought-after areas for armed groups looking to traffic drugs and guns into and out of the city.
The combination of government neglect and criminal control has often left residents caught in the crossfire between warring factions, with little recourse for addressing the atrocities they have experienced.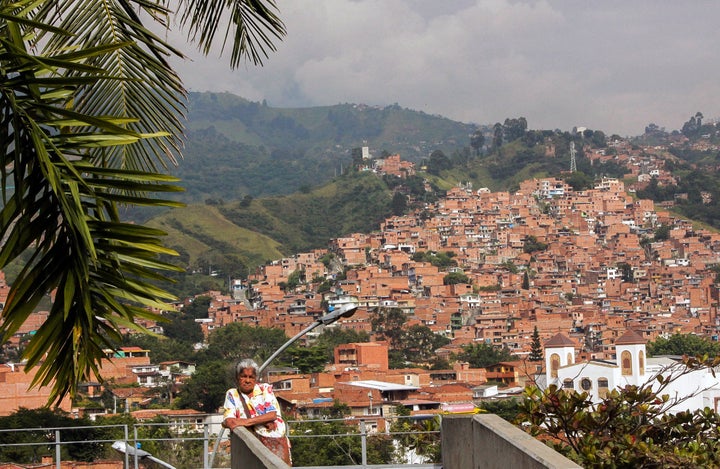 For residents of Comuna 13, "Operation Orion represents state impunity," said Luz Elena Galeano Laverde, a prominent member of the human rights group Women Walking for Truth.
The 2002 operation became known for the widespread human rights violations it generated. But it is far from the only controversial military campaign during Colombia's five-decade-long war, which was amped up in the 2000s with a U.S. security assistance package known as Plan Colombia that injected more than $10 billion into the bloody war over the course of 15 years.
According to Jeremy McDermott, a journalist who was present in Comuna 13 during the military campaign, Operation Orion "is one of those emblematic operations, which over time has been proven to have involved extrajudicial killings and links between paramilitary and security forces."
"As far as respect for human rights were concerned, there was none," McDermott continued. "Yet still no one has been brought to account."
Over the course of the past 14 years, residents of Comuna 13 have formed tight-knit human rights and victims' organizations to find strength and safety in numbers as they denounce killings, displacement and disappearances during Operation Orion that they attribute to state security forces working in conjunction with paramilitary groups. And they say these illegal armed groups still terrorize their neighborhood today.
"The state has left us alone, completely alone," said Galeano. "Even though they were the ones who made us victims. We're living in a sea of tears and impunity."
In spite of nearly a decade and a half of what they describe as almost total neglect, victims in Comuna 13 continue to demand state accountability and recognition of the abuses they experienced.
Galeano's Women Walking for Truth is one of the best-known activist groups from the neighborhood. It is made up of 135 women searching for loved ones disappeared during Operation Orion and in the years since.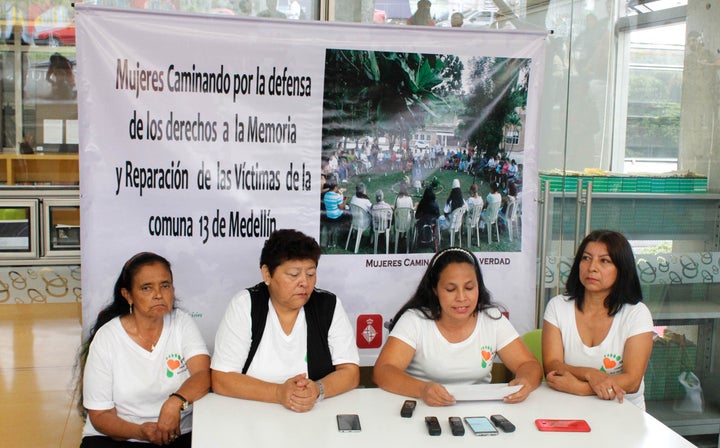 The organization started out small, meeting in the local convent to share stories about what they had been through. But over time, the group has become more vocal in their demands for justice. Last year, they were recognized with the National Prize for the Defense of Human Rights in Colombia.
But being outspoken has a price.
Galeano is among thousands of Medellín residents who have been displaced from their neighborhoods and forced to move elsewhere in the city.
"I was displaced in 2012 because they almost killed my daughter, Alejandra," said Galeano. "I'd started doing campaigns in Comuna 13, making denunciations about state crimes and paramilitary activity."
Galeano's activism drew the attention of a local criminal group known as "La Quinta," who began threatening her daughter each day as she walked home from school.
One afternoon, members of the criminal group grabbed Alejandra and tried to make off with her on a motorcycle. But a local street peddler, wielding a knife he typically used to cut mangoes, chased the men down and saved Galeano's daughter.
Galeano rushed home from work to comfort her distraught daughter, before striking up the nerve to confront the criminal group.
"Are you owners of the neighborhood?" Galeano recalls asking them. "Last I checked, I have to work and pay the rent. I'll leave the day that I want to, not because you're telling me to."
Fearing for the safety of her daughter, however, Galeano went to a friend for advice. The friend suggested they leave immediately: "Do not wait for the light of day."
Galeano and her daughter fled that very night with just the clothes on their backs.
"There are lots of families that have gone through displacement. Lots of them," Galeano said. "That's what the paramilitaries do here. They destroy families."
Once displaced, families face stigma and difficulties trying to establish themselves in other neighborhoods that may have an even stronger criminal presence and less work or educational opportunities than those from which they fled.
Still, many activists like Galeano continue their work in spite of the threats they face.
"They're trying to cover the sun with their finger, but we won't let them," Galeano said of the paramilitary groups. "None of the truth or justice processes have advanced, especially in terms of forced disappearances."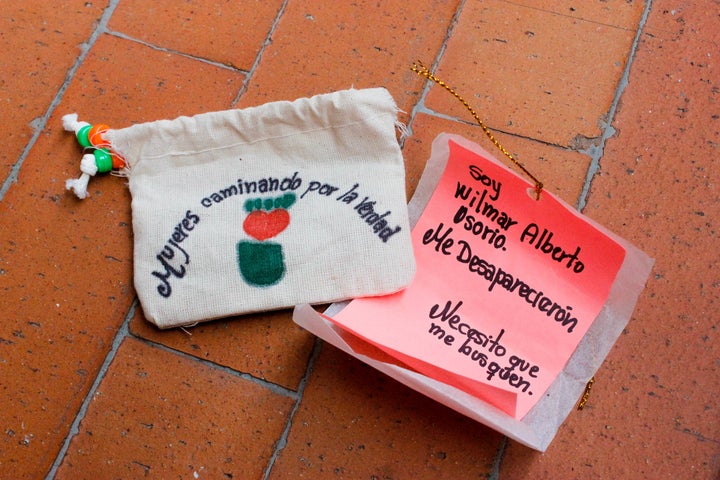 A 2006 peace agreement between the Colombian government and the country's largest right-wing paramilitary group, the United Self-Defense Forces of Colombia (AUC), led to the the demobilization of numerous paramilitary fronts. The demobilization was accompanied by a transitional justice system, which included provisions that required victimizers to tell the truth about their actions and accept punishment. Human rights groups also pressured the government into providing reparations for victims.
However, the process has been widely considered a failure. Many former paramilitary groups immediately began operating under new names, leading to a spike in violence in Medellín.
The justice system was not successful either. Even gross human rights violators received light sentences. Victims were often targeted for seeking justice and reparations, and many top leaders were extradited to the United States where they were sentenced for drug crimes instead of facing justice for the atrocities they committed.
This left many families of the disappeared without answers.
Almost 300 people disappeared from Comuna 13 may be buried in "La Escombrera," a mountainside trash dump thought to be the largest urban mass grave in the world. But even though top paramilitary leaders have confessed to hiding the bodies of the disappeared at the site, authorities still haven't carried out a full exhumation of the area.
In 2015, after more than a decade of sustained pressure from victims' groups and a high profile hearing before the Inter-American Commission on Human Rights, the local government finally exhumed one section of the suspected grave site.
However, after five months of digging, no remains were found. And for more than a year since, further exploration of La Escombrera has been stalled.
Local government officials have said that a shortage of funds from the federal government has made it difficult to advance investigations, including the exhumation of La Escombrera, as well as to provide reparations to victims.
This makes it difficult for registered victims to get the help they were promised. But there are even more obstacles for victims who have not yet been recognized.
Residents who have been victimized after Operation Orion often face difficulties registering with the National Victims Unit, the country's main governmental institution for victims of the conflict. This may be in part because the institution is overwhelmed by the more than 8 million victims already registered. However, it leaves some victims without recognition or access to help.
Galeano herself has not been registered as a victim in the case of her husband's forced disappearance in 2008.
"The National Register of Victims keeps denying me because my husband was disappeared in 2008, not in 2002 during the operation," Galeano said. "But the state has the responsibility to recognize all victims."
With the local and federal governments taking little action, victims of forced disappearances fought to have their voices heard in the four year peace process between the Colombian government and the country's largest guerrilla group, the Revolutionary Armed Forces of Colombia (FARC). Victims utilized the negotiations as an opportunity to push for an integral search plan for the disappeared to be built into the accord.
The National Working Group on Forced Disappearances, of which Galeano is a member, submitted more than 300 recommendations during the negotiations. Those proposals eventually became part of the provisions of the agreement related to disappearances. Most notably, Galeano said, the accord would have led to the establishment of a Search Unit for the Disappeared, and a set of immediate humanitarian measures that would aid in the process of searching for, identifying and returning the remains of the disappeared.
The Colombian government and the FARC signed the historic peace deal on September 26, but the process required approval in a public vote in order to be implemented. Although the agreement was widely expected to gain approval in the October 2 plebiscite, a strong campaign against the accord paired with low voter turnout led to a surprise rejection of the deal.
"On October 2, we went out enthusiastically to say 'yes' to peace and the accord because we saw in them an opportunity for our rights to finally be recognized," the Women Walking for Truth said a recent statement. "We never thought that our victimizers would once again come out victorious."

The opposition movement was spearheaded by former president Uribe, who is now a prominent senator with the Democratic Center party. In the weeks since the accord was rejected, opposition leaders, including Uribe, have engaged in talks with President Juan Manuel Santos and have submitted proposals for revising the deal.
Uribe's role in the renegotiation of the accord has sparked outrage among victims of human rights violations committed by state security forces during his presidency.
"One cannot be a victimizer and then later pretend to be a spokesperson for the victims," said Galeano, who believes Uribe should be investigated for his role in ordering Operation Orion.
In spite of the current state of limbo created by the rejection of the accord, Galeano still hopes the Colombian government will reach a new agreement. She believes this will lead to progress in investigating the atrocities committed in Comuna 13 and across the country.
"I don't feel that we've lost, I feel we've won a lot from the state in terms of victims," said Galeano. "The peace accords were constructed with state actors, victims, and organizations. It was a long process that shouldn't be lost. We need to keep moving forward and not look back so we can have peace in Colombia."
As far as the residents of Comuna 13 are concerned, their "resistance and resilience" continues undeterred.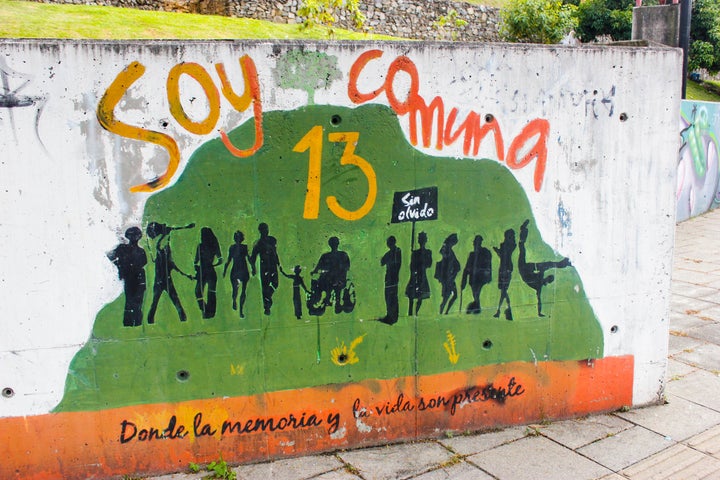 Perez was scared the night that armed men came to her door during Operation Orion. She was at a loss of what to do when her brother was disappeared the next year. She was too timid to speak out when her sons were displaced due to threats from lingering paramilitary groups in 2010 and 2012. She felt defeated when her home crumbled to the ground due to damage caused by stray bullets in the ongoing turf wars between armed criminal groups.
But when Perez joined the other 134 members of the Women Walking for Truth, she says she learned to trust again and found her voice. Now, she refuses to back down from the fight for justice.
"I'm not timid anymore. The truth needs to be known," Perez said. "Internationally, I want everything that happened here in Comuna 13 to be known because the truth belongs to everyone."
Related
Popular in the Community