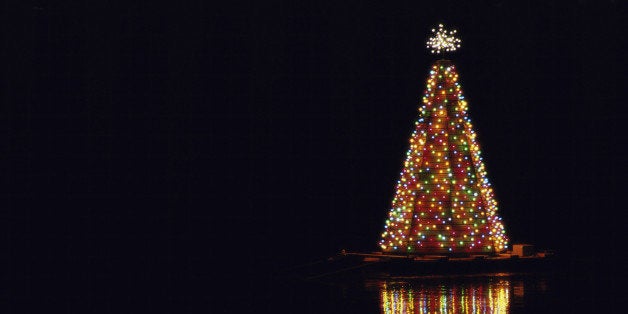 Since the year I turned ten, the days following Thanksgiving have marked the arrival of my personal dark season. When sun sets too early and the temperature drops, I am brought back to the last day of my father's life. He had fetched me a pair of gloves that December morning, and I gave him a quick kiss goodbye before I rushed out the door to school. That was the last time I saw him.
I grew up in White Plains in a house that, as a friend once joked, was tiny for such a tall family. I shared bunk beds with my older sister and my parents' attention with my younger brother. My mom drove us to basketball practices and piano lessons in a Dodge Caravan.
My favorite childhood memory is my dad's visit to my fifth grade classroom during American Education Week. He had to bend down to fit his lean 6-foot-4 frame through the doorway, and a collective gasp ensued. My classmates treated me differently after that.
My dad made me feel safe. Every year at Christmas time, we took a trip to Manhattan as a family. The city, with its whizzing trains and giant crowds, felt overwhelming to me as a child until my dad took my hand. We rode the Metro-North train to Grand Central, visited my dad's office in Midtown, saw Santa Claus at Macy's and admired the giant Christmas tree at Rockefeller Center. Every year, we'd take a family photo in front of the tree, clad in our 1990s-era puffy jackets.
The night before he died, my dad sat at the kitchen table with me as I did my homework. He had dug out our tattered copy of "The Night Before Christmas" and tried to read it to me, like he did each Christmas Eve. Although it was November, he said needed to practice. I wasn't in a holiday mood yet, so I made snoring noises.
On December 1, my brother and I were sent to our school principal's office. We were told our dad had been in an accident and went to a relative's house with our sister. After several agonizing hours of waiting, my mother arrived and took the three of us upstairs.
"I have some very sad, sad news," she said. "Daddy died today."
I was frozen, thawing just enough to hear the rest. He had been sick, she said, for a long time. There was no accident.
Sometimes, people ask how he did it, so I tell them. Suicide with gasoline and a match, next to our garage. He was 41.
I was wearing a white turtleneck with red berries printed on it and pleated-front jeans. I never wore that outfit again.
Our house flooded with guests and home-cooked meals, two things I did not want. The grown-ups tried to explain suicide in child-friendly terms. He had a mental illness. Something inside him snapped. Even with the knowledge I have now of my father's history of depression, injury that made exercise impossible, and trouble at work, his death and unusual suicide method are senseless.
At first, I resented the small resulting inconveniences. Everyone in the fifth grade made me cards, but when I came back to school the following week, no one would look at me. I could not shake the feeling that the adults in my life were watching me closely, approaching me with caution as one might approach a raccoon. A family therapist and a bereavement support group were added to my weeknight schedule, one already filled with orthodontist appointments and school play rehearsals. When my sister's basketball team played in tournaments out of state, I had to stay with relatives because there was no one to watch me. I focused on my two most important priorities: my grades and my beanie baby collection.
I have often wished that someday my father's death won't affect me anymore, but I don't know who I would be without it. Last month, I cried at a friend's wedding reception. While a single woman in her twenties tearing up at a wedding might not seem unusual to an outsider, it was the bride's dance with her father to Heartland's "I Loved Her First" that sent me running from the room.
Accepting the simultaneous joy and sadness that milestones like my brother's college graduation, my sister's wedding, my mother's 60th birthday, or even another Christmas can bring has been the hardest part of healing. I find solace in nature, a smile from a stranger, a chat with an old friend, a novel, my cat's deep purr, but holiday traditions comfort me the most.
Christmas in New York is always there, year after year, a bright light in my dark season. Every December, I visit the tree, and I feel a pang of sadness as remember when I had the best view in Rockefeller Center from atop my dad's shoulders. The feeling, like the seasons, is only temporary.
Related
Popular in the Community