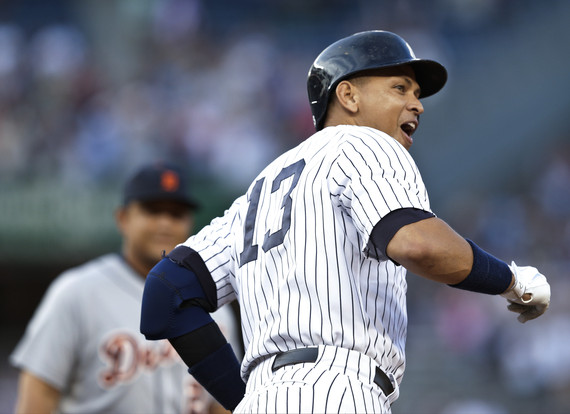 Alex Rodriguez's birthday this past Monday meant more to him than just turning 40. He was playing against the Texas Rangers -- his former team that signed him to the most lucrative contract in baseball history at the time.
And he hit his 24th home run of the season, tying him with Mark Teixeira for the team lead in that category. For A-Rod, his graceful trot around the base paths has become routine over the span of his 21-year career.
His fans -- or what's left of them -- are used to that sight as well. Even with the asterisk, generated by his steroid use, one always assumed that Rodriguez could produce a similar result if he were "clean." But for the Yankees organization, the deception on A-Rod's part remained a tough pill to swallow.
Coming into Spring Training, nobody knew the type of player Rodriguez could be after serving his 162-game suspension for using performance-enhancing drugs.
He was a 39-year-old with a bad hip, and that combined with his mandatory time off created serious doubts about his current ability. In 2012 and 2013 he hit just a combined .256 with just 25 homers, 53 points below his current career average.
As ESPN.com Senior Writer Andrew Marchand reported, the Yankees were vocal about where they stood with Rodriguez, stating that they weren't sure if he would start, or even make the final roster. That comment could be taken as a "petty" shot by the Yanks, instead of a true evaluation of talent.
The Bronx Bombers knew better than most that Rodriguez was a superstar. If he didn't produce on the field, he could at least generate revenue. And for a team that was dealing with a post-Jeter hangover, Rodriguez could help keep a spark in the Bronx.
His performance in Spring Training proved just that. He finished with a .267 average, four home runs and showed he could add much needed pop to the middle of a Yankees' lineup that ranked 13th in the American League in run production last year.
Now, with the season hitting the home stretch, Rodriguez has become a fixture in the Yankees' order. Entering Friday, he ranks first on the team in on-base percentage (.378), second in OPS (.917), all while sporting a .278 average.
This past Saturday, Rodriguez hit three dingers against the Minnesota Twins -- the third one was a game-tying homer that became the turning point in an 8-5 win for the Yankees. And on Wednesday, he raked his 533rd double of his career, one shy of tying Lou Gehrig on the all-time list.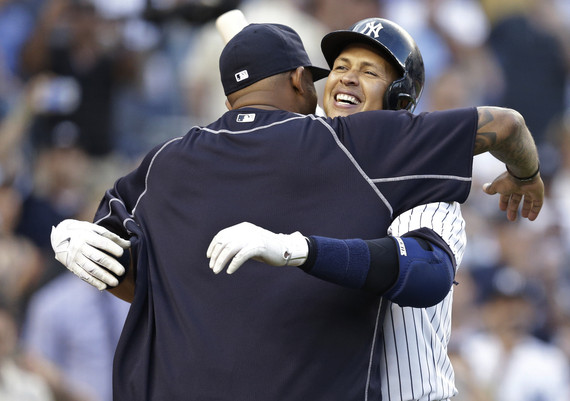 A-Rod has been arguably the most impactful player for the Yankees this season, and now his team sits at the top of the AL East with a six-game lead over the Baltimore Orioles.
"I think he's an all-star. I'm sure there's been other all-stars that have had some sins against them and have been chosen. If you look at his numbers as the DH, they stack up against anybody's."
This proved to be a huge turnaround in admiration since Rodriguez appeared back onto the scene in March. However, for perhaps the first time in A-Rod's career, he doesn't care about the accolades or the praise.
"There was a point in time for me when hitting home runs, being a great baseball player, was all that mattered," Rodriguez told Yankees reporter Ryan Hatch of NJ Advanced Media. "I realize today that it's not that way at all. Hitting home runs doesn't make you a good father; it doesn't make you a good friend. And it certainly doesn't make you a good teammate."
For A-Rod, the focus isn't just on being a great player anymore, which had been a fatal flaw that drove his ego to the point of public deception
It seems as if he has moved past his "A-Rod antics." And that -- along with a revived season -- might lead the Yankees back into October.
REAL LIFE. REAL NEWS. REAL VOICES.
Help us tell more of the stories that matter from voices that too often remain unheard.