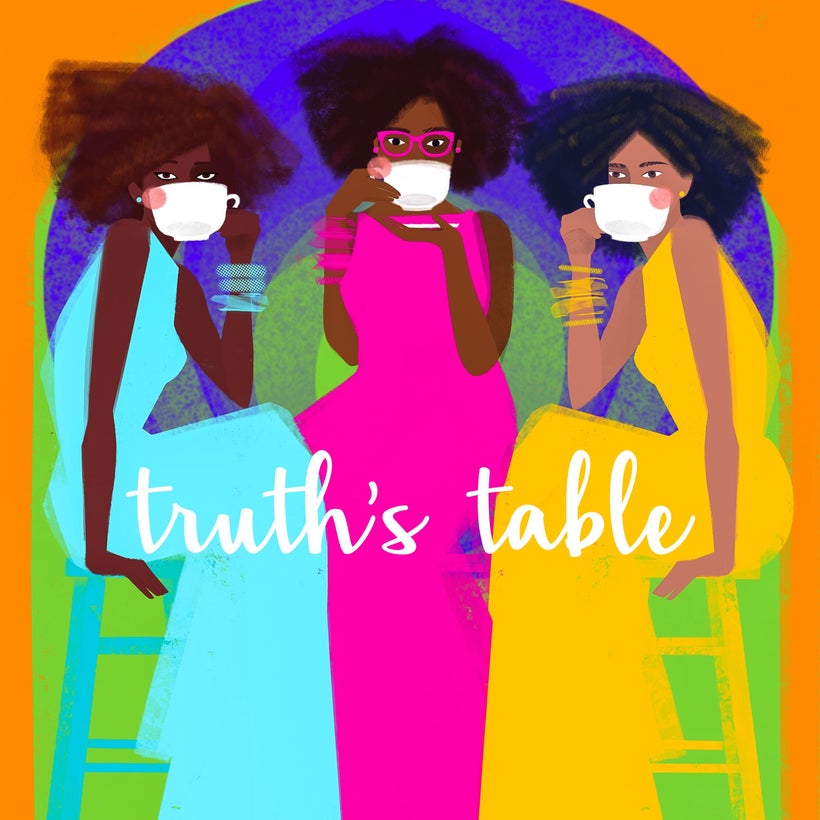 "It is a curious thing to exist in this Black female body. We are the very embodiment of intersectionality. Navigating the attendant oppression that comes along with our Black and female identities and the multitudinous ways they converge and constrain us is a birthright thrust upon us by virtue of the fact that we were born Black and female."
"I tried to drink it away/I tried to put one in the air/I tried to dance it away/I tried to change my hair..."
"We are glad you spoke at our conference. Please don't mention our name with your talk so we don't lose donors," Ekemini Uwan has heard that before, and imagines she will hear it again. She recently shared the aforesaid quote in one of her piercing Twitter threads as an example of the types of critiques and dismissals she and other black women often encounter within the hallowed halls of our nation's churches. In her role as a public intellectual, Ekemini has developed a reputation for speaking truth to power, and navigating the nuances of marginalized people, as she advocates for their liberation. For example, she recently prompted a discourse on Twitter about the ways black Christian women suffer in public ministry and in the church via the hashtag #ThingsBlackChristianWomenHear (the above commentary arose from there). It illuminated a host of examples of institutional neglect and abuse. Particularly, quotes like, "*inbox message* I agree with you 100%. You are so brave and courageous, but I can't show public support;" "Black pastors: I love your work and your social media presence but you scare me;" "You are so articulate and poised. I thought you were going to get up there and scream, shout, and sass;" "We paid *insert male celeb pastors name* thousands of dollars so we can't pay you, but you'll get exposure," et cetera. permeated the thread. The conversation Ekemini began on Twitter Friday April 21st elicited hundreds of responses, and exposed some of the painful experiences many black women experience within scared spaces across America.
"Truth divides," Ekemini Uwan recently asserted in another recent Twitter thread; however, that has not hindered her willingness to preach it. This steadfast resolve to stand firmly entrenched on the side of truth, coupled with an unwavering commitment to serve ample portions of rectitude, regardless of the opposition and the vitriol it foments, notwithstanding the cost it imposes, has become a calling for Ekemini, one she shares with Michelle Higgins and Christina Edmondson. Once that serving of truth inevitably rents fissures in the anemic artifice of our fragmented union, Michelle, Christina, and Ekemini invite you to sit with them at the table they have heartily hewn with their arduous labor. That table is Truth's Table.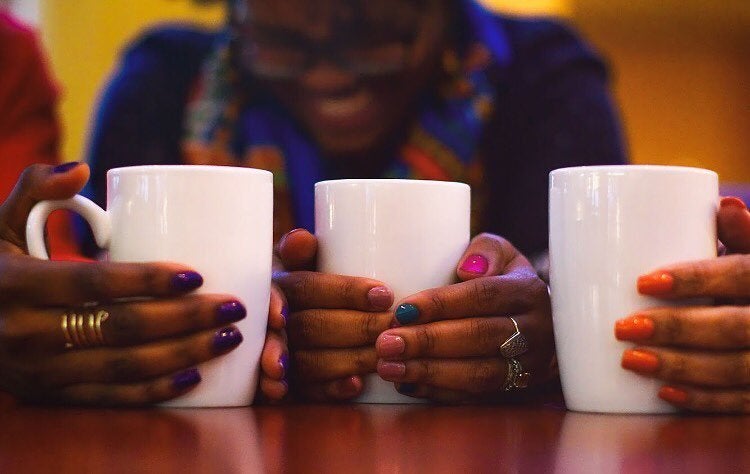 Truth's Table, which launched on March 7, 2017, is an independent podcast built by and hosted by black women for black women (the podcast's producers are Joshua Heath and Beau York from Podastery Studios). Michelle holds a Master of Divinity from Covenant Theological Seminary in Saint Louis, MO; where she works as the Director of Worship and Outreach for South City Church. She is the Director and a founding member of Faith for Justice, a Christian advocacy group dedicated to continuing the biblical story of activism by pursuing the cause of social justice as a gospel imperative, and connecting faith communities to the movements that seek to dignify and humanize black lives.  Christina is a higher education administrator who serves churches, schools, and companies in the area of intercultural development She has a doctorate in Psychology and Counseling from Tennessee State University, and is a pastor's wife. Ekemini is a writer and public speaker who centers her scholarship on biblical orthodoxy and its implications for issues pertaining to racial injustice, police brutality, and white supremacy. She holds a Masters of Divinity from Westminster Theological Seminary. The three's foray into the world of podcasts presents its founders as "midwives of culture for grace and truth," whereby they share their "perspectives on race, politics, gender, current events, and pop culture that are filtered through our Christian faith."
With Truth's Table, Michelle, Christina, and Ekemini provide a needed voice to parse through the intersections of race, faith, and culture. Despite the ubiquitous accessibility of podcasts and their exploding popularity (as noted by Ken Doctor, "Podcast advertising expanded at a 48 percent rate last year, and it's forecast to grow about 25 percent a year through 2020," a sure sign of the mediums rapid growth), there are few podcasts, if any, that address the topics Truth's Table routinely navigates, even though the charts of podcasts are replete with differing content ranging from topics like examinations of the minutiae of US politics, exploration of infamous British crimes, dedications to the "noble art of skiving," discussions of psychoactives, et cetera. A swift glance at such charts would reveal few places for black women to find voices like unto their own.
Certainly scores of black women thus scoured the internet in search of a place that could make sense of the world from their vantage point. They desired a place to belong, a place to heal. As Ekemini wrote for Typical Magazine, "[Black women] are the very embodiment of intersectionality..."[Black women] must navigat[e] the attendant oppression that comes along with [their] Black and female identities and the multitudinous ways..." She furthered this notion in saying, "We are expected to saw, sand, and assemble the table, yet we are barred from taking a seat at the very table we built." After offering a forceful excoriation of the "white fabulists' narrative about Black womanhood" and eschewing "the yoke of misogynoir ... placed firmly on [their] neck by society," Ekemini boldly declares, "No longer satisfied with asking for a seat at the table, we are laying claim to what is ours." This is a conversation akin to the one Solange initiated on her latest studio album, aptly entitled A Seat at the Table. She told Ari Shaprio of NPR, "I wanted to reclaim that space," she says. "I wanted to be able to go back as a descendant of my grandparents and stake my claim and create work that honored them." Sofiya Ballin observed as much in writing her endearing ode to Solange's Cranes in the Sky, for OkayPlayer. In it, she suggests Solange gently beckons her listener to "Sit down, listen and deal with this." Truth's Table does that honorably, while giving weight and deference to the scriptures. Truth's Table is a space forged in love that urges its listeners to deal with the trauma uniquely imposed upon black women. When they cannot drink it away, put one in the air, dance it away, or change their hair, they can sit with their sisters and deal with what the hand life has dealt.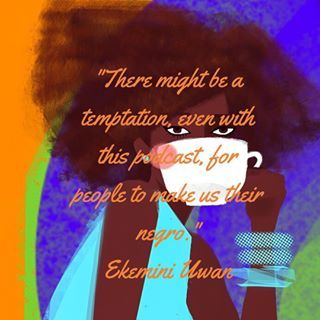 Where else can you find a theological extrapolation of the dimensions of Jordan Peele's momentous debut Get Out? Truth's Table does that. On the podcast's episode examining the film, you will hear blistering insights like the remark Christina made, "Georgina is this trapped black woman who is completely invisible. Either there is this invisibility or hypervisibility. That captures the narrative of black women." Where else will you find celebration of unsung heroines like Amelia Boynton Robinson, Maria Stewart, and Shirley Chisholm? Truth's Table did on its episode devoted to resistance against racial oppression. Who else has decried the depths of sexual objectification within the church, and actively engaged how its feasts on misogynoir? On the Objectification episode, the women of Truth's Table do so. On it, Michelle painfully reveals, "Objectification impacts my life in that I don't even remember the beauty that God has blessed me with, and I often think of my body as more of a curse than a holy vessel." On the Gender Apartheid episode, she adds, "The same way we tell folks to dismantle white supremacy, we demand that toxic masculinity be dismantled in our churches, so we can live as unified people." Truth's Table offers sobering realities like those emanating from those quotes, but it also offers how the Good News of Jesus Christ has power to heal the pain oozing from those wounds. For example, on the Objectification episode, Christina remarks, "That is a nude man on the cross. Jesus takes on all of our shame, including our sexual shame." This is the distinct voice Truth's Table offers its listeners.
Truth's Table valued perspective and insights are envinced in part by its spiraling reach. Less than two weeks after its debut, Truth's Table ranked in the top 20 on iTunes Religious Podcast chart. The podcast's Gender Apartheid episode eclipsed 10,000 listens/downloads within days of its publication, and sparked a controversy among some leaders within the Presbyterian Churches of America, who sought to silence the voices of black women dissenting against their oppression in ways reminiscent of bygone eras. In short, Truth's Table has challenged our nation's most sacred institution to disavow its participation in society's greatest ills. In so doing, it has inspired thousands. A touching example hails from the #ThingsBlackChristianWomenHear hashtag, which alluded to Truth's Table Why the Church Matters episode. One Twitter user (who uses the name @DelainetheBrain) entered the conversation sparked by the hashtag by adding, "I don't get why you all had to make your own hashtag" as an example of something she heard regarding the conversation. After a series of comments expressing chagrin that people heard disregard for the hashtag and its purpose, another user (who tweets under the handle @liz_happiness) stated, "Systemic racial injustice is real and I believe Christ wants us to rise up in making an equitable world for all races." To which Ekemini replied, "You are welcome here, sis. Have a seat at the table." Truth's Table has a seat for her, and one for you. You may access it via iTunes, Soundcloud, Satchel Podcast Player and all other Android podcast apps, and can follow Truths Table on Twitter and Instagram at @TruthsTable.
REAL LIFE. REAL NEWS. REAL VOICES.
Help us tell more of the stories that matter from voices that too often remain unheard.
This post was published on the now-closed HuffPost Contributor platform. Contributors control their own work and posted freely to our site. If you need to flag this entry as abusive,
send us an email
.