Among a sea of Colombians dressed in white in a plaza in Cartagena, I watched as President Juan Manuel Santos and FARC leader Rodrigo Londoño, alias Timochenko, signed the peace accords on September 26, 2016, using a pen made from bullets.
This accord offers the opportunity to begin to close the door on more than fifty years of the conflict with the FARC, and almost seventy years of political violence since the assassination of presidential candidate Jorge Eliécer Gaitán.
"Our only weapon will be the word," promised Londoño. "Let no one doubt we will turn towards politics without arms."
Santos gave the speech of his life. "What we signed today is a declaration of the people of Colombia to the world that we are tired of the war, we do not accept violence as a means to defend ideas; we say loud and clear: no more war!"
During a moment of silence for the victims--8 million victims, 6 million displaced, 250 million killed, the vast majority civilians--white flags for peace flown at half mast were raised to full mast.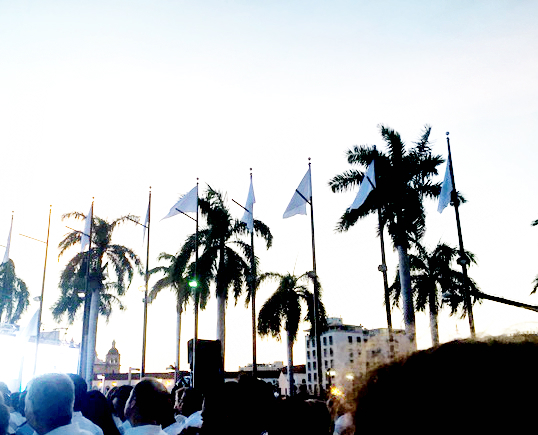 What moved me so deeply, after working alongside Colombians on human rights issues for over fifteen years, was the presence of such a wide range of victims of violence in the plaza. Victims like the determined Madres de la Candelaria, from poor communities in Medellín, whose children were forcibly disappeared or killed by paramilitaries, Colombian army soldiers and guerrillas. Courageous leaders like Yanette Bautista, José Antequera, and Senator Iván Cepeda, whose loved ones were killed by state or paramilitary violence. An inspiring group of Afro-Colombian women from Bojayá, whose loved ones were among those 119 people killed when the FARC threw a gas cylinder into a church were they were taking refuge. These women sang to the crowd, "We ask the violent ones, do not repeat your crimes."
This isn't a perfect peace accord. No peace accord is. It contains real, serious trade-offs of justice, from which both FARC members and army members implicated in grave human rights abuses will benefit. Even within the limitations of these accords, Colombians will have to push hard to get the maximum possible justice, truth, and reparations for victims as the accords are implemented.
And Colombians who wish to build a just and lasting peace will have to work to change the vast inequality, including the huge gap between urban and rural areas, and the political and economic exclusion that fueled the conflict.
Afro-Colombian and indigenous communities, which have been battered by all sides in this conflict, must make the most of the win they achieved at the last minute: an "ethnic chapter" of the accord that mandates the free, prior and informed consent of communities as the peace accords are implemented in their territories.
Moreover, not all the "violent ones" have laid down their arms. The Colombian government and the ELN, the last remaining major guerrilla group, must advance in their peace talks, which have barely begun. The government must effectively dismantle the remaining paramilitary forces, often called BACRIM, that still threaten communities and human rights defenders. "Listen up, Mr. President, come here and tell us what you're going to do with these other groups," sang the women of Bojayá. And, of course, the accord contains no promises to restructure the army, which must be transformed if there is to be real peace.
As for the United States, we have to deal more honestly with our own government's role in this conflict. For those who saw the violence unfold on the ground, to hear U.S. politicians of both parties say that Plan Colombia, which funded the war, was a bipartisan policy success is a punch to the gut. U.S. aid escalated the violence. As I noted in a letter to the Washington Post, "From 2000, when Plan Colombia was launched, to 2013, nearly four million people were internally displaced. Six million Colombians became victims of the conflict. Brutal paramilitary violence, including murder, massacres, rape and torture, was at times aided and abetted by members of the Colombian armed forces and politicians. Over 1,000 trade unionists were murdered. And over 4,300 Colombians, mainly poor young men, were allegedly murdered by members of the Colombian armed forces and dressed in guerrilla clothing in order to up their body counts and receive days off and promotions."
But this week, reflecting on the signing ceremony, it's the words of the victims that come first.
Fabiola Perdomo, widow of Juan Carlos Narváez, one of the deputies from Valle who were kidnapped and then killed by the FARC, said to the press: "Those who don't live in the countryside, but in the capital city, just don't understand the full dimension of the grief, of the war, of the suffering. We must be given this opportunity. As victims we have taken the decision to forgive, why can't you do it, those who haven't even lived it?"
Or as a woman sitting by me at the signing ceremony said, "It's not us, the victims, who want to continue this war. We who have suffered so much want to see peace."
REAL LIFE. REAL NEWS. REAL VOICES.
Help us tell more of the stories that matter from voices that too often remain unheard.