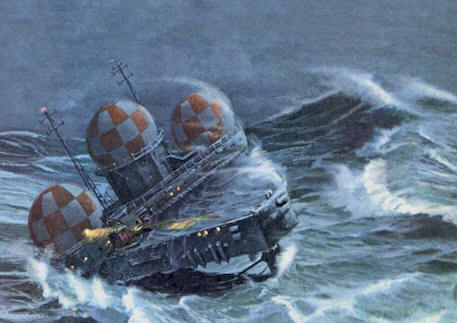 It is January 1960, the middle of the Cold War and what seems to be the middle of the even colder North Atlantic Ocean.
A 19-year-old crew member aboard a sleek EC-121D Airborne Early Warning and Control (AEW&C) "Warning Star" Super Constellation -- its elegant lines only interrupted by two "radomes," one on top and one underneath the aircraft -- on his way to a patrol station hundreds of miles out over the North Atlantic, peers out of one of the few windows of the "Connie" and waves to another 19-year-old airman way down below standing on the deck of a creaky, swaying, steel "Texas Tower."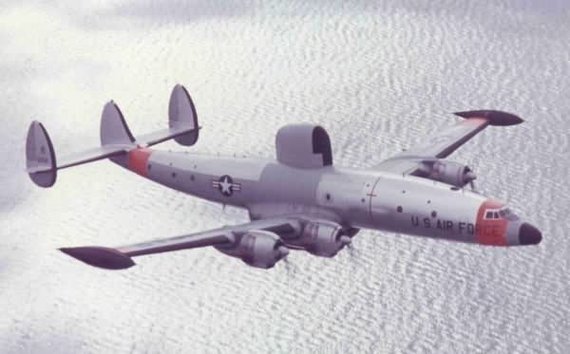 EC-121"Warning Star" (Courtesy Radomes.org)
The deck of the Tower is perched on three, long, skinny steel legs, nine stories above the waves of the icy North Atlantic and literally in the middle of nowhere. The EC-121 crew member really cannot see the young airman from several thousand feet in the air, but he knows that the brave crew is there, some of them waving back as they typically do to overhead aircraft or nearby passing ships. After all, Texas Tower No. 3 is referred to as the "Friendly Tower."
Although tensions are high between the United States and the Soviet Union, neither of these two young men fully realizes the importance of the mission they are supporting: "To help detect and defend the U.S. mainland against Soviet 'air-breathing' bombers and other threats." In those days of the Cold War, the big cities on the eastern seaboard were deemed to be particularly vulnerable to an attack by Soviet nuclear-armed "Bear" bombers sweeping in across the North Atlantic.
The young airborne radio operator aboard the EC-121 is of course proud of the job he is doing but he also finds that the glamour, excitement and prestige of being a crew member aboard such a sophisticated aircraft and the additional $50-a-month hazardous duty pay more than make up for any risks. Already sporting a dapper aviator's jacket, the only other thing that could have made his day even better would have been a Red Baron scarf flapping in the breeze.
The other young airman, serving aboard Texas Tower No. 3, approximately 50 miles off the coast of Cape Cod, is also proud of serving his country. Airman Rand Sinanian is so proud and so young that he manages to ignore the risk of armed confrontation with Soviet ships and the ever-present catastrophic and fatal danger the violent North Atlantic storms pose to such fragile, untested structures and their crews, respectively.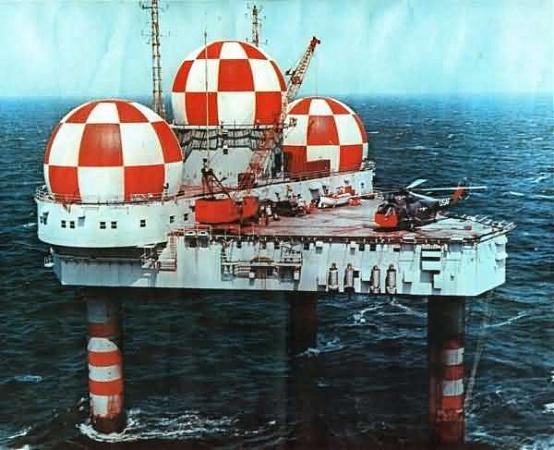 It is improbable -- although not impossible -- that Sinanian, now a semi-retired, self-employed Connecticut resident, and the author waved at each other 54 years ago. But as I wrote here, we often flew over the Towers (there were three of them) on the way to or from "station" and when we spotted them we would sometimes wave at them but always think of those men down below. Sometimes we would even pray for them, especially when returning home from our mission on those dark, cold and stormy winter nights so typical off the Northeastern Atlantic coast.
We would pray for them because while we would soon be in the safety and comfort of our barracks, on solid ground at Otis Air Force Base, the Texas Tower crews would be riding out some of the most vicious winter storms, hoping that their "structure" would indeed meet its design specifications: withstand 125-mile per hour winds and 35-foot high waves.
Those "structures" were three-legged, improbable steel monstrosities weighing approximately 6,500 tons, their half-acre steel platform bristling with radar, communications and other electronic antennae and gear, their 85 to 187 feet legs precariously embedded on the ocean floor. They were called "Texas Towers" because of their similarity to the oil-drilling rigs deployed off the Texas coast. Five of these Texas Towers were planned but only three built.
Sinanian and I recently made contact with each other and he recalls some of his experiences during his tour of duty on Texas Tower No. 3.
He tells me that when Soviet trawlers (in reality spy ships loaded with electronic equipment and masquerading as fishing trawlers) would get "too close for comfort," fighter aircraft would be scrambled from Stewart Air Force Base. "We all watched from the deck as the fighters flew over the Tower and gave us the thumbs up on their way to swooping over the trawlers," Sinanian says and he adds, "How proud I felt to see their display!"
It was not uncommon to also see Soviet submarines poking up their periscopes, curious to see what these crazy Yanks were up to on these rickety towers in the middle of the ocean.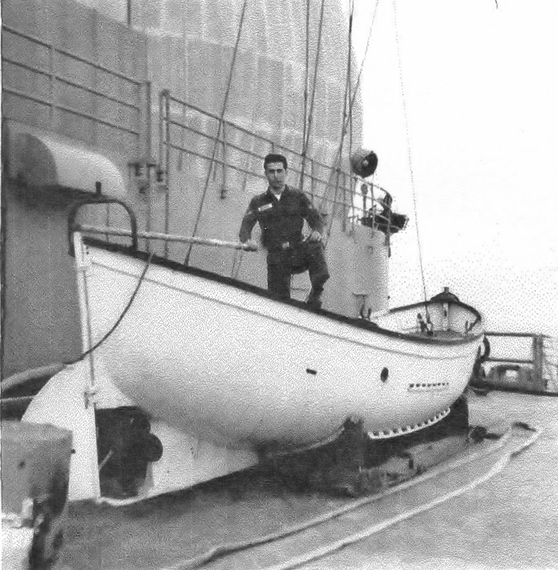 Young Rand Sinanian in a "Boston Whaler" on the deck of Texas Tower No. 3
But Sinanian also recalls those frightening winter nights on Tower No. 3:
In looking back, I now know how truly afraid I was, but too young to admit such a weakness. Nighttime was an especially scary experience, and I spent many nights lying in my bunk huddled in fear, listening to the waves crashing against the legs and feeling the tower swaying back and forth. The storms out at sea were, to say the least, unlike anything I had ever experienced, or will ever experience.
It would be another six or seven years before the risks involved with duty aboard the EC-121s would fully sink in with the author. It would take the tragic loss of three aircraft and 50 crew members from my Wing at Otis AFB (the 551st AEW&C Wing), all within a short 21-month period.
Aboard one of these aircraft that crashed in the North Atlantic in November 1966, with the loss of all 19 crew members, was MSgt Robert A. Thibodeau, who had been my trainer, supervisor and, above all, good friend, during an overseas assignment.
EC-121s and its variants continued to serve both with the U.S. Air Force and Navy into the Vietnam War, with more than 30 aircraft and more than 200 crew members lost, including a U.S. Navy EC-121M shot down by a North Korean MIG-17 fighter in April 1969 over the Sea of Japan, killing all 31 persons on board.
For Sinanian, on Texas Tower No. 3, however, it would only be another year before the danger of serving on those Texas Towers would be jarringly apparent to him.
You see, there was another Texas Tower precariously perched in the North Atlantic. Texas Tower No. 4, ominously known as "Old Shaky," was located even farther out into the North Atlantic (84 miles southeast of New York City), in deeper waters (more than two times deeper than the other two towers) and closer to the continental shelf.
Not only was Texas Tower No. 4 in a much more vulnerable location, it also became the most "troublesome" and, many say, doomed from the very beginning due to design, engineering and construction errors and faults; transportation and installation mistakes and accidents; maintenance problems and deficiencies, etc.
But, in the end, most importantly, tragically and needlessly the tower and its crew were doomed because of horribly irresponsible management decisions by military and government officials.
After many close calls, after serious damage caused by North Atlantic storms (in particular hurricane "Donna" which had battered the Tower only four months before with 132 mile per hour winds and breaking waves over 50 feet high -- both exceeding design specifications) and after several opportunities to evacuate all personnel and close "Old Shaky" once and for all, disaster struck on January 15, 1961 while a maintenance crew of 28 persons (14 U.S. Air Force and 14 contractor personnel) were still aboard the tower to perform repairs.
On that day and night another North Atlantic storm hit the tower, battering it with winds up to 85 miles per hour and breaking waves up to 40 feet high. "Old Shaky" could stand no more. That same night, one of its three legs snapped in half and Texas Tower No. 4 crashed into the unforgiving waves of the North Atlantic. All souls on board perished and only two bodies were recovered from the icy waters.
Sinanian was on shore duty when he learned of the tragedy that befell "Old Shaky." Of course he was upset about it, but perhaps because he did not know anyone on that Tower, perhaps because he was so young, he did not dwell too much on it and a few days later he was back on Texas Tower No. 3 doing his duty, doing what dedicated young military do...
A few years after the tragedy, the Air Force decommissioned and sank the two other towers. A July 26, 1963, LIFE magazine article called the imminent demise of the Texas Towers a "Farewell to the Iron Bastards."

Sinanian continued to serve in the U.S. Air Force for a couple more years.
Many years later, when he was in his 60s, Sinanian joined the U.S. Air Force Texas Towers Veterans Group and met several of the men who had served on the ill-fated Texas Tower No. 4. It was only then when he started to feel the full and "profound impact" of the loss of those airmen.
"I carry them with me every day even though I never knew them," he says.
Now in my 70s, I also look back on my youthful, carefree days aboard those beautiful EC-121s in a different light and I get a lump in my throat when I think of Sergeant Thibodeau and of all those magnificent young men who made the ultimate sacrifice in those flying machines.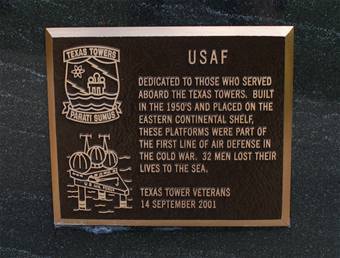 Memorial Plaque at the National Museum of the U.S. Air Force
Yes, we were carefree and unafraid when we were young. But what if we had not been?
In 2011, on the 50th anniversary of the tragedy, President Obama recognized the brave men from Texas Tower No. 4. In a letter to an organization of their surviving friends and relatives, the president said, "Our nation is grateful for the dedication, pride, and commitment of all those who have risked their lives to ensure the safety of their fellow Americans."
In December 2000, Florida Representative Allen Boyd paid tribute to the brave men who flew the EC-121 Lockheed Super Constellations from Otis Air Force Base (AFB), Massachusetts, in the 1950's and 1960's.
"The 19 member crews of these aircraft flew countless radar surveillance missions to provide early warning radar coverage for the United States during the height of the Cold War and were a first line of defense against a surprise attack" he said on the floor of the House. In particular, Boyd paid tribute to the fifty officers and airmen who died when the three EC-121's from the 551st Wing crashed in the North Atlantic.

Lead image of "Old Shaky": Courtesy of the former United States Air Force Texas Tower Association. Previously appearing here.