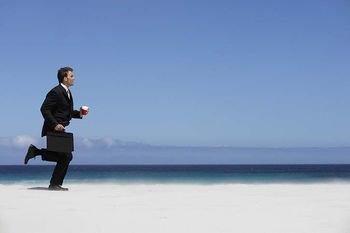 The average American spends 47 hours a week at work. Since most people spend more hours at work than they do anywhere else, improving employee health could be a key to solving our nation's health crisis.
Corporate wellness initiatives can help employees get healthy, take fewer sick days, increase productivity and lower healthcare costs. Creating healthy habits at work could reduce the impact of obesity, diabetes, heart disease and more.

When I founded Integrative Nutrition, it made sense that taking good care of employees would benefit the company in the long run. As a nutrition school, we have to walk the talk, right? We have a chef that cooks organic breakfast, lunch and afternoon snacks for the staff every day. When people eat well, they feel good and their thinking is sharper. And the best part is that our staff loves bonding together over lunch every day.
Google is known for going way beyond the basics in their health and wellness program. Employess receive a free healthy gourmet lunch and dinner, sauna, health fair, gym, massage therapy, fitness classes, roller hockey and outdoor volleyball court. Employee satisfaction at the Googleplex is why the tech giant came in at number four on Fortune magazine's 100 Best Companies to Work For.
The Employee Wellness Program at Eileen Fisher is based on the belief that if we take care of ourselves, we'll have more energy and creativity to bring to our work. Eileen Fisher offers ongoing wellness activities at their corporate offices, meant to help employees feel more present in their lives. These activities include massage, yoga classes, personal training and reflexology. They also introduce employees to wellness practices they may want to explore on their own likePilates, Qigong, creative movement and nutritional education. They also encourages employees to grow through learning. Employees use their educational dollars to take a myriad of classes, including yoga-teacher training, mindfulness meditation, kickboxing, dance, pottery and horseback riding. Employees are reimbursed up to $1,000 per year for educational expenses.
I think Google and Eileen Fisher are onto something. Career, relationships, exercise, and a spiritual practice nourish us. When these are out of balance, we become unhealthy and unhappy. What small steps could you start taking to improve the health and wellness of your employees? You might consider:
•chair massages to ease the muscle tension of sitting at a desk
•plants and fresh flowers
•healthy meals and snacks
•workshops on healthy eating, smoking cessation, work-life balance and stress
•fitness reimbursement for gym memberships
•walking groups to encourage and support each other's efforts
•your own Biggest-Loser contest
Of course you won't be able to make all of these changes at once. Chose one or two that would make a big difference for your employees. See what happens - you may be surprised by the impact of some small changes.
A new model for health care that creates a work environment promoting health and wellness, will succced in helping Americans live happier, healthier lives.
Joshua Rosenthal is the founder of the Institute for Integrative Nutrition, the largest nutrition school in the world. Visit the site for a free "14 Days to a Healthier You" coaching program.

Related