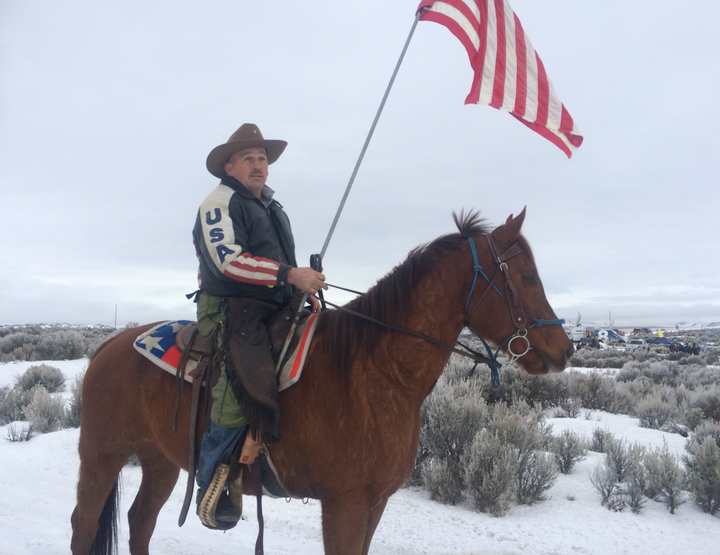 BURNS, Ore. -- The armed militants who seized a remote federal property in Oregon have not had the easiest week. They've lost sleep worrying about a potential police raid. An army of reporters accosted them every morning. And the majority of attendees at a community meeting voted for them to leave.
But they do have a horse.
On Thursday morning, an occupier on horseback rode around the base of a watch tower at the Malheur National Wildlife Refuge headquarters, about 30 miles from Burns. I ran over to learn more about this man and his noble horse, even though I am allergic to horses. A pack of reporters soon followed, but were instructed to stay back, because the horse was "pretty nervous." For a glorious three minutes before other reporters were allowed to approach, this interview was entirely exclusive.
The horse's name is Hellboy, like the comic book character, because he was a "handful when he was a little baby," his rider explained.
The man, who was later named as Duane Ehmer, wore a USA jacket and carried an American flag. He is staying at the headquarters with the other occupiers, who are led by the sons of Nevada rancher Cliven Bundy.
The occupiers want two local ranchers released from prison, and to free up federal land for local use. To make their point, they took over a remote federal building on Saturday. But so far, visible police have not appeared at the site. On Thursday, Arizona rancher LaVoy Finicum did not give any indication the protesters were planning to leave.
Hellboy and Ehmer are from Oregon. Ehmer said he was shoeing horses in Heppner when his buddy told him to drive over and find out what was going on with the militants. He did, "and they were really nice people, so I just decided to go get my horse and make a stand," he said. Unlike Jon Ritzheimer and Ryan Bundy, two key occupiers at the site on Thursday, the man on the horse did not appear to be openly carrying a gun.
Ehmer said he is a cowboy, and he had nine horses when he left home. But he says his wife may have bought more since then.
How long was he planning to stay?
"I will be here as long as I have something to feed my horse," he said.
Popular in the Community