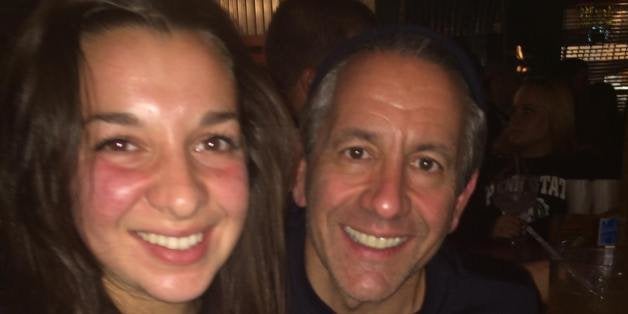 I had a most interesting Parents' Weekend while visiting my daughter for her senior year in college.
It was so different. We didn't do the usual agenda of items that parents and their college children are supposed to do. No orientation sessions, no scheduled activities, not even a sporting event to show school spirit.
That was so freshman, so sophomore, so junior... that was SO last three years!
Now she's a senior. Now she's 21. Now she can go to the bars on College Ave. And so can her dad.
This year, Parents' Weekend gave me a not-so-small glimpse into my daughter's social life, and it was eye-opening.
She took me to all her favorite hangouts and invited her friends along. And guess what? They came. To hangout with her and her dad... I was shocked!
We got pitchers of all concoctions of ice teas and pitchers of beer too. I was a bartender favorite probably because I was the only dude in the bar tipping. Or at least tipping well.
I got to see how my daughter LIVES.
Sure, all the other years we'd go to the Student Center and she'd show me her classrooms. That was fun. That was then, this is now.
This is her senior year. It was time for me to get her full college experience before it goes away, and we know how fast it goes away.
She wanted me to really experience her life and her college, and I wanted to be a part of it. Every minute of it.
So while part of me was also reliving my college years (it shockingly hasn't changed all that much, except maybe for the texting and the social media), it allowed me to live, in real time, her college years.
I'll never get another chance like that again, never in my life.
The best part? She kept saying how WE have to come back after she graduates and do it all again.
The even bester part? She wanted me to be a part of her college experience. It doesn't get better than that.
The even bestest part? Being her Dad.