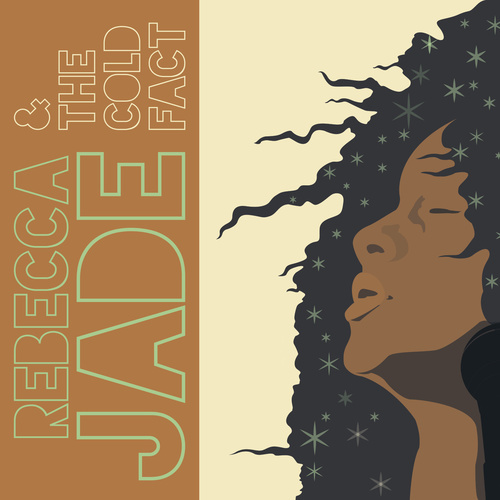 Rebecca Jade is a neo-soul/R&B singer from San Diego. Her new album, due to drop soon from Pacific Records, is called A Shade of Jade. Rebecca's voice conveys a touch of Etta James, a dash of Nina Simone and hints of Aretha Franklin. However, it's not fair to compare Jade's voice to any of the aforementioned soul divas. Jade's voice is both unique and distinctive, and it makes for easy listening.
I had the opportunity to sit down with the diva and ask her a few questions. She emanates a vivacious energy, along with an easy-going personality and a great smile. She was fun to talk to.
What is the most trouble you've ever gotten into?
When I came home from playing in a basketball traveling team tournament in Texas with a tattoo, when I was 16.
What are the five things you can't live without?
A basketball, peppermint oil, some sort of candy (Snickers and chocolate-covered strawberries are my favorite), mascara and hot tea.
What's your favorite song to belt out in the car or the shower?
Hmm... I don't have a favorite song that I sing, but if I did, it would probably be a song from one of the singers or groups from the 90s, like an En Vogue song, or a song from Whitney Houston or Mariah Carey, or maybe Boyz II Men.
What musicians/vocalists influenced you the most?
Billie Holiday, Whitney Houston, Michael Jackson, (early) Mariah Carey, Ella Fitzgerald, En Vogue.
What is your musical background?
I don't know my life without music. My mom has a picture of me singing a solo when I was about 5. I sang in school and church choirs while growing up, and also did youth theatre. I gained my first experience in a recording studio when I was 11. In high school, I was in a girl group, working on our 1st demo to try and get a record deal. In college, I earned my degree in Theatre & Performance Studies. After I came home from school, I started working on music again and eventually took the leap into full-time singer. Through every facet of my life, my mom always encouraged anything I wanted to do, but because music was such an important part of her upbringing, it was a consistent part throughout mine. My mom used to be a professional singer, and she used to sing in a group with her dad and brother, and even put herself through college as a singer. So the love of music was instilled in me at a young age, but never forced, so I was free to explore that further if I wanted to, or not, if I didn't. It was after college when I was trying to figure out what I wanted to do with my life that I realized music was my calling.
In the various venues you've performed at so far, which was your favorite? Why?
I had residency at a beautiful supper club here in San Diego, called Anthology. I was in the House Band, and in its short existence, it became a world-renowned venue, a place where many incredible artists from all over the world came to perform; I sang on the same stage that was graced by artists as: Natalie Cole (R.I.P.), Brian McKnight, Michael Bublé, The Yellow Jackets, Arturo Sandoval, Wynton Marsalis and Alanis Morissette, just to name a few. Sadly, this venue closed after only 5 ½ years, but I was honored to be there for that time, from the day it opened its doors to the day it closed. Anthology was like a 2nd home to me.
In my review of your single, I described your musical style as Neo-soul. How would you describe it?
I think Neo-soul is probably the closest style description; Neo-soul/R&B.
Where do you find inspiration for your songs?
I get inspiration from everything and anything. A word from someone telling a story that sparks an idea or imagery; a tone from a random sound while sitting at the park; from a bass line or melodic idea that just pops in my head; from an experience and how it makes me feel; from observing my surroundings. And sometimes I'm tired and not getting ideas, and need to search for inspiration. A lot of the songs I write tend to be love songs in some form or fashion; about new love, about heart break, etc. I'm not sure where it comes from, but I've always had an affinity for those songs, even before I understood them. I felt them in my soul. I have always been intrigued by Billie Holiday's voice and the sorrow that comes through her vocals, even in a happy song.
What is your songwriting process? Does the music come first and then the lyrics?
Sometimes I'm lucky, or the juices are flowing, and I'll write from the beginning of the song: a verse that goes into a pre-chorus, then the hook, etc. But usually it's a hook that first gets developed, and then I try to build the verses around that. Or sometimes I'll get started with something as simple as a bass line groove or simple chord progression that I hum into a recorder and build the song from there. Once I have something worth sharing, I run it by some of the other songwriters in my circle whose opinions I respect for feedback or to help me tweak it, or even help me finish the song, if I get stuck and the juices aren't flowing anymore.
When recording, do you utilize session musicians? Or your own band?
Both. Since working as a professional singer around San Diego, I've worked with a large number of the musicians around town, and some of us have played in bands together. Because of that, I feel very fortunate to have a wide range of musicians I can call upon for their services in the studio, and with having played with many of them for years, I know how they play and which ones I feel will be best suited for the style that I desire. And chemistry is very important to me. Even though there are many, many talented musicians around town, I'd rather the musicians have chemistry with each other because it will create a better project.
Will your album be exclusively Neo-soul music or are you incorporating other styles?

Predominantly Neo-soul, but we're playing around with a funk vibe on a couple tunes, as well as kind of a folk/acoustic vibe on another. We didn't have the goal of creating a Neo-soul album in mind, it just seemed to develop that way as the songs were being created and we were open to the direction the project was heading.
Was 'Weather The Storm' well-received by the critics? By listeners?
I think it was. I'm very grateful that people are digging it. People seem to be feeling the bluesy vibe, as well as the imagery we created to go with it.
The music video for 'Weather The Storm' has a 1950's look and feel to it. Who made that artistic decision? And why?
I'm not sure why the director of photography suggested this theme, but I do some modeling for a vintage- and pinup-inspired boutique here in San Diego called Temptress Fashion, so when he sent me an image of a particular style of dress, asking if I would be cool doing the vintage look, I told him I already know where I'm getting the clothes.
Will you be touring in the near future? If so, where?
The plan is definitely to tour. Right now, we're looking at doing some military events, and going overseas. We've also been getting some love on the East Coast, so we will plan on traveling there as well. But first, I want to see if people here at home are digging the new music before we take it out on the road.
It's presumptuous to ask at this point, but are there any new songs on the drawing board? If so, when do you plan to go back into the studio?
Not presumptuous at all. I'm constantly working on new material, and this new solo project is still being recorded as we speak.
You're on the Pacific Records label. How did you come to sign with them? Did they "discover" you while performing or what?
I am. They reached out to me, saw that I am a hard-working artist around town and offered me a deal. I think one of the folks from the label saw me when I did a local gig, singing with Jason Scheff, the lead singer of Chicago. His brother, Lauren, lives here in San Diego and made the opportunity happen. The guy from Pacific Records was in the audience.
Popular in the Community