This week, The Pollination Project celebrates recent grantees whose work allows people to understand one another in new ways. From a dialogue effort in South Africa that brings ordinary citizens together to address the systemic legacy of apartheid; to a project that brings college students together with prison inmates to create performances. From India to Sierra Leone to Mexico to the US, we congratulate all of our recent grantees on their work to create shared understanding all over the world.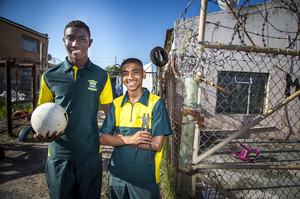 Intercommunity Dialogue in Cape Town, South Africa. Johan de Meyer and Mimi de Meyer are the founders of #unfenceSA, an initiative to help ordinary South Africans overcome apartheid's legacy of racism, prejudice, and economic inequality. Johan and Mimi will host a series of cultural events and weekend retreats for community leaders in South Africa. Meetings will focus on fostering intercommunity dialogue, understanding, and cooperation, as well as planning new ways to get all South Africans involved in supporting communities of color.
Prison Inmate Connections in Florence, AZ. Rivka Rocchio's project, Theatre Across Prison Walls, is a theater workshop and residency program that brings student inmates at the ASPC-Eyman State Prison in Arizona together with students from Arizona State University. The workshops and performances scheduled to take place throughout the project will explore the intersections of social justice, incarceration, and the prison industrial complex. Rivka's project will help to fill an existing hole in the educational and rehabilitative services of the prison.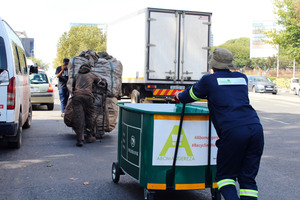 Empowering Waste Workers in Johannesburg, South Africa. Unconventional Media is a South African organization working to empower informal waste collectors in South Africa's Gauteng Province. In their Abomakgereza (Recycling Hustlers) project, Sifiso Ngobese they are creating durable waste collection carts that will help to keep workers safe while they're on the job. In addition to their functionality, the new waste collection carts will offer advertising spaces to local businesses and allow informal waste workers to earn extra income.
Ebola Prevention in Sierra Leone. Fanta Kondeh and Senesie Conteh's Strengthening Ebola Surveillance, Prevention, and Response program is ensuring that communities in Sierra Leone's Kenema District remain Ebola free in the face of a devastating pandemic. As the 2015 Ebola outbreaks have swept across the African continent, the death toll in Kenema has risen to more than 500, with more than 1000 documented cases of Ebola. Through their project, Fanta and Senesie will establish and support the operations of youth-led, Ebola surveillance, prevention, and response teams in sixteen chiefdoms.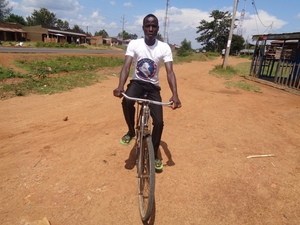 Bikes in Nairobi, Kenya. Through his Bicycles Against Poverty Project (BAPP) Douglas Mukodo Odunga (also known as "Francis") is empowering impoverished communities near Nairobi, Kenya by providing them with affordable, locally-made bicycles, and bicycle maintenance training. The bicycles will help the community access essential social services and markets in nearby towns and cities. What's more, Francis uses the proceeds from the sale of any bikes to provide free bicycle donations to disabled community members.
Music Heals in Mexico City, Mexico. Elske Tjetje De Jong is using an innovative psycho-therapeutic technique to change the lives of patients at hospitals in Mexico City. As a specialized form of therapeutic intervention, music therapy is not typically offered to hospital patients at medical facilities in Mexico. Through her project, Todos somos Musicales: Musicoterapia en la Ciudad, Elske will compose and perform music for patients in the pediatric, rehabilitation, and psychiatric units of local hospitals throughout the city.
Medicinal Plant Cultivation in Madurai, India. The People's Association for Rural Women Development Trust (PARWD) is an environmentally-conscious, sustainable development initiative in Madurai, India. In their newest project, Educating on the Conservation of Endangered Medicinal Plants, PARWD is sending teams of volunteers to schools throughout the region in order to teach students and their families about the connections between environmental conservation, the preservation of traditional medicinal plants, and community health. Through their program more than 50 students will receive training on the cultivation of important medicinal plant species.
Popular in the Community