On August 31, 1928, when The Threepenny Opera had its world premiere at the Theater am Schiffbauerdamm, Kurt Weill's music scored strongly with audiences in Berlin. Inspired by John Gay's 1728 ballad opera (The Beggar's Opera), Bertolt Brecht's biting lyrics depicted the shockingly amoral behavior of the lower classes in Victorian England.
One song in particular ("The Ballad of Mack The Knife") became an international standard after being translated into English by Marc Blitzstein for the show's 1956 long-running off-Broadway production at the Theater De Lys (whose cast included Lotte Lenya, Jerry Orbach, Bea Arthur, Ed Asner, Charlotte Rae, and Jerry Stiller). The first two lines of Blitzstein's translation for Mack The Knife (which has been recorded by numerous artists such as Bobby Darin, Frank Sinatra, Louis Armstrong, and Ella Fitzgerald) read:
Oh, the shark has pretty teeth, dear.
And he shows them, pearly white.
Brecht was alluding to Mack's jackknife rather than one of the ocean's great predators. In 2013, a film crew working for Discovery Channel captured footage of a pregnant great white shark (estimated to be 20 feet long and 50 years old) swimming near Mexico's Guadalupe Island.
2015 has been filled with news about sharks.
Shark attacks have occurred in coastal waters off Florida, North and South Carolina, as well as Santa Barbara, California.
Normally powerful pelagic predators whose palates have been primed for giant portions of pulchritudinous pinnipeds, these fish have been drawn to the shallow waters off Santa Cruz and Cape Cod (where large colonies of seals offer a bountiful buffet of bodacious blubber and beef).
On July 1, while paddling off Seacliff State Beach near Aptos, California, Giancarlo Thomae noticed four great white sharks in shallow water (an eight-foot-long juvenile swam right under his kayak).
On July 5th, Discovery Channel launched its annual "Shark Week."
On July 13, beachgoers in Chatham, Massachusetts watched as a young great white shark (that had landed on sand while leaping out of the water in pursuit of a seagull) was rescued and returned to the ocean by the local harbormaster and some fishermen.
On July 19, Mick Fanning (a professional surfer from Tweed Heads, New South Wales, Australia) was competing in the finals of the J-Bay Open 2015 in Jeffreys Bay, South Africa when a great white shark came up behind him. Because the sports event was receiving live coverage, millions of viewers around the world watched video replays of the moment when the shark approached.
Brian Kilmeade (the reigning intellectual on Fox & Friends) commented "You would think they would have a way of clearing the waters for a competition at this level, but I guess they don't... The question is: Does he get back on, does he go back out there, or does he do something else? Does he go to a department store and start going into sales?"
On July 22, Syfy premiered Sharknado 3: Oh Hell No!
On July 25, a man diving for scallops near Maria Island in Tasmania, Australia, was attacked and killed by a shark as his daughter watched.
On July 30, after an 18-hour attempt to become the first man to swim the 28 miles from the Golden Gate Bridge to the Farallon Islands, 49-year-old Simon Dominguez was forced to abandon his effort when his daughter spotted a great white shark in the water. At that moment, Dominguez was only 3-1/2 miles from achieving his goal.
On August 17, in the waters off Monomoy, Massachusetts, a great white shark was caught on camera as it attempted to catch a seal for dinner.
On August 29th, Discovery Channel launched its first "Shweekend" of programming devoted exclusively to sharks.
In 1975, when Steven Spielberg's thriller, Jaws, was released into theatres, it helped to cement an image in the public's mind of a great white shark as a merciless predator. The powerful images seared into people's memories from watching Jaws do nothing, however, to obliterate the horror of the shark finning industry (which is having a hugely destructive impact on the oceanic food chain).
For millions of years, sharks ruled the ocean. In a very short and tragic period of time, man has become the dominant predator on land and sea.
If, as they say, timing is everything, then the producers of MERU had extraordinary prescience in choosing to release their breathtaking documentary about "the other great white shark" in late August. Traditionally, this is a time of year when news is slow as people take their final summer vacations, head to Burning Man, or prepare to send their children back to school.
As someone who is a total klutz and rather fearful of heights, trust me whey I say that this staggeringly beautiful film by Jimmy Chin and Elizabeth Chai Vasarhelyi is the perfect armchair adventure (especially if you've been sweating like a pig through one of the hottest summers on record in the United States).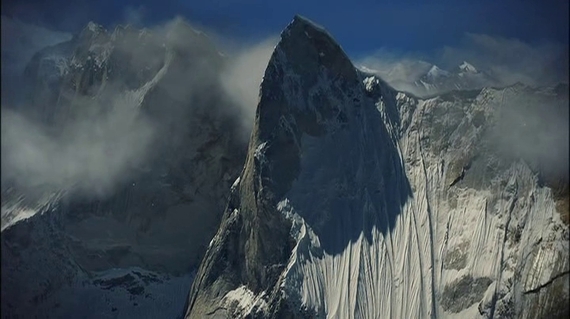 The "Shark's Fin" on Mount Meru
Standing some 21,000 feet above India's sacred Ganges River, the notorious "Shark's Fin" surface of Mount Meru can be as formidable and fatal as any encounter with a great white shark. In fact, Mount Meru poses more difficult challenges than such legendary peaks as Mount Everest and Mount Kilimanjaro. A sacred mountain with cultural relevance to Hinduism, Jainism, and Buddhism, it represents the center of all physical, metaphysical, and spiritual universes.
In October 2008, when Conrad Anker, Jimmy Chin, and Renan Ozturk made their first attempt to scale Mount Meru's legendary Shark's Fin, what had been planned as a week-long trip turned into a 20-day expedition battling sub-zero temperatures. With their food rations nearly depleted and Ozturk suffering from the severity of the weather, the team was forced to abandon its climb -- even though they were only 100 meters from Mount Meru's summit.
By September 2011, when they reunited to make another attempt at scaling Mount Meru, Ozturk had been through extensive physical therapy, Chin had nearly lost his life in an avalanche, and Anker (who, in 1991, had located the body of George Mallory on Mount Everest) had married the widow of his best friend, mentor, and hero, Alex Lowe.
While many documentaries about mountain climbing seem to drip with testosterone, MERU proves the need for clinical precision while braving intense weather conditions. The human backstory for each of the team's members is also a key ingredient in the film's success. As MERU's editor, Vasarhely explains that:
Despite the fact that this film reaches an apex of 21,000 feet, I felt MERU had to also remain firmly on the ground. As someone who isn't particularly comfortable with heights, it was important for me that MERU be more than just about mountain climbing.

It's a truly personal story, one about pursuing one's passions (although in this case those passions are unusually extreme). In these kinds of stories, people often get caught up in the accomplishment, but there's another side, of course.

Being married to Jimmy, I'm especially interested in what the female characters in the story (the ones back home, often wringing their hands) had to say. How did they tolerate the risks these climbers, their closest family members, take as part of their professional careers? What drove their lives, and what kept them steady?
In addition to being a fine white-knuckle armchair adventure, MERU turns out to be an exceptional demonstration of the risks, dangers, and extremes that Anker's close friends will go to in order to help him realize his life's dream. Here's the trailer:
REAL LIFE. REAL NEWS. REAL VOICES.
Help us tell more of the stories that matter from voices that too often remain unheard.