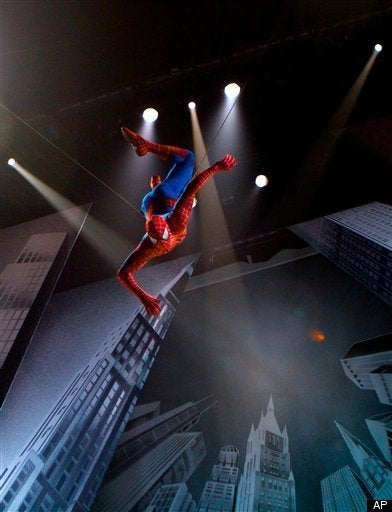 Media coverage of Broadway -- mainstream or lamestream -- is so star-focused that it usually takes something grisly to rock the dynamic. Spider-Man: Turn Off the Dark, in this sense, is the biggest PR orgy since Caligula tried to deify his horse. People living far from Broadway, under rocks and in caves, not to mention unknown life forms living near shimmering supernovae, all know that four Spider-Man performers have been injured during previews of the problem-prone $65 million show. The most serious injury, of course, occurred last Monday night when the rope of a stunt double, Christopher Tierney, snapped, introducing him to the law of gravity by a 30-foot fall. Understandably, actors are outraged.
What I find amusing and sad is our collective memory loss. Tony winners like Alice Ripley may rage against the Spider-Man machine ("Does someone have to die?") and Adam Pascal may think director Julie Taymor should go to jail for "assault," but this is commercial theater: audiences are eating it up. That Caligula line may seem hyperbolic, but centuries after the Roman Coliseum served as a theater of death, we're as fascinated as we ever were by even the hope of watching excruciating pain.
Yes, we've come a long way from grisly gladiator battles and wild beast bitch-fights. Personally, I'd have loved to see Molière's final performance in The Imaginary Invalid in 1673, when a hacking cough stopped the show and led to his death. Stories abound: Nelson Eddy's on-stage stroke in Florida; Irene Ryan's on-stage stroke during a Broadway performance of Pippin; songstress Sylvia Syms finishing an encore of Sinatra songs at the Oak Room of New York's Algonquin Hotel before collapsing fatally to the floor.
Disconcerting as these examples may be, the real trouble isn't when the cycle of life interrupts a live performance. The trouble is our addiction to ever-improving feats on-stage derring do -- not to mention technology -- lead to mechanical error, human error, or both. As the trade paper Back Stage seemed to suggest last month, it's lately an epidemic: Yeauxlanda Kay's broken legs; Santino Fontana's concussion. Before Tierney, Adrian Bailey's horrendous 20-foot fall during The Little Mermaid on Broadway was the high-water mark in stage plunging.
But again, Spidey is selling. So maybe Ripley's right. Maybe it will take death on stage -- new additions to an old list -- to change the chances we take and the ways we think.
Popular in the Community