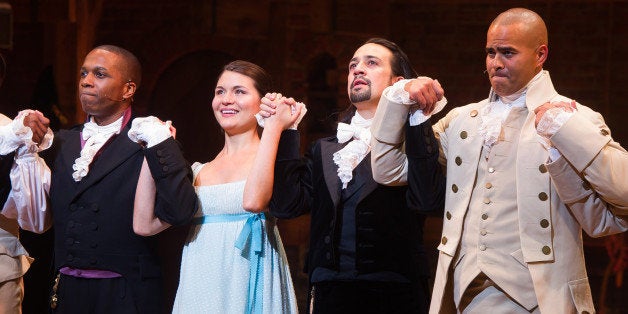 You remember the "field trips" you got to take when you were in school? Everybody in your class would climb into a bus and you would end up at a nearby museum or a park or some other spot for a learning opportunity outside the classroom. Well, thousands of New York City students are about to get the field trip of their lives. The Rockefeller Foundation has pledged $1.5 million to what may be the most ambitious set of these excursions ever imagined: a chance for 20,000 New York City high school juniors to see the Broadway musical Hamilton. The idea? To offer them a history lesson, but also an electrifying glimpse of the potential latent in their own talents and personalities and how each one of them has a chance at the American Dream.

Along with all the other things Hamilton is about, the core of this wonderful entertainment is an affirmation of America as a land of opportunity. It's the story of Alexander Hamilton, one of the founding fathers who was a Scottish/French immigrant born and raised in the West Indies. He came to our shores with few advantages and through ingenuity and willpower, he assured himself a place in history. What the three-hour musical does is transform this story into a motivational tour de force by casting Hispanic and black actors in the roles of Hamilton, Jefferson, Washington and the other founding fathers. The message: anyone who feels left out, overlooked, underprivileged and/or passed over can find a hero in Alexander Hamilton.

Ironically, Hamilton is now considered the father of high finance and Wall Street, as well as strong centralized government -- essentially the power elite of today -- and yet he delivers his lines in this musical the way a rapper would, and emerges as an abolitionist in defiance of Jefferson who was a slave-holder. Along with other more traditional musical styles, the dominant musical genre is hiphop, with rap battles between Jefferson and Hamilton on monetary and foreign policy. It's a mix of pop sensibility with fundamental history lessons, and it brilliantly finds a way to spark an interest in the roots of our democracy and the principles that have enabled it to survive.

The Rockefeller Foundation's plan is carefully designed to educate the students at all levels. It will offer them the chance to attend special non-profit matinees of the show, with tickets at half-price. The Foundation will pay $60 toward each ticket with students required to contribute $10 -- the bill that bears a portrait of Hamilton -- as a sign of commitment to the project. Those who choose to pay will be more likely to invest their full attention to the trip as an academic lesson, not an afternoon away from school. In addition to the performance, the program will offer educational sessions about the musical and a chance to meet with the cast.

Judith Rodin, president of The Rockefeller Foundation, told the New York Times:
"Here's a story that talks about American history and the ideals of American democracy, and it features an immigrant who is impoverished initially and shows through perseverance and grit what he can achieve, in a vernacular that speaks to young people, written by a product of New York public education."

She's talking about Lin-Manuel Miranda, the Puerto Rican creator and star of the musical who grew up in Manhattan's Inwood neighborhood and attended Hunter College High School and then Wesleyan University. He's a brilliant creative spirit, a winner of the MacArthur Foundation's genius grant, and the lead performer in his own musical.

What's deeply encouraging about all of this is not only how Broadway is adapting itself to the contemporary musical scene -- it has been venturing into hiphop for at least dozen years now--but also how a major foundation has found away to turn great entertainment into an educational moment that could change thousands of young lives for the better.
Calling all HuffPost superfans!
Sign up for membership to become a founding member and help shape HuffPost's next chapter