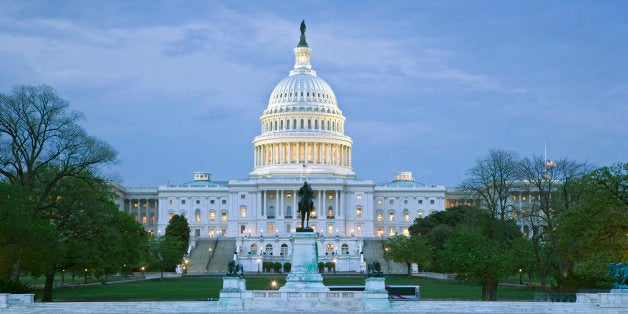 Now that Congress has agreed to an overall budget for the next two years and raised the debt ceiling until 2017, and the U.S. House of Representatives has a new speaker in U.S. Rep. Paul Ryan, the early conventional wisdom is that Washington has finally and mercifully turned the corner on governing by crisis.
While we certainly hope that is the case, the reality is that Congress and President Barack Obama may still be on a collision course that could lead to a government shutdown come Dec. 11, when government funding expires. The budget agreement passed this week was a framework that set the overall funding levels; it is not the final appropriations bill. The danger now is that Republican leaders in Congress are insisting on the inclusion of highly controversial measures in the final appropriations bill that they know President Obama will never agree to.
Extreme members of Congress -- just as they did in the run-up to the 2013 government shutdown -- are trying to leverage the need to pass a government-funding bill to block or reverse an astonishingly long list of public safeguards. With little or no debate, they have snuck ideological "policy riders" -- provisions relating to policy issues, not funding allocations -- into their draft spending bills and are hoping that their congressional colleagues and President Obama will be forced to accept at least some of them in a final funding bill.
Thankfully, more reasonable members of Congress and the president have remained resolute in opposing these efforts and were able to negotiate a budget deal that raised the damaging sequestration caps while remaining free from harmful riders. We urge them to continue to insist, as a matter of principle and without engaging in rider-by-rider negotiations, on a clean funding bill with none of the perilous riders included.
For good reason, lots of attention has been paid to one objectionable rider: the effort to strip funding from Planned Parenthood, threatening the organization's ability to provide care to low-income women across the nation.
But hundreds of dangerous riders in the spending bills have made their way through congressional committees, a state of affairs with no recent precedent. The advocacy group Defenders of Wildlife tallies 113 anti-environmental riders alone in the 2016 funding bills, compared to 45 in the 2015 appropriations bills.
The anti-environmental riders and the hundreds of other inappropriate provisions are measures that the public opposes and the president would likely veto as standalone legislation. The American people support policies that keep our air and water clean and our workplaces safe; that curtail Wall Street abuses and ensure safe and healthy food; that prevent consumer rip-offs and deter corporate wrongdoing; and that ensure continued access to vital health care services. Most Americans want stronger protections and safeguards, not stealthy roll-backs achieved through the politics of extortion.
Many of the riders are payback to corporate donors and lobbyists, pure and simple. And boy, are Big Banks and Big Polluters getting a return on the dollar for their lobbying expenses and campaign contributions. Provisions in the spending bills would:
Roll back a recently finalized rule that protects the sources of drinking water for one in three Americans;
Block critical protections for various endangered species; and
Eviscerate the Clean Power Plan, the biggest step the United States has ever taken to reduce the carbon pollution that causes climate change.
And that's just a taste of the hundreds of riders that would threaten a range of protections families depend on.
This is Washington's deep corruption at its worst: Surreptitious, out-of-order maneuvers are used to force through unpopular legislative provisions, imposing enormous harm on the American public to benefit corporate donors.
Not so long ago, members of the House railed against, and eventually ended, earmarks - funding bill provisions paying for specific projects, typically at the urging of lawmakers seeking benefits for their home district, and often to reward donors. Now, many of these same members are pushing for harmful riders that have become the "new earmarks." These new earmarks are actually far worse than the old ones because they have vastly greater reach and consequences for the American people.

It's time for Congress to end the cycle of governing by crisis and keep the government open. But the price cannot be agreeing to corporate donor payback provisions that would block or roll back the protections on which Americans rely for drinkable water, healthy workplaces, a fair marketplace, safe medicines and much more. If Republican leadership in Congress continues to insist on these demands, they are very likely taking us toward a government shutdown come December.
Gene Karpinski is president of the League of Conservation Voters. Robert Weissman is president of Public Citizen.
Support HuffPost
The Stakes Have Never Been Higher
Popular in the Community