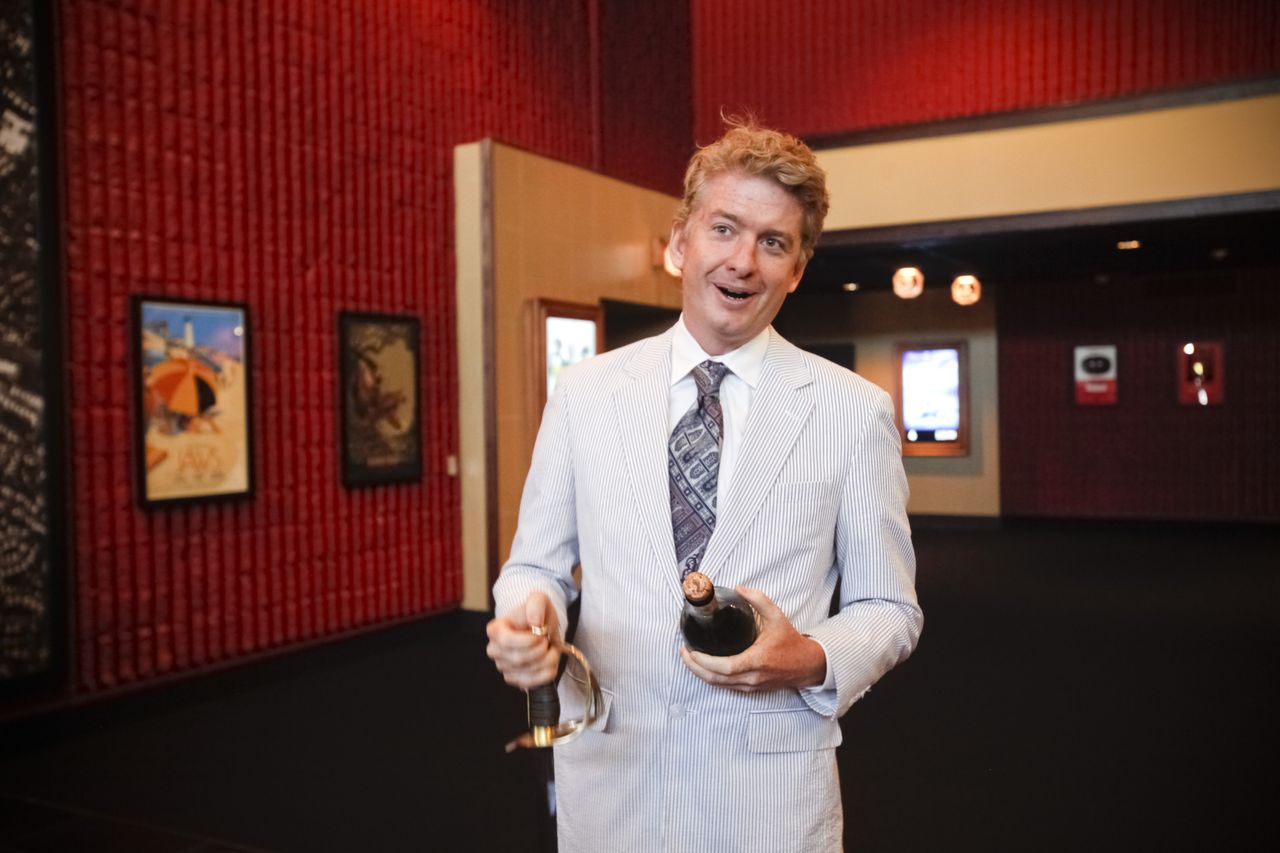 Drafthouse CEO and Founder Tim League at the Aug. 5 opening. He's possibly the coolest human ever..
Comedian Nore Davis has a funny bit in which he compliments a small crowd for coming out to a show on a Friday night when they could just as well have stayed home and watched a lame Red Box rental. OK, I'm not sure if it's an actual bit. He performed it at A-Sides' Pop Goes the Culture event in Westchester County last year, and it killed. Let me explain...
I'm a lifelong Westchester resident, and a constant beef I've had - and many friends have had - is Westchester is cool for so many reasons but the offerings beyond multiplexes, shopping malls, and bars are lacking - at least compared to New York City. On the flip side, and in the county's defense, many folks move to Westchester to avoid the hustle and bustle of New York City, raise a family, and lay low on a Friday with DVD rentals and wine. For me personally, I'm always struck how a simple rain storm can derail my desire to venture out and about but I digress. I bring this all up because something happened this week that makes Westchester "pretty cool" and I say that in a very Vanessa Bayer-impersonating Miley Cyrus kind of way.
Alamo Drafthouse opened this week in Yonkers, NY in a spot previously occupied by respectively the Regal and UA movie chains. The Drafthouse, which Tim League founded in his native Austin, TX in 1997, isn't just another movie theater in a county with a bunch of movie theaters. It's a frickin' cinematic experience that combines food, booze, and special screenings. Time Magazine called it the "best theater ever" and it's pretty much a no brainer. I can tell you all about it, and I kind of will, but it'll just sound like smoke. But, here I go anyway. As mentioned at a special ribbon cutting Aug. 5, the Yonkers theater is like no other in the county. Patrons order food and booze from their seats while servers silently attend to their every want and need throughout the film like, as someone told me, "ninjas." Unlike most movie chains which serve up lousy microwaved meals that destroy your stomach long after the end credits rolled, Alamo serves up a baked-to-order stocked menu that Chef Lupe Gutierrez prepares with his kitchen staff. There's also local beer selections and off-the-beaten-path brews (32 on tap altogether) plus something called "adult milk shakes." Yep, ice cream and booze make you go home happy.

In terms of the viewer experience, there are six state-of-the-art screens with new releases as well as vintage flicks. Special events have already been slated in Yonkers. On Friday, Aug. 16 Alex Winter (AKA Bill S. Preston Esquire) will be in attendance for a screening of his Napster documentary Downloaded. Following that, he'll be on hand for a nostalgic screening of Bill & Ted's Excellent Adventure. Bogus? Far from it. Other programming coming up includes Dr. Strangelove, Trainspotting, and quote along versions of cult classics Shaun of the Dead and The Big Lebowski. The bottom line is Red Boxes should be very nervous. Between the Alamo opening in Yonkers, and The Capitol Theatre reigning supreme in nearby Port Chester (that venue has already drawn everyone from Bob Dylan to Courtney Love), Westchester is a whole lot more than strip malls and soccer moms. My only question is - can I coax Alamo to screen my Bar Mitzvah video to the masses?
About A-Sides Music
Jon Chattman's "A-Sides Music" series usually features artists (established or not) from all genres performing a track, and discussing what it means to them. This informal series focuses on the artist making art in a low-threatening, extremely informal (sometimes humorous) way. No bells, no whistles -- just the music performed in a random, low-key setting followed by an unrehearsed chat. In an industry where everything often gets overblown and over manufactured, I'm hoping this is refreshing.
Calling all HuffPost superfans!
Sign up for membership to become a founding member and help shape HuffPost's next chapter