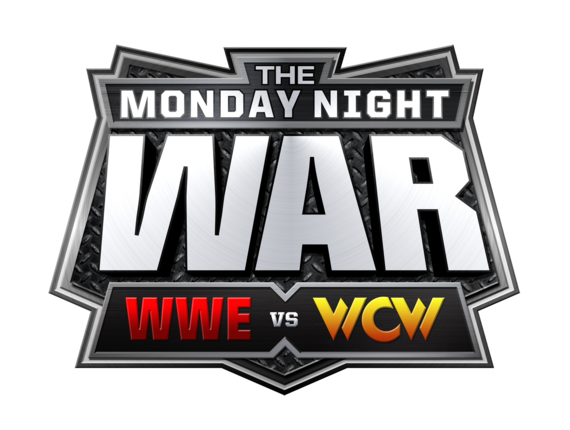 I was working as a camp counselor in 1996 when the news spread like wildfire: Hulk Hogan turned heel and joined The Outsiders at Bash at the Beach. A lifelong "Hulkamaniac," I was in disbelief and actually couldn't wait to watch Monday Night Nitro to see it for myself. Up until that point, I hadn't watched wrestling for over six years. More specifically, I stopped watching when The Ultimate Warrior defeated the "Immortal" one at WrestleMania VI in their infamous "Champion vs. Champion" match. At 13, I just lost interest in watching a product where Hogan didn't "hulk up" and hoist up the gold.
Getting back to 1996, however, Hogan's shocking heel turn - the greatest of all-time I should mention - lured me back into square-circle fandom. It took awhile longer for me to become a regular watcher (by 1998, my bud Steve got me back on a full-time basis), it peaked my interest once again and made me dig through my closet for my red-and-yellow vintage foam figure. Bash at the Beach was the start of a golden age of wrestling - it led to World Championship Wrestling (WCW) beating the then World Wrestling Federation (WWF) into submission in the ratings. The roller coaster ratings ride ended prematurely, and we all know by now how it played out: Vince McMahon purchased WCW after that formerly-owned Ted Turner brand crapped the proverbial bed. Any wrestling fan not only watched the epic battle between two wrestling juggernauts, but probably read every book and Internet story about it, and purchased the tons of WWE-produced DVDs on it. So why would they watch a 20-episode original series documenting it? A-Sides went right to the bigger name during that wrestling period or any for that matter: "Hollywood" Hogan in a phone interview last week.
The Monday Night Wars began airing last Tuesday and will continue for tonight, and the next 18 weeks afterwards. "The series brings you back in time to explain what was taking place from both points of view," Hogan explained. "It looks at the key players in the ratings wars and what they had to do to revolutionize and evolve the product to stay competitive."
Consider me sold. Watch a video I pieced together (boy, its icons away in quality when compared to what those WWE gurus put together - don't judge me) on Hogan weighing in on the "wars," his current role in the WWE, and whether or not he has one more match in the tank. Oh, and while I had him on the wire, I asked him if his pal Sylvestor Stallone has a role for him in Expendables 4, and to cut a promo on a Star Wars character for no reason other than to make my boyhood dreams come true. Watch the video below, and catch The Monday Night War Tuesday at 9 p.m. EST on the WWE Network, brother.
Hogan's "Ice Bucket" Challenge
Jon Chattman's "A-Sides Music" series was established in August 2011 and usually features artists (established or not) from all genres performing a track, and discussing what it means to them. This informal series focuses on the artist making art in a low-threatening, extremely informal (sometimes humorous) way. No bells, no whistles -- just the music performed in a random, low-key setting followed by an unrehearsed chat. In an industry where everything often gets overblown and over manufactured, I'm hoping this is refreshing. Artists have included: fun, Courtney Love, Air Supply, Birdy, Charli XCX, Sharon Jones & The Dap Kings, Pharrell Williams, American Authors, Imagine Dragons, Gary Clark Jr., and more! A-Sides theme written and performed by Blondfire.
REAL LIFE. REAL NEWS. REAL VOICES.
Help us tell more of the stories that matter from voices that too often remain unheard.